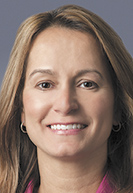 The Central Indiana Corporate Partnership announced Thursday that Cummins Inc. executive  and former Indianapolis Deputy Mayor Melina Kennedy has been named the organization's new CEO.
Kennedy, who is president of the Capital Improvement Board of Managers, will begin her CICP job in February, succeeding president and CEO David Johnson, who has led the group for 10 years and plans to retire Dec. 31.
CICP oversee initiatives that focus on key sectors of Indiana's economy and workforce: BioCrossroads (life sciences), AgriNovus Indiana (agriculture), Ascend (workforce development), Conexus Indiana (manufacturing and logistics) and TechPoint (technology).
Kennedy, 52, has more than 25 years of experience in law, government and business, including the past decade at Cummins, first directing executive communications and then in leadership roles in the Engine and Power Systems businesses before becoming a vice president leading the Product Compliance and Regulatory Affairs organization.
She previously was an attorney at the former Baker and Daniels law firm (now Faegre Drinker Biddle & Reath LLP) and was deputy mayor and director of economic development for the city of Indianapolis from 2000 to 2005.
Kennedy ran as a Democratic candidate for mayor of Indianapolis in 2011 and was defeated by Republican Greg Ballard.
"If I could pick the dream job that really leverages what I love and what I think I have a good skill in with business, community, government and even some law, this would be it," Kennedy told Inside INdiana Business on Thursday about her new job. "I think this is the organization that brings all of those things together to make it a better place to live and more prosperous for everyone. I couldn't think of a better fit for me also something that I would be excited about."
Kennedy was part of the Indianapolis team that helped establish BioCrossroads in 2002. In addition, in her role as deputy mayor of economic development, she commissioned the initial planning study that led to the beginning of work on 16 Tech.
"From her strengths in strategic communications, leading teams, and collaborating across corporate, government and non-profit sectors, Melina brings an extraordinarily diverse, relevant, and impressive background to her role as CICP's CEO," said Bryan Mills, vice chair of CICP and member of the CEO search committee, in written remarks. "CICP is a unique organization that is advancing Indiana's economy by working with a variety of different entities and on a range of initiatives. Her energy and enthusiasm about CICP's future, as well as that of the state, will ensure that CICP's important role to drive critical programs and projects forward continues."
Kennedy is a board member for the National Bank of Indianapolis, chair of the IU Health Foundation REV event and a board member of the Indiana University Academic Medical Center. She has been recognized as a IBJ 250 Most Influential Leader, IBJ Forty Under 40 and IBJ Influential Women selection.
"I have always had a passion for making a positive impact on my community, and this role will enable me to use my skills as a business executive and former government and community leader to make a difference in the place I live and love," Kennedy said in written comments.
The CICP announced in June that Johnson's role as president would be taken by Latoya Botteron, the group's chief financial officer and chief operating officer, who would also continue as CFO.
Please enable JavaScript to view this content.