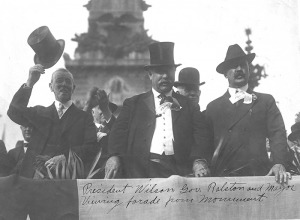 1916
On Oct. 12, 1916, President Woodrow Wilson and his wife, Edith Bolling Galt Wilson, visited Indianapolis as part of the Centennial Highway Day Celebration. In this photo, Wilson stands beside Gov. Samuel M. Ralston and Indianapolis Mayor Joseph E. Bell to view the Centennial Highway Day parade of automobiles from the Soldiers and Sailors Monument. Ralston had proclaimed that day Centennial Highway Day to create statewide support of the Good Roads movement—a decades-long effort to build and improve U.S. roads—and invited Wilson to participate in the celebration. At the state fairgrounds following the parade, the president delivered a speech to thousands of Hoosiers about the benefit of good roads.
Source: Indiana Historical Society
Credit: This image is courtesy of the Indiana Historical Society and is part of the W.H. Bass Photo Co. collection. More images are available at images.indianahistory.org.
Please enable JavaScript to view this content.