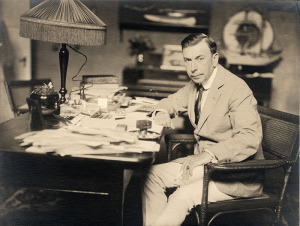 Booth Tarkington, born in Indianapolis in 1869, became one of Indiana's most famous authors and playwrights, enjoying both commercial and literary success. Tarkington, one of only three authors to have won the Pulitzer Prize for fiction twice, is known for works that include "The Gentleman from Indiana," published in 1899; "Penrod," published in 1914 (the year this photo was taken); and "The Magnificent Ambersons," published in 1918. He also served one term in the Indiana Legislature. Although he would also live in New York, Paris and Maine, there are remembrances of Tarkington throughout Indianapolis, notably in The Penrod Society, named for Tarkington character Penrod Schofield, and the Butler-Tarkington neighborhood. Tarkington owned a home at 4270 N. Meridian St. from 1923 until his death in 1946.
Sources: Indiana Historical Society, The New Yorker, National Park Service
Credit: This photo is courtesy of the Indiana Historical Society. More images are available at images.indianahistory.org.
Please enable JavaScript to view this content.