Republican mayoral candidate Jim Merritt's campaign made several moves Tuesday that could help it win support from black voters.
In the morning, former Indianapolis Metropolitan Police Department Deputy Chief Bill Benjamin, a black Democrat, told reporters that he would accept Merritt's recent public offer to make him chief of IMPD, if the Republican is elected.
"I'm no fool and I know that some of our voters will vote Merritt's way because I stand here," Benjamin said.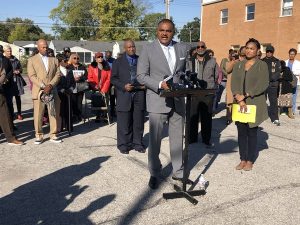 And in the afternoon, Merritt presented his version of a black agenda to leaders of the Concerned Clergy of Indianapolis and the Baptist Ministers Alliance—two of multiple black community organizations that have called on the mayoral candidates to create such a plan.
Merritt said in August that he would develop a black agenda, while Democratic incumbent Joe Hogsett has maintained that his agenda doesn't need to be specific to black residents for his policies to benefit them.
During a press conference on Tuesday, Benjamin said he didn't think Merritt selected him as a potential police chief simply as a way to court black voters. He said Merritt told him he looked into other individuals and regularly received recommendations for Benjamin.
Benjamin repeatedly said Merritt's offer and his decision "is not about political parties. It's about the safety of the people of Indianapolis."
But Benjamin criticized Hogsett, who is seeking a second term, for not doing enough to reduce violent crime since taking office in 2016.
"I haven't seen one word nor one commercial from our current sitting mayor about reducing violence in our city," Benjamin said.
The Hogsett campaign defended the city's handling of crime and its police chief, Bryan Roach. "Under his leadership, our police force has grown, neighborhood ties have been strengthened, and law enforcement has once again returned to community-based beat policing. Chief Roach's leadership and respect across our city is unmatched, and the results speak for themselves—for the first time since 2012, we are on track to see a year-over-year reduction in criminal homicides, and last year overall violent crime was down."
Merritt's black agenda focused on crime, as well as education and economic inclusion.
Merritt said he would offer implicit bias training, create a use-of-force board to review incidents involving police brutality, establish the Indianapolis Commission on the Social Status of African American Males and personally be more involved in the community through events like mayor's nights out so he would be aware of what's happening in the neighborhoods.
"People will see the mayor," Merritt said. "People will be able to meet with the mayor, and they won't have to climb 25 stories to do so," a reference to the location of the Mayor's Office on the top floor of the City-County Building.
On economic inclusion, Merritt said he would require companies looking for tax incentives from the city to hire locally and hire residents from low-income areas or empowerment zones, and he would commit to spending at least 15% of the city budget on contracts with minority-owned businesses, as city code suggests.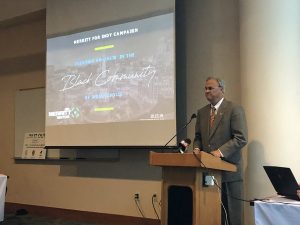 According to data from the city, the Hogsett administration only spent about 8.7% of its budget on contracts with minority-owned enterprises in 2018.
But some of the black community leaders at the meeting on Tuesday weren't impressed with Merritt's economic policy ideas and suggested a change in the city code that would require, rather than suggest, how much work must be done with minority enterprises or set aside a specific pool of money to award to minority-owned businesses.
"Capital and policy—it's a combination of both," said Wayne Moore, senior pastor of Olivet Missionary Baptist and president of the Baptist Ministers Alliance.
Merritt said he was "all for clarifying the law."
On education, Merritt said he would create the position of deputy mayor of education, work with state lawmakers to increase funding for pre-kindergarten education, enforce a rigorous vetting process for new charter and innovation schools, and end zero-tolerance discipline in charter schools.
"These practices have to end," Merritt said. "They over-criminalize students of color."
When asked if he would consider a moratorium on charter schools, though, Merritt said he would not.
He would also create community intervention programs and require students to take mental health classes in grades K-12 in mayor-sponsored charter schools.
When asked how serious he was about his ideas, Merritt reaffirmed his commitment to his proposals.
"I didn't come here to just get a vote," Merritt said. "This will be what we do when I become mayor of Indianapolis."
Moore said the ideas presented won't be enough to solve the problems in the black community. "It's just a start," Moore said.
Hogsett is expected to present to the same group on Monday.
"I'm looking forward to hearing what the mayor has to say as it relates to what he's going to do if he is elected for the next four years," Moore said.
Please enable JavaScript to view this content.