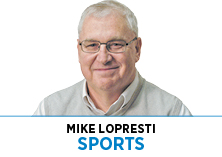 CHESTERTON—Here at one of the state's hottest rivalries, it's like the Hoosier Hysteria of yesterday. The house is packed right down to standing room with 5,000 bodies. The line at the concession stand is 52 customers long, and that's at halftime of the junior varsity game. The public address announcer keeps giving out license plate numbers of illegally parked cars, because latecomers pulled into whatever spare space they could find.
On the court, the No. 1 ranked team in the state is in trouble against a guy wearing a bright green suit. Valparaiso coach Barak Coolman would be impossible to miss in any crowd because his game-night attire, in homage to the school color, looks like a pool table. His Vikings lead much of the game, but Chesterton rallies to find a way in overtime to win 60-57 and go 21-0, mostly because a 5-10 senior you might never have heard of but should know about—Travis Grayson—scores 40 points.
The two schools are separated by only seven miles, and they even sit on the same street, though the road changes names twice between Chesterton and Valpo—from 11th Street to Meridian to Campbell. No wonder this night is so frantic. One can only imagine what it will be like if the teams meet at some point in the sectional. They did the past three years, with Valpo winning by two points and one point and Chesterton by five.
"That's what this is all about—making memories," Grayson will say in the hallway later, after, among other things, he has been good on 20 of 22 free throws and scored 31 points after halftime.
Memories. Chesterton is certainly stacking those up this season.
With the beginning of the state tournament imminent, here are a few things we should know about the No. 1 team in Indiana.
Chesterton's March pedigree is not vast. The Trojans have won only four sectionals in all recorded history—the 2019 title is the only trophy in 34 years—and never a regional. The neighbors down the road at Valpo—and this can't help but fan the Chesterton fervor to beat the Vikings—have won 54 sectionals.
Nor has Chesterton ever been ranked No. 1, until now. "We're smart enough to know that it's a great honor; it's hard to do in the region, but if we were down in Indianapolis, we probably wouldn't have that," coach Marc Urban says. "We probably wouldn't be undefeated. The one thing that I'm proud of with these guys is, I don't think it has affected us at all. It hasn't changed how we went about anything."
The coach
Speaking of Urban—in his sixth year at Chesterton—we should know this, too. According to the John Harrell website on Indiana basketball, there are 239 active coaches with at least 50 career victories. When it comes to winning percentage, Urban is … second of the 239. By the end of the weekend, he would be 117-30, and the 79.6 winning percentage is behind only Carmel's Ryan Osborn.
"He's won more state championships," Urban says, smiling, knowing the 2019 sectional title is his high watermark. So far. "You get into this to impact lives, but I think you impact them in a good way when you're able to win. It's something that we pride ourselves on, something that we take seriously, but it goes back to having really good kids and an administration that really allows us to do what we need to do to put ourselves in a position to have success."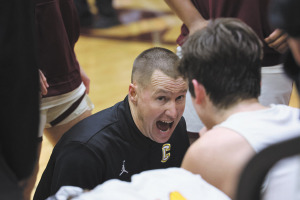 Success? Before this job, Urban was head coach of the Lake Central girls for four years. Went 80-17. That's some resume being put together by the former four-year team manager at Indiana State. He even got to dress out one season. "At IU, I was hoping we'd either be behind by 20 or up by 20 so I could sneak in. I didn't, but I did get in at Creighton. I missed a shot. Thought it was in."
He figures Lake Central prepared him for Chesterton, and what has become a citywide party.
"I always felt like this was a sleeping giant in a way. There's good families here, there's really good people, and they care about this school and they care about our program. Some places are not like that," he says. "One thing about this town is, it's a big town where we're a 6A football school, but it has a small-town feel."
People clearly like to coach here. Fred Mitchell was once the boys head coach—back when IU-bound Matt Nover was a Trojan—but now he's the girls' assistant. He's 82. He's helping the young kid, Jack Campbell, who's current head coach. Campbell is 78. He's been girls coach for 34 years and baseball coach for 52.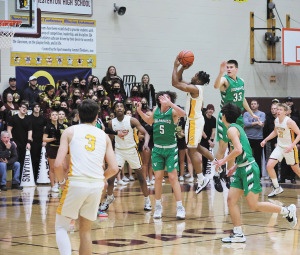 The players
And now this close-knit community is afire with its unbeaten team. "The type of kids that we have on our team are easy to root for," Urban says.
Take post player Chris Mullen. He's going to University of Indianapolis next season to play quarterback. "Just about as good of a leader as you could possibly be around," Urban says. Or 6-6 sophomore Justin Sims, with a wingspan that seems to cover the lane.
"Do we have the most talent in the state? No, not even close," Urban says. "But we're very connected, we have a really good point guard, we have some good bigs, we've got some shooters, and we play very unselfish."
And there's Grayson, with an average just under 20 and, so far, a low profile among college recruiters. His main suitors to date have been IU South Bend, Trinity College and Saint Xavier. He's not often mentioned among the marquee names in the state, either. Maybe one problem is that Chesterton is barely in Indiana. Lake Michigan and the Dunes are only five miles up the road. But No. 1 teams and their stars get noticed, no matter where they are on the map.
Here in the hallway, it is time to savor the win over Valpo. Grayson has been terrific, not only with 40 points but also with a game-changing steal and a blocked shot. "The kid's underrecruited, he's underlooked," Urban says. "Somebody's going to be smart and offer the kid [a scholarship]. If he's not an Indiana All-Star … he's putting his team on his back, he's putting his community on his back. He knows how to run a team, he knows how to lead, he's a great kid. He checks every single box, except for he's not 6-1. I would take Travis Grayson every single day of my life."
And Friday night? "I didn't know he had 40."
For his part, Grayson tries to use any slights as fuel. "That's what keeps the chip on my shoulder. I should be a Mr. Basketball candidate. I don't know if I am or if I'm not. I should be an Indiana All-Star when it's all said and done. I don't know if I will be or if I'm not. But I'll continue to play hard and play smart and just try to win."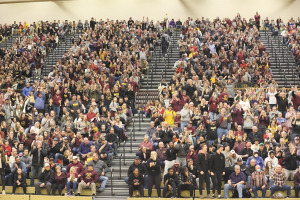 The hard part
So it's been fun. But it's not March yet. A long run, doing something no Chesterton team has ever done, is what drives them. "We want to put numbers on the board," Grayson says. "We want to be a special group."
Now comes the hard part. The likes of Valparaiso—who is a lofty 18-4— Merrillville, Crown Point and Portage make it a treacherous sectional, and one Chesterton has rarely survived. For all Urban's glittering record, he's 4-5 against Valpo and the guy in the green suit. "Maybe it's different than the Carmel, Westfield, Zionsville sectional, but it's the same feel of, like, if you get out of it, you feel like you can advance," Urban says.
As for any state championship dreams, every team from north and south faces the same problem—the wall of Indianapolis schools that own 4A. The past three big-school state-title games have paired two Indy-area teams short drives from each other. Since class basketball began in the fall of 1997, the Indianapolis region has produced 16 of the 23 champions in 4A. Only two—Gary West and East Chicago Central—came from anywhere close to Chesterton.
"Hopefully," Urban says, "we're in a position to run into that wall."
But first, the sectional. And probably that school down the street.•
__________
Lopresti is a lifelong resident of Richmond and a graduate of Ball State University. He was a columnist for USA Today and Gannett newspapers for 31 years; he covered 34 Final Fours, 30 Super Bowls, 32 World Series and 16 Olympics. His column appears weekly. He can be reached at mjl5853@aol.com.
Please enable JavaScript to view this content.