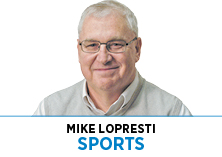 Want to go to a birthday party?
The Big Ten Conference football stadia are gathered round to celebrate one of their own. Ohio Stadium at Ohio State University turns 100 this weekend. Not that Indiana or Purdue are that wild about the place since the Boilermakers have won once there in the past 54 years and the Hoosiers once in the past 70. But 100 years is kind of special. Four more Big Ten stadiums will be hitting the century mark in the next two years in their various renovated forms. The league is the epicenter of football geezers.
And all of them have their quirks. Let's go around the room and hear some, by order of age.
You first, Wisconsin's Camp Randall Stadium.
I'm the granddaddy in this room. Turned 105 this year, and my brats have never tasted better. Why am I named Camp Randall? Before I was around, they used the site to train Union troops in the Civil War and also to house Confederate prisoners. But I can be very modern in some cases. Getting rid of coaches, for instance. We just fired our guy this week, even though he was 67-26 with a 6-1 record in bowl games. Do that at Indiana, and his name would be on the stadium. But the current Badgers are 2-3, and I guess the AD thought we needed better results to pay for my light bill.
Next, Illinois' Memorial Stadium.
When I went up in 1923, they displayed names on my columns of university students who died in World War I. They're still there. And do you know about my bubble? They used to slap that over me so the football team could practice when the autumn cold fronts hit Champaign. My very own convertible top. Don't snicker. The Chicago Bears used me for practice before Super Bowl XX and won by five touchdowns.
Your turn, Michigan State's Spartan Stadium.
Good, solid, down-to-earth name, aren't I? But what do you expect from a building that was constructed in 1923 when the school was called Michigan Agricultural College? I'm a little different in one way. When stadiums talk about their most famous games, they usually bring up glorious victories. Mine was a tie. That was 1966—one of those Games of the Century—when No. 1 Notre Dame and No. 2 Michigan State ended up 10-10, and Irish coach Ara Parseghian decided to sit on the ball at the end. I still remember what some of the cynics said about him: He tied one for the Gipper.
Next, Nebraska's Memorial Stadium.
I'm another of the class of 1923, and once they decided to build me, they weren't kidding around. I was done in just over 90 working days. They don't even put up a new Starbucks that quickly now. I'm known mostly for the company I keep, meaning all the customers in red. When the Cornhuskers whipped Indiana the other night, it was my 386th consecutive sellout going back to 1962. On game day, when 86,000 people pour through my gates, I'm the third largest city in the state of Nebraska.
Say hello, Purdue's Ross-Ade Stadium.
Know what question I get asked the most? Who's Ross? And while you're at it, who's Ade? David Ross and George Ade, a couple of deep-pocketed benefactors who looked at an old dairy farm back in 1924 and decided it'd be a fine place to build me so the Boilermakers could have a nice home to beat on a big drum—and also IU. Ross was an engineering whiz who patented 88 inventions.
Northwestern's Ryan Field.
I know what you're thinking. I'm the poor cousin of this group, the only FBS stadium without permanent lights. And they just announced plans to build a new stadium, so I'm probably not going to see my 100th in 2026. Some of my sections rarely host any humans, which is why the new joint will have 12,000 fewer seats.
You're on, Michigan Stadium.
I'd prefer Big House if you don't mind. The last time I hosted a crowd under 100,000 was 1975, or 304 games ago. That was against Indiana. And you know the odd legend about my seating capacity, right? At various times, it's been listed at 107,601, 102,601, 109,901, 101,001. Always ending in 01, supposedly to signify a spare seat reserved in the memory of Fritz Crisler, a long-time coach and athletics director at Michigan. No, I don't know if that's fact or fiction. I do know I'm a bargain. It cost only $950,000 to build me back in 1927 on a site that had a barn, strawberry patch and underground spring. There are quarterbacks with bigger NIL deals than that now.
Next, Iowa's Nile Kinnick Stadium.
Yeah, I'm the one with the pink visitor's locker rooms. Hayden Fry's idea to get the visiting teams in a mellow mood. It didn't work that well last week against Michigan. Anyway, I'd rather talk about my name, which comes from a Hawkeye running back who was awarded the Heisman in 1939 at the dawn of World War II. At his acceptance speech, he spoke eloquently about how blessed he was to be spending his young years on the football field rather than the battlefield. Four years later, as a naval aviator, he was killed during a training flight. I'm the only FBS stadium named after a Heisman winner.
Maryland's SECU Stadium.
You want to see some old photos from my big day in 1957 when I had special guests in for the North Carolina game? See that lady on the right? Queen Elizabeth II. And that's Prince Philip next to her. Maryland presented them a football that day as a souvenir to give to their little boy back home. He's now the king of England.
Penn State's Beaver Stadium.
Three things you should know about me. One, in a way I used to be elsewhere on campus, but they tore me down and moved 700 of my pieces to my present home in 1960. Two, I'm named after James Beaver, who was university president, governor of Pennsylvania and lost a leg in the Civil War. Three, don't ask me where the Joe Paterno statue is. He used to stand just outside and was the photo backdrop for a gazillion fan pictures, but the school took it down during the Jerry Sandusky sex scandal 10 years ago. Lots of people wonder what has become of it. I ain't saying.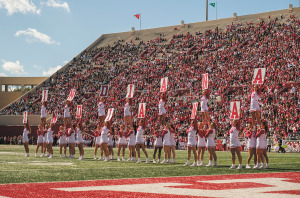 Take it away, IU's Memorial Stadium.
I'll be brief. I have my limestone rock. I have my guns from the USS Indiana outside that once fired at kamikazes around Iowa Jima. I have one Rose Bowl team in my lifetime. I opened in 1960 and since then have seen my Hoosiers beat Michigan and Ohio State a combined total of three times on my turf. And I have a press box that is so high, you can almost see Martinsville.
Rutgers SHI Stadium.
No, I'm not the place where Rutgers played the first college football game against Princeton in 1869. That site is now a gymnasium and a parking lot. But I did have the Dalai Lama give a lecture once.
Minnesota's Huntington Bank Stadium.
I'm the baby of the family. In 2009, I became the first football stadium built on a Big Ten campus in 49 years, going back to Indiana. It cost $4.6 million for IU to build Memorial Stadium. My scoreboard cost more than that. I was built for a reported $303 million. And that didn't include a roof, so bring a parka in November.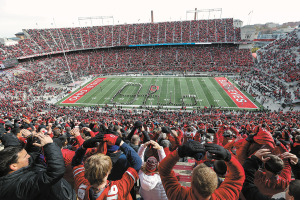 Finally, our guest of honor, Ohio Stadium.
Where to begin for my 100 years? The time Michigan and Ohio State played in a blizzard in 1950, and there were 45 punts? Or how I used to have dorm rooms on the west side, and Jesse Owens ran sprints on my track? Or how without a nifty drainage system, I could sometimes be under water from the Olentangy River next door? Or how the stadium architect based my rotunda on what he saw on a visit to ancient Rome, and he once hosted a couple of his buddies to watch a Buckeyes game in his new creation—Wilbur and Orville Wright?
Anyway, thanks for coming. I think I'll blow out the 100 candles on my cake and make a wish—more wins over Michigan, of course. I've seldom needed wishes for IU or Purdue.•
__________
Lopresti is a lifelong resident of Richmond and a graduate of Ball State University. He was a columnist for USA Today and Gannett newspapers for 31 years; he covered 34 Final Fours, 30 Super Bowls, 32 World Series and 16 Olympics. His column appears weekly. He can be reached at mjl5853@aol.com.
Please enable JavaScript to view this content.