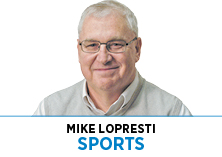 So here was the mission. How much could you learn about college football in the state of Indiana in 72 hours? After an offseason where the conferences turned on one another like wolves fighting for dinner and fat NIL contracts were all the rage, it was finally time for games again.
Which made the first three days in September so compelling. Indiana's schools might never have faced an opening weekend with more glitter than 2022. Maybe you'd like to see a PowerPoint presentation from our Farewell-To-Summer Tour. Three nights, three big scoops of college football that would give an idea of the autumn ahead.
(Click). This was Blackout night at Ross-Ade Stadium. The crowd, from 8 to 80, came dressed in black. Except for the Penn Staters who infiltrated the proceedings; they were almost all in white, looking like snowflakes on a dark tablecloth. The Ross-Ade Brigade student section was in line by the hundreds three hours before kickoff. Total attendance would eventually top 57,000.
Lesson 1: It's been awhile since a Purdue football season opened with such … buzz. Now we'll see what the Boilers do with it. The atmosphere might be a wee bit more restrained this week for Indiana State.
(Click). That's the out-of-town scoreboard showing results from elsewhere, just as Purdue and Penn State neared kickoff. Oh, dear. It was only 31 seconds into the second quarter and Ball State was down 24-0 to Tennessee. The Cardinals had probably already heard "Rocky Top" about 200 times. It would end 59-10.
Lesson 2: Now that the bill-paying portion of the schedule is over—the $1.5 million check Ball State got for playing the Vols is safely in the bank—the Cardinals can start the part of the season where they have a chance. Bring on Western Michigan!
(Click). This was the Purdue quarterback walking off the field at the end of a frustrating night. Five things to know about Aidan O'Connell as the season progresses: He already has a master's degree. He's barely off his honeymoon, married a month. He's an eight-handicap golfer. He's expected to be one of the best quarterbacks in the Big Ten. He just turned 24 and is four days older than New England Patriots quarterback Mac Jones.
Lesson 3: O'Connell's 365 passing yards gave the Boilermakers a chance to win a rollicking game with seven lead changes. Except they didn't. But numbers like that should have them in contention most weeks. Purdue outgained Penn State, and the Boilermakers had been 23-4 under Jeff Brohm when they did that.
(Click). This was Brohm talking after the game, using the same press room in Mackey Arena that Matt Painter uses for basketball. Brohm mourned the chance that got away, 35-31. Not enough execution and too many mistakes. The defense committed three penalties on one play. Only eight Boilermakers were legal on that one. Brohm understood this was not the best way to keep the customers coming back.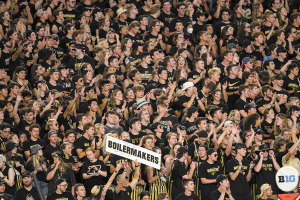 "We apologize we weren't able to get it done," he was saying. "When you have that great of a showing with your fans and student section, it hurts not to pull that one through."
Lesson 4: Never mind Penn State, this is the list of the Boilermakers' remaining games. Ohio State is not on there. Nor Michigan. Nor Michigan State. Who made this schedule, the John Purdue Club? The Boilermakers have every opportunity to do something good in 2022, especially given their maturity. There are 18 college graduates on the roster.
(Click). Illinois had come to town for only its second game against IU in nine years, which seems rather odd, since they're Big Ten cousins 150 miles apart. The Hoosiers have played Florida International as often lately as the Illini. Anyway, this is the huge crowd in Memorial Stadium; more than 44,000 turned out.
Lesson 5: Sometimes it helps for fans to have amnesia. Last year's train wreck had been forgotten—or at least forgiven.
(Click). This was Memorial Stadium in the third period. Where'd everybody go?
Lesson 6: Leaving football games early is still a hard habit for IU fans to break, no matter how close the score or nice the weather.
(Click). That's senior linebacker Cam Jones with the Indiana team gathered around at the end of the third quarter, IU down a point. What's he doing, taking pizza orders for after the game? Well, no. "He was pretty much telling us … we're going to show Hoosier Nation we're back," linebacker Aaron Casey said later.
Lesson 7: Maybe they are. This was the kind of night to suggest things had changed. The Hoosiers were outrushed 216-32, lost the time-of-possession battle by 13 minutes—and still found a way with a last-minute touchdown drive. Plus, all the words on the IU uniforms were spelled correctly. But the offensive line will need to play better.
(Click). This was Tom Allen savoring the victory. It was as if he had been plugged into a high-voltage line. The Las Vegas Strip doesn't have this much energy.
Lesson 8: Nobody knows better that a team might already be at a crossroad in the first week than a coach who went 2-10 the year before. "We haven't sung that stinking fight song for a long time after a win," Allen said. "I knew what we've been through. I knew what this game meant." With Idaho and Western Kentucky next, Indiana could be looking at 3-0 and have bettered last season's victory margin by Sept. 17.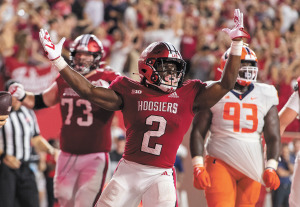 (Click). The quarterback who led the game-saving drive, Connor Bazelak, played for Missouri last season. The running back who scored the winning touchdown, Shaun Shivers, played for Auburn. The receiver who had the most catches, Cam Camper, played for Trinity Valley in Texas. Just like the night before at Purdue, when the Boilermaker who had 12 catches and tormented Penn State was Charlie Jones, who played for Iowa.
Lesson 9: That huge dust cloud spotted during the offseason was from the moving masses in the transfer portal. Perhaps you've noticed it is a very different world in college sports.
(Click). This was the crowd of 10,000 people crammed into St. John Arena across the street from the football stadium, two hours before the Ohio State-Notre Dame game. They were there to watch the band play for a pep session and to hear Ohio State athletic director and Notre Dame alum Gene Smith say, "I love my school, but we need to kick their ass tonight." LeBron James showed up for the game, along with 106,593 other people, making Ohio Stadium the seventh-largest city in the state. The Buckeyes' universe was so inflamed, you'd have thought Michigan was in town.
Lesson 10: Yeah, Notre Dame still brings an aura to town. But how in the name of Knute Rockne could you have a top-five showdown with such heat and the Irish be a 17-point underdog? Clearly, they have some national regard to earn.
(Click). That's former Ohio State coach Jim Tressel being hoisted upon the shoulders of his 2002 Buckeyes one more time. Ohio State recognized the 20th anniversary of the national champions and introduced them between the first and second quarters.
Lesson 11: To think, this grand reunion never happens with just one more play by the Purdue defense. Two decades later, those Buckeyes surely still remember how lucky they were to get out of Ross-Ade Stadium alive that year, needing a 37-yard touchdown pass on fourth down in the last two minutes to escape the Boilermakers 10-6.
(Click). This is Notre Dame's Tyler Buchner. Know how many Chinese Americans have ever started a game at quarterback for a Power-5 level program? None, according to the Notre Dame sports information department. Until Saturday night. Buchner's first pass went for 54 yards. He completed his first eight attempts and led the Irish to a 10-7 halftime lead. Move over, Joe Montana. But the Buckeyes shut out the Irish the second half and won 21-10. Among the Ohio State stats were the five receptions by Marvin Harrison Jr. Maybe you remember his dad catching Peyton Manning passes for the Colts.
Lesson 12: The Irish still haven't beaten Ohio State since Franklin Roosevelt was running for re-election in 1936, but then, they weren't expected to. The business of winning must start now, and they're going to need a lot more offense to deal with the BYUs, Clemsons and USCs down the road. If they're thinking playoff spot, they just used their mulligan.
Which brings us to the end of the tour. It was a 1-3 first week for Purdue, IU, Notre Dame and Ball State, before a combined live audience of more than 301,000—and enough promise from intriguing new faces to make the fall interesting.
Final lesson: Through change and chaos and controversy, here come the quarterbacks and cornerbacks and cheerleaders and tuba players. College football is back. If only the games didn't last four hours.•
__________
Lopresti is a lifelong resident of Richmond and a graduate of Ball State University. He was a columnist for USA Today and Gannett newspapers for 31 years; he covered 34 Final Fours, 30 Super Bowls, 32 World Series and 16 Olympics. His column appears weekly. He can be reached at mjl5853@aol.com.
Please enable JavaScript to view this content.