Construction is starting to shape the first piece of a massive mixed-use redevelopment in downtown Noblesville that will add more than 200 apartment units by 2025.
The development known as the Village at Federal Hill will be west of the White River near the intersection of state roads 19 and 38, just a half mile from the city's historic courthouse square.
The city broke ground in March on the Federal Hill Apartments—a $50 million, 135,000-square-foot mixed-use building that will feature retail on the ground level and 118 apartment units on the three floors above.
A six-story parking garage will be attached to the apartment building with a mix of public and residential parking spaces.
"When I'm looking at economic development projects, I believe that the best way to support small businesses is to have more people living within walking distance of the square," said Noblesville Common Council member Aaron Smith, who represents the downtown area. "That has to be done in the right way, but I think that's the best way to support businesses."
The apartment building and parking garage, designed by Carmel-based architecture firms Old Town Cos. and Studio M, will be on what was once a surface parking lot for the adjacent Federal Hill Commons.
Construction is scheduled to be complete by late 2023. Expected rent prices were not available.
The Village at Federal Hill will include two more buildings—another four-story mixed-use structure, with about 100 apartments, and a two- or three-story building that will house retail and office space.
City officials expect the entire project to be finished sometime in 2025.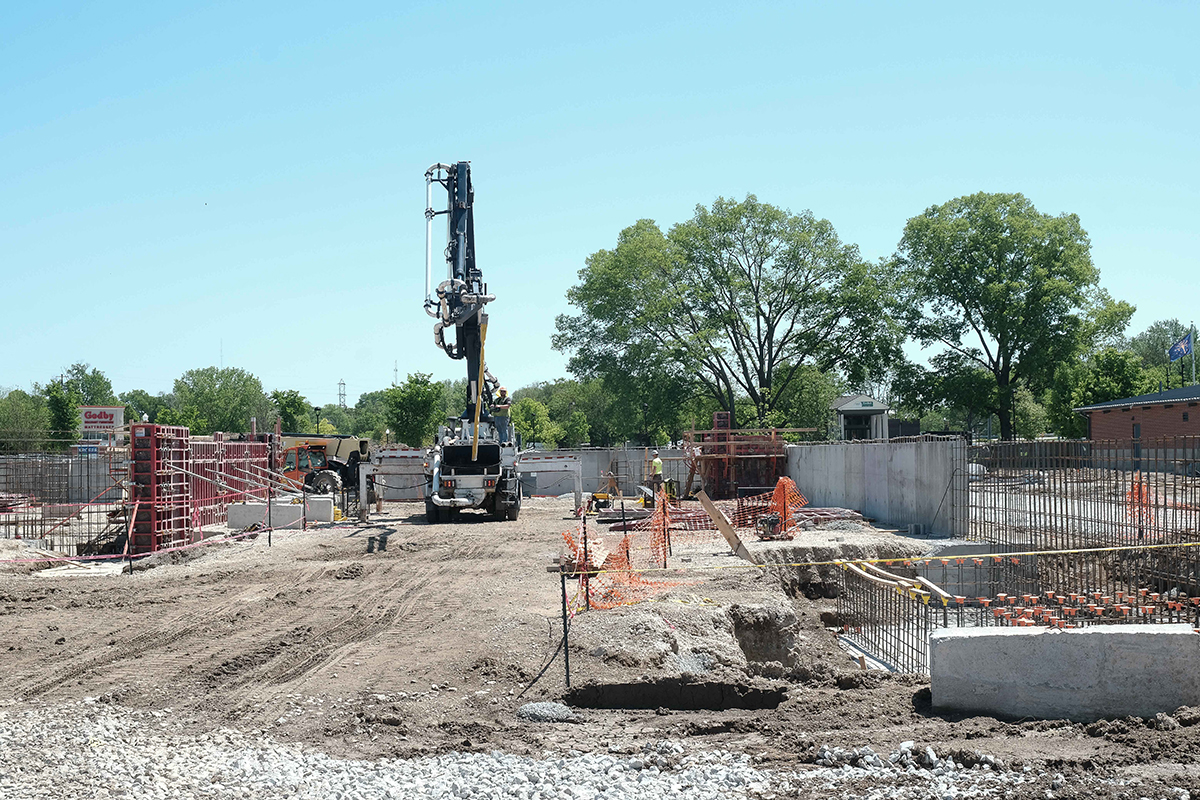 Noblesville Mayor Chris Jensen said the Federal Hill project will expand the footprint of the city's downtown, which will gain about 800 apartment units in the next two years.
"I think you'll see a lot of new residents living in downtown Noblesville, which is incredibly exciting," he said. "In my opinion, a great way that we're focused on preserving downtown is by having more people who are wanting to live, work, play, shop and spend their money."
Jensen and Smith both said the White River has been a dividing line in Noblesville. However, the effort to give downtown a westward push has been a decade in the making.
The city embarked on an $8 million project in 2013 to transform a former floodplain into Federal Hill Commons, which opened four years later.
The park, which former Mayor John Ditslear once called "the gateway to downtown," now features an amphitheater, market plaza, playground and event space. The Village of Federal Hill is being constructed on the west side of the park.
Noblesville-based BlueSky Commerce in 2016 broke ground on its headquarters nearby at 350 Westfield Road. The building now also includes a Bru Burger Bar on the ground level.
"In the past, the river in downtown Noblesville was kind of viewed as a barrier in Noblesville," Jensen said. "And now, with the investment we're making on the west side, it's really becoming the focal point and the center of our downtown."
New and old
Unlike Carmel and Fishers, Noblesville grew up early.
William Conner and Josiah Polk laid out the town in 1823. It was designated the Hamilton County seat the next year and incorporated in 1851.
More than 50 downtown buildings are on the National Register of Historic Places. The 144-year-old former Hamilton County Courthouse was the setting for the 1925 murder trial of D.C. Stephenson, the grand dragon of the Indiana chapter of the Ku Klux Klan who held leaders from the Indiana governor to the Indianapolis mayor in the palm of his hand.
So, it's no wonder that new development in Noblesville's downtown is often met with concern expressed by residents at Common Council meetings and in social media comments.
Jensen and Smith both said they are sensitive to protecting and preserving the city's historic charm while acknowledging the need to grow into a 21st century city.
"Every project we have in downtown Noblesville is going to have an extra layer of scrutiny on it because of our downtown core," Jensen said. "We're never going to touch the historic downtown square. That's going to remain absolutely historical.
"What we're focused on is filling in the blanks—looking at different parking lot surfaces, for example—that could be redeveloped to add more vibrancy to downtown. So, I appreciate their concern. I'm a lifelong Noblesville resident. Our historic square and what makes Noblesville unique will be intact for generations."
The Levinson, a five-story, 85-unit apartment building developed by Fishers-based Rebar Development, was the first mixed-use project completed downtown in more than a century when it opened in September at 868 Maple Ave., just a block south of the courthouse square.
"That was really our first gateway into this idea of bringing more people to live downtown," Smith said.
In addition to the Village at Federal Park, three more major mixed-use projects are in the works.
Nexus, a $52.8 million mixed-use apartment building developed by Carmel-based Cityscape Residential, should open this summer at the former Marsh Supermarket location at State Road 32 and River Road, a mile west of the courthouse.
It will include 287 residential units and 36,000 square feet of commercial space.
Smith said Nexus will expand the definition of Noblesville's downtown in "a new and innovative way."
"Normally, that is not viewed as downtown just because there's not much activity over there, but I think this really starts to expand that definition," he said.
Lofts on Tenth, a $7.7 million project along 10th Street between Clinton and Wayne streets, is a couple of blocks northeast of the courthouse. That development will include 23 two-bedroom apartments, 8,000 square feet of commercial space and 31,700 total square feet.
Two Noblesville companies are behind the project: developer PT-17 Development and builder Radial Construction LLC. Jensen said the brownstone-style row houses should open to residents this summer.
The city broke ground last month on East Bank, a $49.9 million mixed-use apartment development along the east bank of the White River between Conner Street and Maple Avenue, in the former Hamilton County employee parking lot.
That development will include 219 apartments and 5,000 square feet of retail space. It is a public-private project involving Carmel-based J.C. Hart Co. Inc. and Fishers-based Republic Development Corp.
"The momentum keeps building," Jensen said.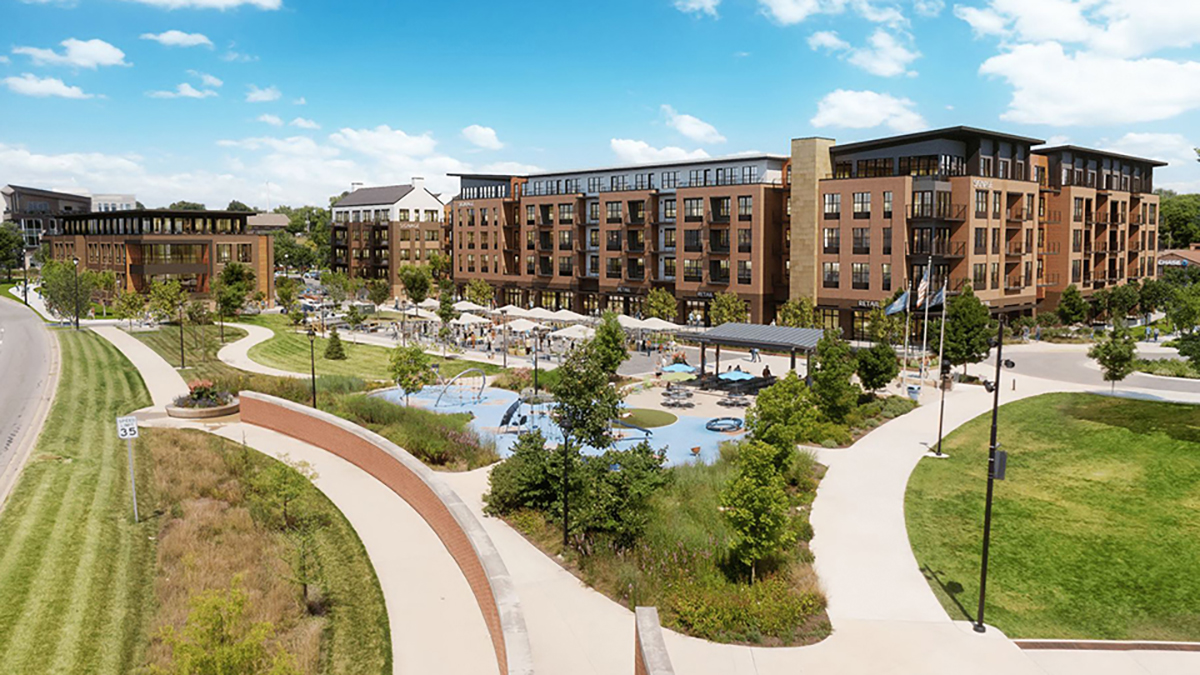 Changing environment
In the post-2020 world, the definition of where a person works is ever-shifting.
Smith said giving people options to work, live and play downtown is important to helping Noblesville remain competitive.
"More people are in a hybrid work environment," he said. "People can now live and work wherever they want."
He also hopes expanding the idea of downtown westward, along with developing a more pedestrian- and bike-friendly environment, will encourage people to eat and shop in the heart of the city while leaving their cars at home.
An example of that effort is expressed on the city's Logan Street Bridge, which will introduce an urban garden park called the Bridge of Flowers in June.
And having more residents living near downtown will benefit the local businesses that make up the soul of the historic courthouse square, Smith said.
"At the end of the day, we all want the downtown to stay authentic and the way that it looks," he said. "And, in my opinion, the best way to do that is to be able to have an economy that supports small and local businesses."•
Please enable JavaScript to view this content.