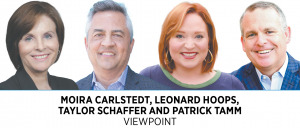 Addressing the issue of homelessness in Indianapolis remains one of the most pressing challenges facing our city. Although progress has been made to reduce the number of unsheltered residents, we will not see a truly thriving city until this obvious and ongoing need is fully met.
This issue impacts all of us and demands a collaborative, compassionate response from not just the city, but all levels of government, our not-for-profit community and the private sector. The current homelessness problem is a barrier to attracting visitors and investment, growing our downtown businesses and generating revenue for the city and state. Indianapolis is the heart of our metro area and our state. We all have a stake in its success.
That's why we're grateful for the work and recommendations of the Low-Barrier Homeless Shelter Task Force that convened over the past year and a half to bring stakeholders together and identify solutions to help our most vulnerable residents. We must balance the need to serve our neighbors experiencing homelessness while we continue to ensure Indianapolis is a welcoming place to live, work, visit and play.
The good news is we have the framework: There are agencies and organizations in place working tirelessly to combat homelessness in our city. We just need everyone at the table working in concert to maximize—not duplicate—their efforts.
According to the task force report, the biggest structural need is for a low-barrier homeless shelter in Indianapolis, which would provide emergency shelter that ensures immediate and easy access by lowering entry requirements. A low-barrier shelter can help reduce the stigma of homelessness, getting people off the streets immediately and into a place where they can be connected with support services and a path to permanent housing solutions.
Other cities have seen success with the low-barrier shelter model, including San Antonio. Indy Chamber led a trip there in 2019 to study its Haven for Hope shelter, which started the conversation here locally and at the Statehouse.
Other key recommendations from the task force include more collaboration with our criminal justice system as well as strengthening re-entry programs to ensure people leaving jail or prison don't cycle into homelessness and providing easier ways for individuals to navigate the state and local resources and support services available to them.
The city of Indianapolis has dedicated funding for these efforts, but state support is needed as well. The Indiana General Assembly is currently considering funding options that could be used for a low-barrier shelter and other initiatives to combat homelessness included in the task force report. We're hopeful the Legislature will recognize the urgency and need to fund these programs in communities across the state.
It's encouraging that, over the last year, Marion County did see a 9% decrease in the number of residents experiencing homelessness and a 23% decrease in people sleeping unsheltered. This proves we have the tools to make an impact; we just need greater collaboration and investment. By implementing these task force recommendations, we can build on that positive momentum and solve this problem now.
We stand ready to partner with the city and state to help support these efforts, tackle homelessness and strengthen our capital city.•
__________
Carlstedt is interim CEO of Indy Chamber. Hoops is CEO at Visit Indy. Schaffer is CEO at Downtown Indy Inc. Tamm is CEO of the Indiana Restaurant & Lodging Association.
Please enable JavaScript to view this content.