Ann Murtlow, president and CEO of United Way of Central Indiana, announced Wednesday that she plans to retire in June after nine years leading one of the Indy area's best-funded and most powerful philanthropic organizations.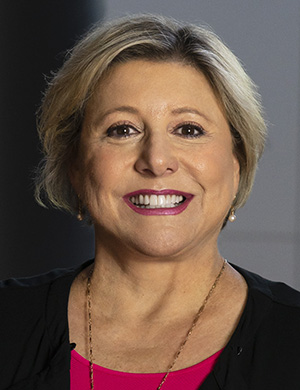 Murtlow, 61, has been one of central Indiana's area's most visible and influential female corporate leaders for nearly two decades. She took the reins of the not-for-profit in 2013, replacing longtime president and CEO Ellen Annala. Murtlow had been running her own business-strategy and leadership-development firm, AM Consulting LLC, since stepping down as CEO of Indianapolis Power & Light Co. in 2011.
"Leading United Way of Central Indiana has been one of the greatest honors of my professional career," Murtlow said in a media release. "We have focused our mission and built an exceptionally strong team, one that any organization and community would be grateful to have working on our community's most pressing social challenges. United Way is well positioned to help those who need us most in the coming years."
Murtlow led significant organizational shifts at the United Way, including diversifying its revenue sources and updating its grantmaking process. It also refined its mission to what it calls a "two-generational approach," aimed at reducing generational poverty by providing integrated services for children and the adults who care for them.
Throughout Murtlow's tenure, United Way has played a leadership role in many community initiatives, including the Central Indiana COVID-19 Community Economic Relief Fund, Great Families 2020, the Indianapolis Preschool Scholarship Program and Indy Summer Learning Labs.
"Ann's leadership through a critical time in United Way and our community's evolution has been a true blessing and a gift to our community," said Rafael Sanchez, United Way's board chair. "I had the privilege of witnessing firsthand how Ann's transformational leadership has paved the way for continued success in combating some of our community's toughest challenges. United Way's ability to quickly convene donors and advocate for those in need was essential as our community navigated the pandemic."
Murtlow's last day will be June 30. The United Way of Central Indiana's board of directors has hired Boston-based executive search firm Koya Partners to help find a new leader.
Koya and the board's search committee plan to consult with community leaders and constituents to develop a profile for the new CEO. Those interested in contributing can email uwciceo@koyapartners.com.
Murtlow's business career began at Washington, D.C.-based engineering and construction firm Bechtel Power Corp. after she collected a degree in chemical engineering from Lehigh University in 1982. She moved to Arlington, Va.-based AES Corp. in 1987 to head the power company's environmental permitting activities for new power stations.
In 1997, she started a stint in AES' London office, where she oversaw business development and operations in 22 European countries.
The New York City native moved to Indianapolis in 2002 to become president and CEO of IPL soon after AES acquired the local electric company. The appointment made her one of the few female utility CEOs in the United States. She spent nearly a decade leading the company during a tumultous time in the utility industry.
Murtlow's plans for retirement appear to be open-ended. On Wednesday she posted on Twitter: "Fred Rogers once said, 'Often, when you're at the end of something, you're at the beginning of something else.' With that, my journey into retirement will be a delightfully open road of possibility that I look forward to experiencing with my friends and family."
Please enable JavaScript to view this content.