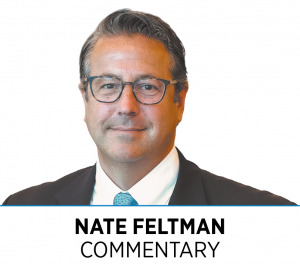 Mayor Jim Brainard two weeks ago announced that he would not seek an eighth term as Carmel's mayor. After what will be 27 consecutive years leading the city of Carmel, Mayor Brainard will finish out his term next year as Carmel's longest serving mayor.
Since Brainard became mayor back in 1996, Carmel's population has grown from 36,000 to approximately 100,000 and from a sleepy Indianapolis suburb to a perennially top-ranked best city to live in America.
As a resident of Carmel for the past 20 years, I have had a front row seat to Carmel's transformation. Carmel's success did not happen by accident. Rather, Brainard's vision, hard work, approach to governing and willingness to take risks have propelled Carmel's growth and development.
Rather than thinking about the next office he might run for, Mayor Brainard's energies have been focused on building a great city. He came into office with a vision for Carmel and a willingness to take calculated risks to achieve his vision. He did not allow the naysayers (and there were many) to slow him down. Instead, his laserlike focus on building a city by investing in new and unique amenities attracted an unprecedented number of new residents and businesses who wanted to be a part of the Carmel growth story.
Mayor Brainard understood that although Carmel had the location advantage of being situated on U.S. 31, the main thoroughfare that leads directly to the Indianapolis downtown core, Carmel had to develop its own identity (e.g., Arts & Design District) to ensure its long-term relevance and prosperity. In this regard, creating amenities, investing in public infrastructure, parks, bike and jogging paths and public art became priorities.
Mayor Brainard's approach to economic development stands out as a key differentiator when compared to his peers across the state. He never believed that Carmel had to offer the highest incentive package to attract a new business to his community. Rather, he believed that making investments in public infrastructure and livable neighborhoods would attract businesses and residents alike, as businesses would want to locate near their workforce or potential workforce.
Roundabouts became Carmel's worldwide calling card under Brainard's leadership. In 1996, Carmel had zero roundabouts. Today, with 140 roundabouts, Carmel has more roundabouts than any city in the United States. In addition to beautifying the city, roundabouts have reduced standstill traffic, improved fuel economy for city residents and reduced the number of serious traffic accidents. They have the added benefit of providing a prime location for locating public art.
Tax increment financing as a mechanism for economic development played a key role in Carmel's growth under Mayor Brainard. The Center for Performing Arts, Hotel Carmichael and other developments were financed in large part by utilizing the increase in tax revenue that would result from the new development to finance the project. In utilizing TIF, the mayor was betting on himself and his vision, as he believed the new amenities and developments would attract people and more growth—and that strategy by all accounts is working well.
Mayor Brainard's leadership has provided a roadmap for mayors of rural and urban cities alike. He has shown that local political leaders have the ability to significantly improve their communities if they have a plan and then work hard every day to implement the plan.
When Mayor Brainard leaves office at the end of 2023, he will leave us wanting more—a sign of a job well done.•
__________
Feltman is publisher of IBJ and CEO of IBJ Media. Send comments to nfeltman@ibj.com.
Please enable JavaScript to view this content.