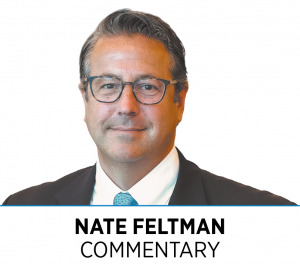 The midterm elections reminded us all of how divided our country is today. The Democrats will narrowly retain control of the Senate, and the Republicans will likely have a slight majority in the House. Divided government will mean that important challenges facing our country will continue to go unaddressed.
Neither party on the national level has been able to articulate a vision that inspires Americans and pulls us together. The divisiveness and unpopularity of our current and previous president certainly must play a part. Both presidents promised during their campaigns to pull Americans together, but their governing had the opposite effect. This may help to explain why voter turnout in Indiana lagged 2018 midterm turnout: Hoosiers are turned off by politics and politicians.
Hoosiers fortunately are familiar with inspirational leadership and good governance. When campaigning for governor, Mitch Daniels led with a positive and inclusive message and a vision of a more prosperous future for all Hoosiers. Once elected, Gov. Daniels' business approach to governing (versus a politics-first approach) often attracted bi-partisan support.
One of the people who persuaded Mitch Daniels to run for governor in 2003 was Bill Oesterle. Years earlier, Mitch had influenced Oesterle to return to Indiana after obtaining his MBA out of state. Oesterle returned the favor when Daniels was working for President George W. Bush as budget director. Daniels recalls Oesterle saying to him: "You told me to come home [after earning his MBA]. Now I'm telling you the same thing. Come back [to Indiana]."
Daniels of course acquiesced but only on the condition that Oesterle serve as his campaign manager. After the successful campaign, Oesterle returned full time to leading Angie's list, eventually taking the company public. In 2015, he would take a public stand against the Religious Freedom Restoration Act signed into law by then-Gov. Mike Pence. For Oesterle, the law went against the inclusive, pro-business environment that he and Daniels had worked so hard to foster.
Throughout Oesterle's career, Daniels' charge to return to Indiana has influenced his charitable and for-profit efforts. The creation of the Orr Fellowship program (not-for-profit) and TMap (for profit) both were driven by his desire to retain and attract talented individuals to Indiana.
After Daniels second term as governor came to a close, Oesterle was a driving force in the creation of the Mitch Daniels Leadership Foundation. (I serve on its board.) The foundation is focused on building a network of Hoosier leaders who refuse to accept the status quo as good enough and constantly aim higher in an effort to make Indiana the best place to build a future. The fellowship leadership program, consisting of current and former fellows, now exceeds 100 Hoosiers who have been exposed to the principles of personal responsibility, individual liberty and the importance of private industry.
Oesterle will be awarded the Daniels Prize on Dec. 8 at the Mitch Daniels Leadership Foundation's annual event. The Daniels Prize recognizes Hoosiers whose life's work has lifted the state to a new plane of thought, aspiration, expectation and action in the spirit of Mitch Daniels' own leadership. Previous recipients of the Daniels Prize include Tim Solso (former Cummins CEO), Jim Morris (Pacers vice chairman) and Scott Dorsey (High Alpha co-founder).
Join leaders from across the state on Dec. 8 at Crane Bay in Indianapolis in celebrating Oesterle's leadership and enjoy a fireside chat with Mitch Daniels. More information can be found at MDLFIndiana.org.•
__________
Feltman is publisher of IBJ and CEO of IBJ Media. Send comments to nfeltman@ibj.com.
Please enable JavaScript to view this content.