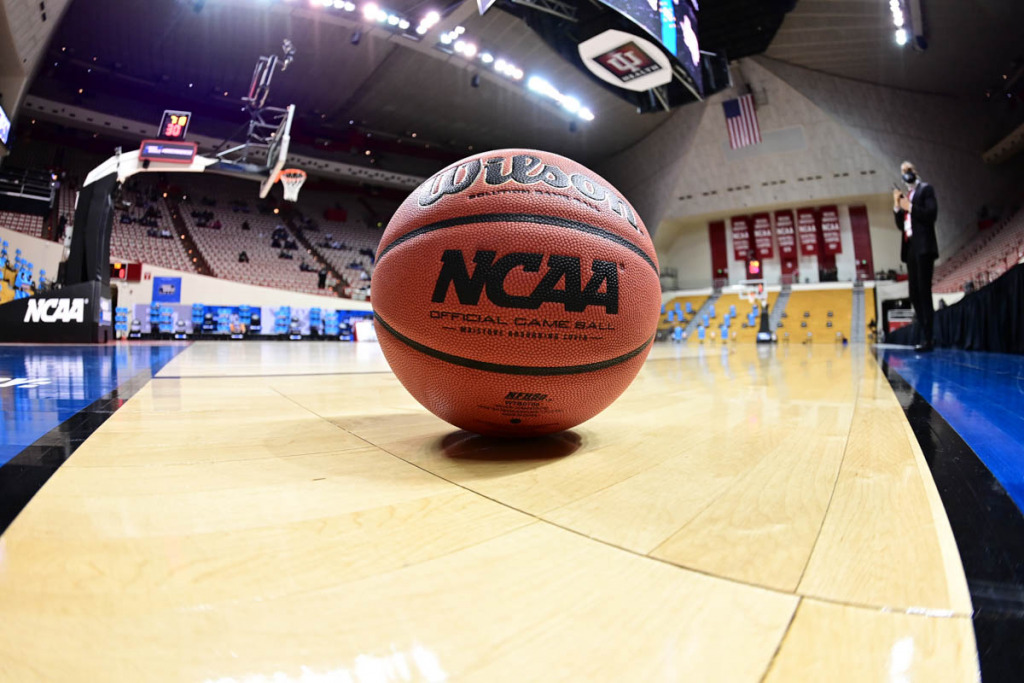 Action in the first round of the NCAA Men's Basketball Tournament drew strong crowds to Gainbridge Fieldhouse on Thursday.
The four games played in downtown Indianapolis drew about 32,610 total spectators throughout the day, split between afternoon and evening sessions that each featured two contests. The first session consisted of South Regional games while the second contests were played in the East Regional.
The first session—consisting of a 75-63 upset win by No. 11-seed University of Michigan over No. 6 Colorado State University and an 88-56 drubbing of No. 14 Longwood University by No. 3 University of Tennessee—drew 15,782 spectators.
The second session drew 16,828 people, who saw a pair of overtime games: a monumental upset of the second-seeded University of Kentucky by 15th-seeded St. Peter's University, 85-79, and a 92-87 victory by 7th-seed Murray State University over the No. 10 University of San Francisco.
The capacity of Gainbridge Fieldhouse for basketball is just under 18,000.
Ryan Vaughn, president of Indiana Sports Corp., which is helping conduct the event, said he was pleased with the turnout for Thursday's game. There were more than three times as many fans for the opening-round games this year than the number that attended the 2021 contests at the fieldhouse—specifically because there are no longer capacity restrictions in place due to the COVID-19 pandemic.
When Indiana hosted the entire NCAA men's basketball tournament last year, there was a blanket capacity limit of 25% for all games and venues.
"The energy of the building is just so different—it's louder and there's more people from different places," Vaughn said. "It's always nice when it's a 70 degree and sunny day, and St. Patrick's Day, too, to drive these fans downtown."
It's expected that tickets to Saturday's second-round games, which tip off at 5:15 p.m., will be much easier—and cheaper—to come by following St. Peter's upset of Kentucky. In fact, tickets on the secondary market that were selling in the low-$100 range on Thursday have since dropped to about $50 or less.
Despite the absence of Kentucky, which has a huge fan base, Vaughn said he expects solid ticket sales for the second round because it is being played on a weekend.
"We're still getting some calls for tickets," he said. "Tennessee and Michigan are still very close. So expect Saturday to be as good of an atmosphere as we had on Thursday, for sure."
Vaughn also described this year's tournament rounds as more of a "sports tourism moment" for the city than last year, because there are generally more people engaging with each other and coming from different locales. In 2021, many of the fans who attended games came from nearby.
"It's really kind of an apples-to-oranges comparison to last year, which was a once-in-a-lifetime opportunity for the NCAA and our community," he said. "It's more of a sports tourism moment because there are folks from the regions where these teams are from that are traveling to Indianapolis, whereas last year it wasn't as much a tourism moment as it was a community moment."
Please enable JavaScript to view this content.