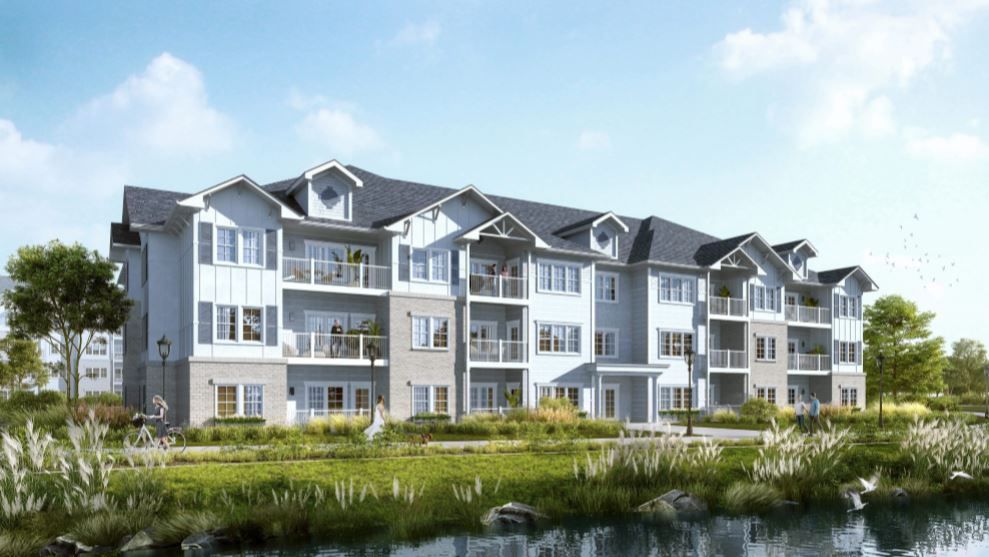 Three new residential real estate projects are in the works at Westfield's Grand Park Village that could add 471 living units to the 220-acre development south of Grand Park Sports Campus.
The proposed developments include a 240-unit apartment project by Indianapolis-based TWG Development LLC and an age 55-and-up restricted mixed-use building with 157 units developed by Carmel-based Hageman Group. Also planned is an 87-acre neighborhood with 74 single-family attached houses by Atlanta-based Beazer Homes and Weihe Engineers.
The Westfield Advisory Plan Commission in February approved the Beazer project, which will be built on the southeast corner of East 186th Street and Kinsey Avenue.
The TWG and Hageman developments are finalizing construction plans with the city's Department of Public Works, according to Westfield Director of Communications Chris Proffitt.
Plans call for TWG's apartment development to be constructed on the east side of Wheeler Road north of East 181st Street. It is expected to include six apartment buildings—two 72-unit buildings and four 24-unit buildings—with a clubhouse and pool, an enclosed dog park, a bike hub and commercial space.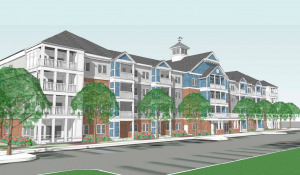 Hageman's proposed 244,580-square-foot apartment building at Grand Park Boulevard and Wheeler Road will include two commercial spaces at ground level.
In addition to those three projects, Richmond-based Freeman Development Corp. is nearing completion on a 244-unit luxury apartment building called CharlesTowne at Grand Park on 12 acres near the intersection of East 186th Street and Wheeler Road.
If the new projects are developed according to plans, 715 of the 960 dwelling units allowed under the Grand Park Village Planned Use Development Ordinance would be claimed.
Steve Henke, founder of Carmel-based Henke Development LLC, introduced plans in late 2012 for the $225 million Grand Park Village.
Henke Development Group has been heavily involved in the northern suburbs in recent years and developed Chatham Hills in Westfield and Promontory of Zionsville. The company plans to begin construction this year on a 321-acre private lake community in Zionsville.
The concept for Grand Park Village included an New England-style community with shops, restaurants, entertainment venues and multifamily housing surrounding a 15-acre lake with a boardwalk.
The development got off to a slower start than expected, but pieces have fallen into place in recent years.
Carmel-based Mainstreet Property Group was the first to invest when it constructed a $16 million rehabilitation and senior care facility called Wellbrooke of Westfield on seven acres in 2013.
A $17 million Cambria Suites that includes 152 rooms and 3,800 square feet of meeting space opened in 2017. Other businesses include Primrose School at Grand Park and Coyne Veterinary Center Westfield.
Brad Henke, who handles development and brokerage for Henke Development Group, said Grand Park Village is becoming a unique destination for Westfield residents and for athletes and families who travel to Grand Park Sports Campus.
"We envision a neat variety of mixed-use retail, multifamily [residential], shops and restaurants, and then having the walkability with the boardwalk and trail going through there," Henke said. "So, we're really excited for that area."
Please enable JavaScript to view this content.