Get ready for some greener laws.
Mayor Joe Hogsett's administration has already moved on some big-ticket items, such as 2019's wide-ranging Thrive Indianapolis climate resiliency plan and last summer's utility-usage tracking program for large buildings.
But now, future measures have a dedicated place at Indianapolis' City-County Council, through a new Environmental Sustainability Committee, which met this month for the first time.
The panel has excited environmentalists and sustainability advocates with plans to focus first on urban forests and parklands, then recycling and solid waste, followed by equitable health and infrastructure investments.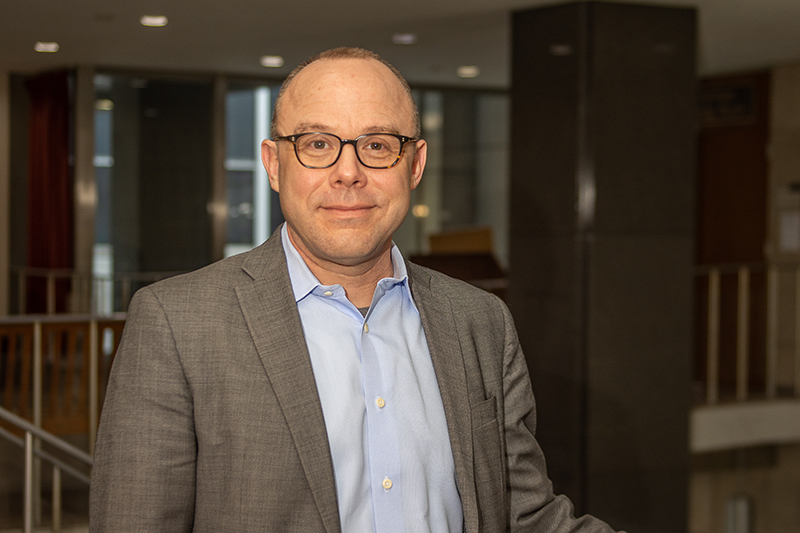 Chair John Barth envisions a new type of committee in which legislators play a more active role in conceptualizing solutions.
Still, some not only disagree on committee members' roles but are opposed to the committee's existence altogether.
The council adopted the committee last summer on a 19-6 vote, with all five Republicans and Democrat Monroe Gray voting against. Its history goes back further, to a similarly named year-long commission, also led by Barth. It met six times in 2020, with lawmakers and residents zooming in on parklands, waste, energy and transit, environmental justice and Thrive.
The commission's first recommendation? Establish a dedicated standing committee, and thus, expertise among legislators.
"One of the things I want to do with the committee is build up a depth of knowledge among the councilors," Barth said, so the group can "start to coalesce around strategies that we could put forward on a bipartisan basis."
Indianapolis' part-time councilors do spearhead signature proposals, like the $40 million pre-kindergarten effort Barth, now-Majority Leader Maggie Lewis and then-Mayor Greg Ballard led in 2014. But Hogsett's administration, as is typical, generates much of the legislation that goes through the City-County Council, with councilors offering edits.
Barth, a self-confessed public-policy fan, said he wants the committee to "be more results-oriented" and initiate more legislation. And he's kicking things off with a two-month "proof of concept" centered on trees and public green space, something councilors and constituents have repeatedly told IBJ is a priority.
Step one, scheduled for the committee's second meeting on Feb. 28, is informational. Councilors will hear presentations from Forests for Indy, a not-for-profit effort that in December released an exhaustive catalog of Indianapolis' 30,000-plus acres of privately owned—and thus, developable—forests, and Keep Indianapolis Beautiful, which plants street trees for the city, Citizens Energy Group and everyday residents.
"We really need to have the city make a more substantial investment here," Barth said, because of trees' effects on stormwater absorption, summer cooling and other challenges. "And then that [meeting] leads to the next issue, and that is: What are we going to do about it?"
Step 2, set for March, is the policy deep dive and proposal-making. Barth said he'd asked council staff to put together a presentation on "non-traditional" funding mechanisms, like carbon credits for mature forests and bonds for younger trees. The committee would then develop a proposal to submit to the full council.
Barth plans to repeat the process to examine solutions for Indianapolis' troubled recycling and solid-waste programs and to tackle equity in city investments for things like flood-control infrastructure.
But misgivings abound.
Priorities, possibilities
History hasn't always treated new standing committees kindly.
Hyper-specific additions like 1994's Capital Asset Management Committee and 1996's Regulatory Research and Review Committee were short-lived. The first lasted seven years, while the second made it just four before councilors ditched it. Other committees have been merged or split apart—often multiple times, as council priorities shifted—but have survived in some form.
Republican Councilor Paul Annee, who described his vote against the committee in August as a "not now" rather than a flat-out "no," is now one of three Republicans on the 11-member entity. He accepted the assignment, but still isn't convinced the committee is needed.
"I've always said that the council needs to be very thoughtful in adding new standing committees. That's not something that should be done willy-nilly, or shouldn't be done in the spur of the moment," said Annee, who wanted the commission behind the committee to run for "at least" another year to ensure the addition was necessary.
Annee and other Republicans have long emphasized a focus on public safety and roads, questioning the need for a new committee.
"We're in the middle of a public safety crisis in our city: two years in a row with record homicides. We don't have a long-term plan to fund our roads—we don't even have a short-term plan," said Republican Councilor Josh Bain, another committee member. "… Everything that I hear from my constituents is, 'What are we gonna do about the crime?' And, 'What are we going to do about the roads?' That's where I've chosen to put most or almost all of my energy and focus."
'Primary lens'
Advocates say the new committee offers a space to spotlight critical long-term problems that are often overshadowed in committees with broader mandates.
Take Indianapolis' opt-in, extra-charge recycling program or its money-losing solid-waste services, said Allyson Mitchell, who leads Circular Indiana, formerly the Indiana Recycling Coalition. She was on the commission. Both topics are on Barth's agenda, but in the past, would've gone to the mainstay Public Works Committee.
Environmental issues are "in there with transportation, traffic control, snow removal, you name it. Parks are kind of embedded in that, too, because [the Department of Public Works] does a lot of maintenance for parks," Mitchell said. "It's very difficult to have a thoughtful conversation about [other] issues."
Jeremy Kranowitz, head of Keep Indianapolis Beautiful and also a former commission member, recalled the Public Works, Parks and Recreation and even Public Safety and Criminal Justice committees considering proposals that included "threads" of environmentalism and sustainability but didn't focus on those elements.
"We did feel that it was important to have meetings that really could think about the environment as the primary lens," Kranowitz said.
Opponents say that work is already getting done. An Office of Sustainability-led utility benchmarking proposal aimed at building owners went through the Public Works Committee, as did authorization of a flood infrastructure financing mechanism tailored to Mars Hill.
But supporters want to look closer at a range of possibilities.
Democratic councilor and committee member Ali Brown has water in mind, namely pollution in Geist Reservoir, a source of drinking water, and hybrid nature-traditional infrastructure for the flood-prone parts of her district. Democratic councilor Krista Carlino, another committee member, hopes to delve into waste reduction as an efficiency strategy for public dollars.
Barth, for his part, was willing to rethink the need for a dedicated committee, but said it has plenty to do.
"I'm a Six Sigma green belt, so I'm always looking for efficiencies. To the extent there is a more efficient approach a few years from now, I'm always open to looking at that," Barth said. "But to me, there's no end to the issues that this committee needs to grapple with."
Making policy
If there's no end to the work, there's also no end to the array of thought about what that actually entails.
The new committee is the current council's 10th, a total that isn't without precedent. But it's another big commitment for Indianapolis' part-time councilors, who typically hold full-time jobs in addition to the $11,400-a-year lawmaking gig. Environmental Sustainability Committee members said they sat on four to eight committees, with each meeting at least monthly.
Councilors acknowledged jam-packed schedules, heavy on late-night and weekend work, but said it comes with the job.
"When offered, you know, 'Would you like to join the committee? And feel free to give up a seat on another committee,' I absolutely wanted to serve but wasn't willing to step aside in any other issues that are really important to me as well," said Carlino, who now holds five assignments. "So, I think we can walk, talk, chew gum, dribble a basketball and do it all in high heels."
"There's no question [that], when you add another committee or a councilor picks up another assignment, that does further divide time, but my attitude has always been that the people in my district sent me to city hall and … we'll make it work," said Annee, who sits on eight committees.
But councilors had different impressions of the role they'd play on the committee.
Some were all-in on the hands-on approach.
"It's nice to actually do the work, because I feel like there's far too many of my [Democratic] colleagues that just take what's given to them and that's all they ever do," Brown said. "They don't actually author anything themselves or have any independent ideas and are just parroting the administration. And while the administration is good, you weren't elected to just check off what Hogsett wants. You have to do more."
Others were already committed to other priorities.
"Most of this stuff will have to come from the executive branch," said Bain, a Republican. "At the end of the day, I don't know why you had to create a new committee just to have discussions on something."
And others wanted clarification.
"I think it's important to have a legitimate conversation about what the committee's scope should be: What is in [a] local government's purview?" Annee said. "… I'm sure as we get into the next couple of months, we'll have a better idea, but I think all of us [Republicans] are looking very much forward to being a part of those conversations."
Barth acknowledged it will take time for committee members and council meeting visitors to arrive at a shared understanding of the policy-producing process. But ultimately, he said, the goal is to publicly examine problems, explore solutions and leave room for residents to weigh in on the committee's discussions.
"That's how I'd like to see public policy done, and this is an opportunity to really do that. I'm not expecting that that's going to happen on day one," he said. "But over time, I'm hoping that type of commitment, and that kind of a process, can bear fruit and result in really positive proposals for the city."•
Please enable JavaScript to view this content.