It took 90 minutes, fewer than 20 volunteers and a vehicle full of pavement tape, signage, stencils and paint for Indianapolis Public School 55 parents and students last spring to put in a temporary bike lane along a fast-moving stretch of East 54th Street. The plan was to bridge the quarter-mile gap between the Monon Trail and the school.
"You'd talk to parents, and they would say, 'Yeah, I would let my kids walk or bike to school if traffic was lower on the street, or drivers paid more attention,'" said Matt Hygema, father of two children who then attended IPS 55. "So we just started brainstorming ideas to just make some sort of a dent into that problem."
One parent led the convoy with a leafblower, blasting dirt and debris out of the way, followed by a group of children marking out the new lane with sidewalk chalk. Groups of parents followed, laying down the tape, pressing it into the pavement and stenciling bike symbols onto the lane. On another day, a smaller group created a temporary crosswalk in 20 minutes.
Hygema is among the residents across Indianapolis taking a do-it-yourself approach to tweaking specific stretches of road by their schools, businesses and neighborhoods to better protect children and neighbors. Generally, residents coordinate with city authorities but lead the work themselves.
Interest is on the rise, according to the Department of Public Works, which adopted late last month its first cohesive policy for handling the temporary, low-cost installations that are widely known as tactical urbanism. The approach has the potential to make changes that otherwise wouldn't make DPW's project lists.
Last fall, for instance, DPW swapped the tape on East 54th Street for permanent paint, and extended the bike lane another mile to Keystone Avenue for good measure. But, advocates say, the projects also lay bare the sheer amount of work that's left to make neighborhoods more friendly for pedestrians and bicyclists.
"It was gratifying, but it was also a little bit like, 'This was a very simple thing to do that literally nobody opposed,'" Hygema said. "And it still took, you know, the better part of two years to do—probably would have taken one year without the pandemic. … Painted bike lanes are the simplest, cheapest and probably the [minimal] thing you can do to encourage bicyclists. But it still took that much effort."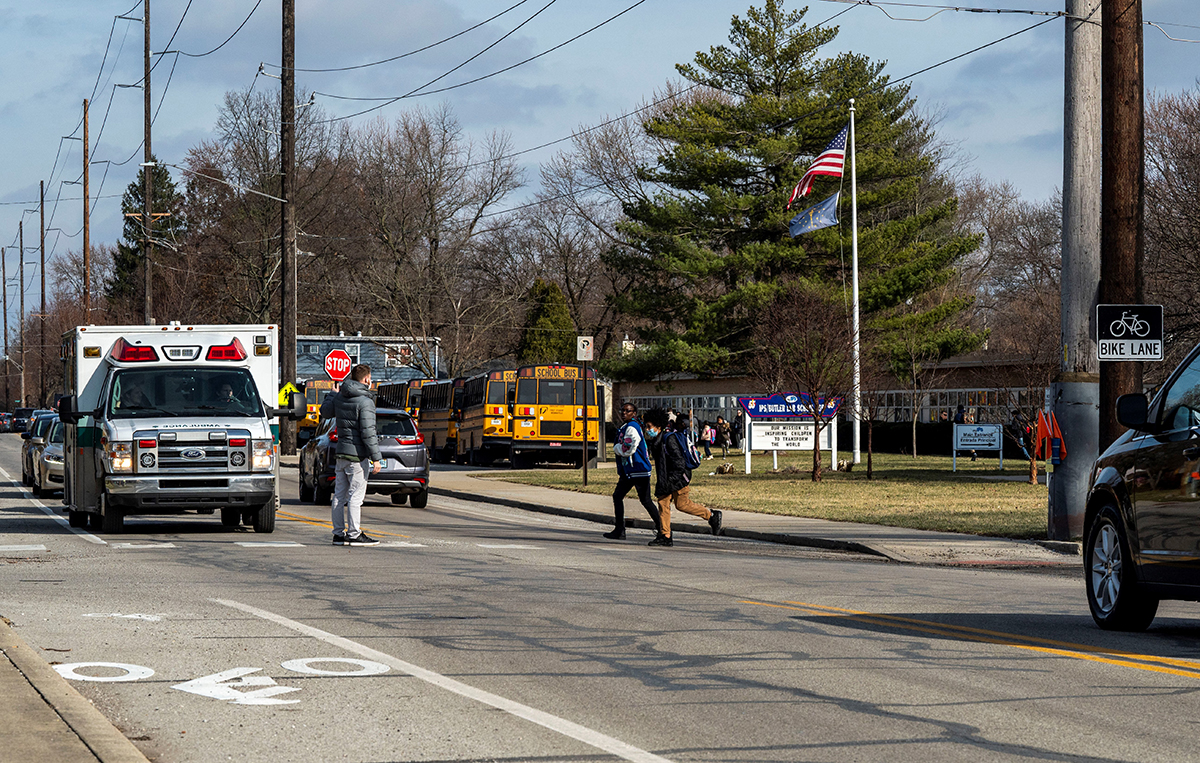 'Massive undertaking'
Most Indianapolis traffic collisions are car-to-car. But when they're not, they get a lot deadlier.
Pedestrians were just 0.5% of the people involved in Marion County's 66,277 crashes in 2019, according to an Indiana Criminal Justice Institute county-level report. But pedestrians were 24% of the 106 fatalities. Cyclists were only 0.2% of the total, but were 2% of fatalities.
Indianapolis has also recently seen a spate of high-profile traffic deaths, including that of 7-year-old Hannah Crutchfield, hit in September on a crosswalk outside her Irvington school, and of longtime cyclist Frank Radaker, hit in October on an East 86th Street Monon Trail crossing.
Residents see crashes waiting to happen elsewhere, too.
"We've been lucky so far—nothing too bad. It's just there's a lot of people walking, and running, and a lot of traffic," said Kan-Kan Cinema and Brasserie executive director Louise Henderson, who's been working with the Windsor Park neighborhood on a mural project for the wonky intersection at Nowland Avenue and her business's parking lot, just ahead of Commerce Avenue.
Widely accepted design principles, like narrower vehicle lanes and designated bike lanes with protective barriers, along with elements like sidewalks, can cut down on the danger. But for Indianapolis, maintaining its current roadways is already a budget-buster, let alone fixing all its problem intersections and adding infrastructure.
"It will take billions and billions of dollars and decades—even if we have the money tomorrow—to build out the infrastructure needs that we have," said Kim Irwin, head of not-for-profit Health by Design, referring to sidewalks. "We have chronically and historically underinvested in that infrastructure. We built out our city without it. So at this point, to retrofit, it's just a massive undertaking."
Sidewalks on arterial streets alone would cost at least $750 million, according to the 2016 pedestrian plan that Health by Design developed for the Department of Metropolitan Development.
So Irwin and other infrastructure advocates find promise in cheap, community-tailored tactical urbanism projects.
"In the absence of [permanent infrastructure improvements] are these shorter-term, lower-cost interventions that can achieve the same purpose," Irwin said. "They also allow us that kind of trial-and-error, testing, evaluation opportunity. And they do serve to change behavior of drivers, of people walking and biking, in ways that are positive."
Though the tactical urbanism concept has received more visibility in recent years, organizations around Indianapolis have been arranging such projects for decades on an ad-hoc basis.
New rules
Cultural and placemaking not-for-profit Big Car Collaborative began doing tactical-urbanism-style demonstrations back in 2000, in Fountain Square, according to Executive Director Jim Walker. The group collaborated with the Southeast Neighborhood Development Corp. to turn a parking lot into an outdoor movie venue. In another demonstration, Big Car temporarily shut down the then-four-lane Virginia Avenue.
Since then, the group has temporarily slowed traffic and turned parking lots into gardens in Lafayette Square, created weekend-long bike lanes and block parties in Garfield Park, and hopes to lend its expertise further out in Indianapolis' suburbs, Walker said.
For years, "there was nothing written down about it, and probably, things that we did in the right-of-way, if we're looking at [Department of Business and Neighborhood Services] rules or whatever, may not have been completely in line with how it's supposed to be done," Walker said. "But we weren't … making issues with traffic being backed up. We did consult with traffic engineers and folks like that at the city to say, 'Hey, does it seem like it's going to be a problem?'"
Though that gave project-doers a certain level of freedom, some say it also complicated efforts.
"City staff [were] doing the best they can with what they had to work with to guide people, but I think also, we've had lost opportunities, where things didn't move forward because there were too many hiccups, or they couldn't come to consensus or just literally couldn't get the project going because there wasn't enough information," said Irwin, whose organization provides guidance to tactical urbanism newcomers.
That's changing, thanks to the tactical-urbanism policy approved by the DPW's board, which cited a pandemic-driven surge of resident interest.
There's also a funding source, courtesy of a semi-new grant program out of the Indiana Department of Health's Division of Nutrition and Physical Activity—from which Hygema, Henderson and Walker have all received funding.
Other motivations are seasonal: DPW regularly hears from residents who see half-plowed streets and want to "recapture" the unplowed space for pedestrians and cyclists year-round, said one board member at the February pre-meeting.
The 11-page policy establishes a permit and lays out what residents need to include in their applications, including plans for designs, installation and maintenance. It lists what DPW is looking for in applications, primarily that proposed projects won't worsen traffic or create safety hazards, and won't mess with stormwater drainage or DPW maintenance efforts.
Crosswalks, though prominent in many past proposals, aren't part of the deal, because of what DPW says are strict state and federal design requirements.
Indianapolis is already low on state funding because Indiana's allocation formula uses road miles, not lane miles—giving rural, one-lane roads the same amount of money for construction and maintenance as Indianapolis' multi-lane thoroughfares. DPW Deputy Director of Policy and Planning Abbey Brands said there's no desire to risk the scarce dollars the city's receiving.
There is, however, a hint of a path to permanence.
Project-doers need to collect data on their demonstration projects—defined as lasting 30 days or fewer—or their pilots—lasting 30 days to a year. DPW could complete cheap, semi-permanent versions of successful projects, according to Brands, or add more expensive undertakings to DPW's long-term capital plan for permanent installations.
Getting in the streets
The new policy was welcome news for Hygema.
"I love there being a mechanism out there to get people to actually get out in the streets and put something physical on the streets. That's how you make real change," he said.
It'll also go hand-in-hand with a street-art policy the Board of Public Works adopted in July, which itself was a relief for Henderson and the Windsor Park Neighborhood Association. They'd delayed their mural project to this June, to wait for DPW to develop its internal guidance.
"No one was able to get us any answers, because there were no answers," Henderson said. More recent conversations have been "smoother," she said, "because [Brands] now has that road map of what [DPW's] policy is."
The partnership is planning to submit a permit application for the mural in March, which Henderson said she hoped would beautify the street and calm traffic, especially when paired with some community festivities.
If approved, the mural will be installed in early June. But now that there's also a tactical urbanism policy, Henderson said, she hopes the mural will be the first of multiple traffic-calming experiments.
DPW, meanwhile, plans to put out a basic checklist for permit applicants, followed by a user-friendly, example-heavy how-to booklet.
Big Car, which maintains a lending library of common tactical-urbanism supplies, might see some more takers. For Walker, the new policy could be a chance for Indianapolis to promote an increasing sense of community.
"An opportunity might be to move in a direction where a partner or an entity within the city is not only kind of keeping an eye on things legally, or whatever, but also encouraging this kind of stuff," Walker said. "… Like, 'We want this to happen. It's good for the city. It's good to engage with your neighborhood if you're going to do this.'"•
Please enable JavaScript to view this content.