Two "instant buyer" companies, also called iBuyers, recently launched in central Indiana to give homeowners a non-traditional route to buy or sell houses.
San Francisco-based Opendoor and Phoenix-based Offerpad both announced in recent weeks that they were bringing their internet-driven real estate services to homeowners in central Indiana. Those iBuyer companies—and others like Zillow and Redfin, which have added iBuying services—frame their online platforms as a convenient, quick, certain and simple alternative to the traditional home-selling experience. However, local real estate agents aren't sure whether the approach will disrupt or simply augment the market.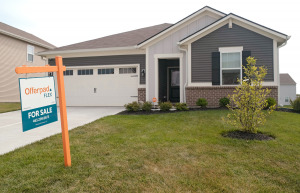 "We're not unlike other industries, frankly, who have seen an influx of technology-based businesses," said Karl Berron, outgoing CEO of the Indiana Association of Realtors. "I view it as a sign of health in the market. I don't think we'd say it's a threat by any means; it's just a new version of a way to go about selling real estate."
More than just a modern version of those "We Buy Homes" signs on the side of the highway, iBuyers allow homeowners to request a cash offer on their homes—usually available within 24 hours.
Instead of putting together a comparative market analysis like a traditional real estate agent, iBuyers use proprietary software to collect data about the home intended for sale— its location, its special features, nearby sales and other metrics—to come up with a price.
Matthew Brohn, vice president of strategic initiatives for Offerpad, likened the service to successful tech startups that become household names.
"A few years ago, Uber and Lyft transformed the transportation industry. What we're seeing in real estate is similar to that," he said. "As people are moving to an easier way of life and trying to be stress-free, I think the iBuying environment will change things the way Uber and Lyft did."
In addition to those quick cash offers, iBuyers allow homeowners to dictate their closing date while avoiding the hassle of staging their homes or dealing with a buyer's uncertain financing.
"I like to think of us, as an iBuyer, as kind of a headache medicine for a home seller. When you think about all of the things you have to do, there are a lot of steps," said Jim Lesinski, Opendoor's regional general manager for Indianapolis. "We take all of those many steps and consolidate it into one easy process."

Despite those offerings, Berron doesn't expect the introduction of a couple of iBuyers to create a monumental change in the local real estate industry.
"There have been one-stop-shop-type value propositions way, way back," he said. "But it's an industry that's been hard to crack."
Comparison shopping
Generally, iBuyer offers have to thread a tight needle. They need to be high enough to convince a homeowner to sell, while also being low enough that the company will make a profit by the time the house is repaired and returned to the market.
In addition to the money they make from reselling the house, iBuyers also charge a service fee that varies with the current market conditions.
Eric Miller, a real estate agent with Danville-based Wright Realtors, conducted his own experiment in late July to better understand Offerpad's and Opendoor's approach. He requested offers from both companies for his Danville home, which he said is worth $300,000 to $315,000.
Both companies came back with offers below Miller's estimate—Offerpad offered $275,775 and Opendoor offered $297,800. They also both came with a 5% transaction fee, a percentage Miller said is comparable, if not slightly less than, the fees homeowners might pay an agent to help sell their home.
Because he wasn't actually selling his house, Miller said he didn't schedule an inspection appointment with either company. However, he said he believes iBuyers' repair demands can be more extensive and eat away as much as 8% of a seller's gains. Whereas a traditional inspection might look at necessary repairs, Miller said iBuyers' repair costs might start to rack up as they demand aesthetic upgrades like new flooring types or cabinet fixtures.
"Really, there's no rhyme or reason to it. They're looking for different things," Miller said.
Lesinski couldn't provide an estimate for how much an average home's repairs might deduct from the homeowner's proceeds.
"It's really a function of whatever condition your home is in. We're not a house flipper; house flippers anticipate a large number of repairs. We do repairs a typical buyer would expect to see in that area," he said.
Miller isn't recommending homeowners avoid iBuyers, though. Beyond flexibility, he said, each one offers different incentives that could fit one person's situation better than another's.
The varying iBuyer companies promise 24-hour cash offers, flexible closing dates up to 90 days and other incentives, like free local moves or zero fees for canceled transactions. That's why Miller suggested exploring your options with an iBuyer, but keeping a real estate agent close at hand.
"It's always important to get an opinion from both," he said. "This is a new concept, and these companies are paying a lot of money in some cases."
Local partners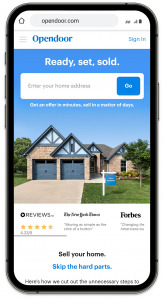 Those home buyers and sellers who choose to use an iBuyer aren't the only ones who stand to benefit from their entry into the central Indiana market.
"We offer a very aggressive partnership with existing real estate agents that bring us homes," Brohn said.
If a homeowner wants to sell without having to go through the listing process, Offerpad will partner with agents to give them a 3% commission on the sale. Lesinski said all of Opendoor's transactions are sold to buyers who are represented by agents.
"Some agents see an opportunity to partner with us because we expand their value proposition," he said.
That can add valuable revenue streams to firms or individuals who do choose to partner. Brohn said Offerpad's model typically works best for homes valued at $500,000 or less—but the company will consider homes of all kinds.
"Out of the gate, we're excited to look at any home," he said.
Miller actually received an unsolicited offer to either join Offerpad's brokerage or refer sellers to the iBuyer that better fit their model. Though he has not fully investigated all the incentives those companies offer beyond the commission rate, he said he's not interested.
"Generally, they're always looking to do that because they're going to need agents to deal with," Miller said. "It just makes Offerpad more money all around, which then allows them to be more competitive."
Offerpad's entry into the market also includes the establishment of a local office. Currently, Offerpad has temporary operations at 3815 River Crossing Parkway on the north side of Indianapolis. Brohn said he's actively toured locations in Carmel, including inside the Clay Terrace shopping center and locations to the south.
Though the company has not yet selected a permanent location, Brohn said Offerpad is looking for about 3,000 square feet to house an initial five employees who will act as the general manager and leaders in acquisitions, renovations and listings.
Lesinski said Opendoor has not yet decided whether to open a local office.
Fear of the unknown
As with anything new, there are some who worry about the iBuyers' entry into the market. Miller suspects some prospective homebuyers might be hurt by the allure of the model's quick-cash offers.
"The biggest issue is that it's more cash buyers into the market driving out the homebuyers getting a loan, which is most people," Miller said. "Ultimately, for sure, it will have an impact on the price."
But Lesinski said that cash infusion can be a big help for individual homeowners, and that it accomplishes Opendoor's mission.
"I think the single biggest benefit we bring to any market in which we operate is, we bring liquidity to the market," he said. "We help satisfy a need for sellers to move on their terms. That's the mission of the company. We help sellers move."
There's also a lot of anxiety among real estate agents, Miller said, who feel threatened by iBuyers that could edge them out of a potential sale.
It's uncertain just how much market share iBuyers will gain and what impacts their behaviors will have on the industry at large, but Berron predicted they're here to stay.
"We'll see over time who is right and who is wrong, and my guess is they're both right in some way," he said. "There's room for all of them. We're changing demographics and consumer preferences."
For now, Brohn said, iBuyers' impacts are limited because they deal in just 1% of a given market.
"We're part of the ecosystem," Brohn said. "I wouldn't say we necessarily have the ability to provide substantial impact. If anything, we're providing ways for people to move faster and quicker and help speed up their ability to sell a home and get into the next home."
Berron said he's confident there will always be a place for the traditional approach to home sales.
"It's a really fascinating time in the industry right now because there are a lot of smart people making bets with different models," he said. "If you think about it, there's kind of a limit to the appeal of this. It's going to appeal to certain kinds of consumers in certain kinds of circumstances. It's not going to take over the market, but it's not going to go away."•
Please enable JavaScript to view this content.