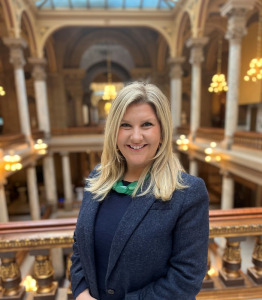 Gov. Eric Holcomb on Wednesday announced the promotion of Lindsay Hyer to executive director of the Indiana Professional Licensing Agency, succeeding Deborah Frye, who is retiring from the post.
Frye, who was named executive director in 2015, helped oversee the expansion of PLA's online services, which are used by 1 million annual customers who seek license applications and renewals.
Frye's last day will be Friday.
Hyer worked as the chief of staff for Indiana Secretary of State Holli Sullivan where she was senior adviser and oversaw all financial and operating activities for the office.
The governor's office said Hyer managed the growth of the agency's portal, INBiz, which helps businesses ensure they are compliant with state laws and regulations.
Before her role with the Secretary of State's office, Hyer worked for the Indiana Alcohol & Tobacco Commission as general counsel, where she oversaw the licensing and regulation of Indiana's alcohol permittees.
Please enable JavaScript to view this content.