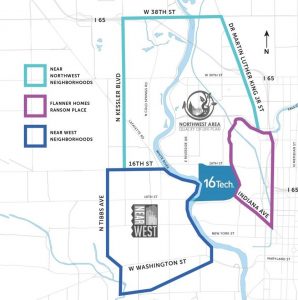 The not-for-profit manager of the 16 Tech Innovation District has teamed with several local organizations to launch a fund that will invest in neighborhoods surrounding the district, organizers announced Friday morning.
The 16 Tech Community Investment Fund plans to issue up to $1 million in grants in 2020, according to the 16 Tech Community Corp.
Organizers say the fund has been seeded with $3 million in public funding through the city of Indianapolis and will be sustained through a 20-cent-per-square-foot fee paid by 16 Tech Innovation District tenants. Additional funds will be sought though donations from individuals and organizations.
The 16 tech district is a $500 million, 60-acre project between the White River and Fall Creek, just north of IUPUI and several major hospitals. It aims to create the area's first major tech-focused live/work community.
Developers of 16 Tech—a consortium of offices, laboratories, housing and retail space—believe the campus will become a powerful economic engine by fostering collaboration and innovation.
The development is projected to employ more than 3,000 highly skilled workers over the next decade and contain more than 3 million square feet of office and lab space, in addition to parks, walking paths and other amenities.
Groundbreaking on the first office building took place late last year.
Grant applications are now being accepted for projects that support residents in the Near West, Near Northwest and surrounding neighborhoods. Grant applications and more information are available on the 16 Tech website.
Organizers said at least $350,000 in funding will be available annually from the fund for community investment. Grants will be awarded to not-for-profits of all sizes.
Please enable JavaScript to view this content.