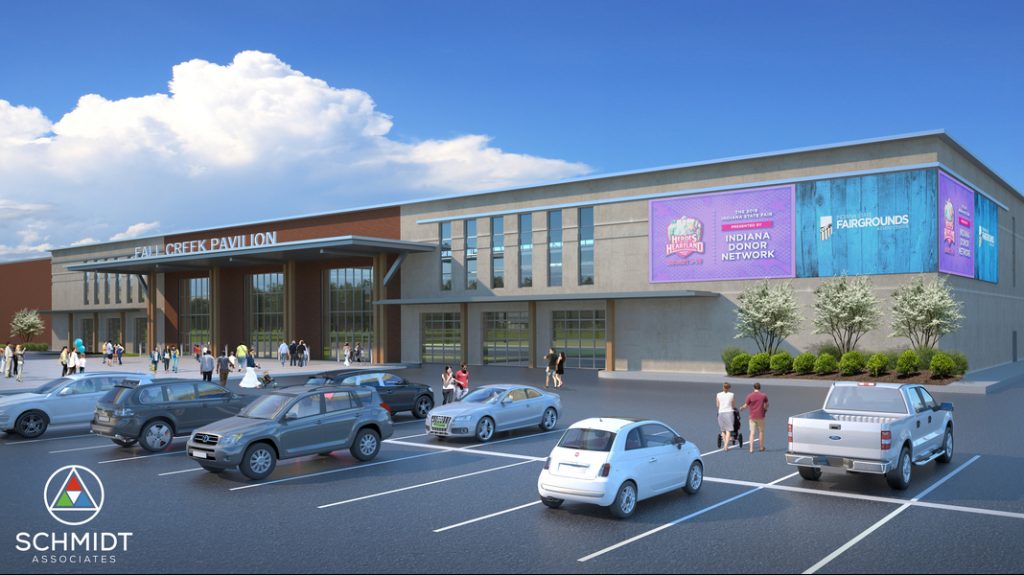 The Swine Barn at the Indiana State Fairgrounds is about to get a significant upgrade.
The $50 million project, which Gov. Eric Holcomb has suggested be funded through the state's reserves, would demolish most of the existing open-air structure and replace it with a new 170,000-square-foot, climate-controlled facility that will be called the Fall Creek Pavilion.
The new building will still be used to house livestock during the Indiana State Fair, but the rest of the year officials hope to use it for other events and shows. It will still be called the Swine Barn when showcasing livestock.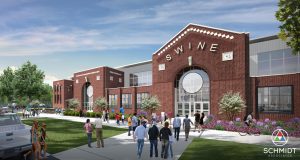 The 120,000-square-foot existing Swine Barn, which is near the southeast corner of the grounds, was built in 1923. The only part of the existing structure that will remain is the northern brick facade that displays the name "Swine Barn."
"The nod to the history we feel is incredibly important," Indiana State Fairgrounds Executive Director Cynthia Hoye said.
Hoye said the barn is the last building on the grounds that does not help generate revenue, because it is not climate controlled, which is one major reason why officials have been planning for years to upgrade it.
"The focus on the project is to make this structure a multi-use facility," Hoye said. "We really want a versatile building."
The fairgrounds host more than 400 events annually, generating an economic impact of nearly $200 million and 75% of the annual revenue for the fairgrounds.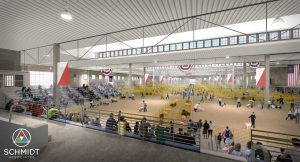 Hoye said they hope the new facility could host everything from sporting events to banquets and galas, along with being able to provide additional space for existing shows like the Mecum Auction and the Indianapolis Boat, Sport and Travel Show.
"This is truly a sound economic investment," Hoye said. "Our economic impact continues to grow."
The new building will connect to the Champions Building and the Blue Ribbon Pavilion, which are both to the west of the Swine Barn.
One of the more complicated aspects of the project will be lowering the building to grade level, which Hoye said will make it easier for visitors and for loading equipment and animals into and out of the facility.
Construction could begin immediately following the 2020 State Fair, with the goal of finishing most of the work before the 2021 fair.
The project is the first part of the fairgrounds' 2023 master plan, which also calls for redesigning what's considered Main Street through the campus to be more pedestrian friendly and redeveloping the entrances and gates to the property.
Indianapolis-based Schmidt Associates has been hired as the architect on the project.
Holcomb's proposal to appropriate $50 million from the state's reserve fund for the project is part of a larger initiative to spend nearly $300 million on one-time projects and requires legislative approval. Top Republican lawmakers, who have super majorities in both chambers of the Indiana General Assembly, have already expressed support.
Please enable JavaScript to view this content.