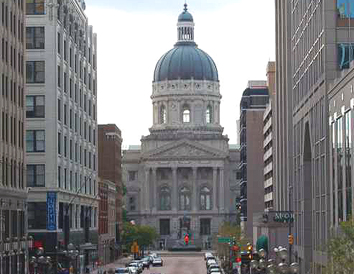 Indiana ended the fiscal year with record-high reserves, prompting Gov. Eric Holcomb to propose spending nearly $300 million on one-time projects.
Auditor Tera Klutz released the fiscal year 2019 report that showed a budget surplus of $410 million on Thursday afternoon. That brings reserves up to $2.27 billion, or nearly 14% of current-year expenditures. Indiana's fiscal year ended June 30.
After the report came out, Holcomb announced his proposal to spend $291 million of reserve funds to pay for five major capital projects: 
$50 million for a new swine barn at the Indiana State Fairgrounds;
$73 million for the Purdue College of Veterinary Medicine teaching hospital;
$60 million for the Ball State University STEM and Health Professions facilities;
$30 million for the Ivy Tech Columbus main building replacement;
$78 million to finish upgrading U.S. 31 to interstate standards from Indianapolis to South Bend.
That spending would drop reserves to nearly $2 billion, or about 12.2% of expenditures. 
Holcomb's administration said by using cash to pay for those projects, as opposed to issuing debt, it could save the state more than $100 million. 
"We will work over the next six months to demonstrate how the ongoing savings can be best used for tackling our priorities in the next budget, such as providing meaningful increases in teacher compensation so Indiana is competitive with neighboring Midwestern states," Holcomb said in a written statement.
Holcomb's proposal requires approval from the Indiana General Assembly, and the governor already has support from key Republican lawmakers.
State budget officials said the state ended the fiscal year with $485 million more in reserves than a year ago—and about $200 million more than officials anticipated in April. Much of that is attributed to a jump of $835 million, or 5.4%, in state tax revenue from last year.
Holcomb and Republican legislators made preserving a sizable cash reserve a priority in developing the new two-year state budget adopted in April. They aimed to keep a $2 billion reserve, which they say would protect the state in case of an economic recession and maintain its top-level AAA credit rating.
House Speaker Brian Bosma, House Ways and Means Committee co-chairs Tim Brown and Todd Huston, and Senate Appropriations Chairman Ryan Mishler all released statements on Thursday backing the projects.
"The fiscal closeout statement released today demonstrates that Indiana's economy continues to thrive," Mishler said in his statement. "That, coupled with the financial discipline of the legislature and Gov. Holcomb, means we now have a healthy bottom line that gives us the financial flexibility to pay for some of the projects we included in the budget with cash, rather than long-term financing."
But one of the state's top Democratic lawmakers criticized the Republicans for suggesting earlier in the year that the state would be in a much tougher spot financially.
"Chicken Little's complaints that the sky is falling have nothing on the Republicans in the governor's office and the General Assembly," state Rep. Greg Porter, who serves as the ranking Democrat on the House Ways and Means Committee, said in a prepared statement. "Remember their proclamations back in April about the risk of shortfalls in revenue and how that would prevent some programs from getting the funding they deserved? Now we find that things aren't so bad after all…like usual."
Porter offered multiple suggestions for how to spend the extra dollars, including giving teachers a 5% pay raise or fully funding pre-K programs across the state. 
"It is important to remember that the Republicans' top budget priority is maintaining a huge surplus," Porter said. "They will continue the fiction that programs like public education are getting more funding than ever before and hope people forget that they have cut that same funding by millions of dollars in past years, and most public schools still are having trouble keeping up."
The Associated Press contributed to this report.
 
Please enable JavaScript to view this content.