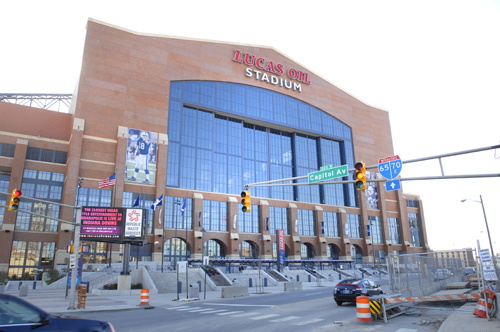 The National Football League plans to allow thousands of spectators to attend its scouting combine activities at Lucas Oil Stadium next week, a marked shift in strategy after decades of limiting public access to much of the event.
The league will offer free admission for its primetime activities at the stadium, with seating in the 100 and 200 levels—the areas closest to the field—for workouts including the 40-yard dash, the vertical jump and the broad jump, along with agility tests like a three-cone drill and the shuttle run. There are also position-specific drills for certain player groups, such as passing drills for quarterbacks and catching drills for wide receivers that fans can watch.
The league has not provided a specific cap for how many fans will be allowed to attend the combine activities at Lucas Oil Stadium, which has a maximum capacity of around 65,000, including about 10,000 seats in the lower levels. The NFL said it has never previously allowed spectators into the lower section for the event.
The combine is scheduled for March 1-7.
"Traditionally, out of design, fans have not been able to get this close to the action, so to be able to sit within feet of future stars headed to the NFL is extremely unique and is an experience that can only be found in Indianapolis," said Chris Gahl, vice president of Visit Indy. "We know millions of people will be tuning in on national TV, but only Indianapolis residents and visitors can step inside Lucas Oil Stadium and sit extremely close to the action to see their favorite college athletes."
The NFL in recent years has allowed some spectators to attend the event, but they've generally been seated much higher in the venue—in the 300 section—and had their phones confiscated upon entry to prevent them from taking photos or video of the event. 
No such restrictions will be in place for this year's event. In fact, the league will allow food and drinks to be sold at the stadium and it is encouraging spectators to post about their experience on social media. Sideline reporters from NFL Network will conduct interviews live, with the conversations broadcast on the stadium's screens, along with statistics of participating players, to keep fans engaged in the event.
"Because we work so routinely with the NFL on planning and executing the combine, we've been aware of their desire to make the event more fan-focused and engage fans in new ways," Gahl said. "We've been preparing for inviting fans and visitors inside Lucas Oil Stadium for months."
Spectators can register for up to five tickets, and will be permitted to arrive at any time during the hours-long workouts, but will not be granted reentry if they leave. Athletes will participate in on-field workouts on a specific day, determined by their playing position:
March 3: Quarterbacks, wide receivers, tight ends: 4 p.m.-11 p.m.
March 4: Running backs, offensive linemen, special teams: 4 p.m.-11 p.m.
March 5: Defensive linemen, linebackers: 4 p.m.-11 p.m.
March 6: Defensive backs: 2 p.m.-7:30 p.m.
The NFL Network is expected to carry live broadcasts from Lucas Oil Stadium each day for the duration of the workouts.
The move to open the event to a wider in-person audience comes just days after the NFL also backtracked on plans to "bubble" more than 300 players in secure areas and limit their movements during the event following extensive backlash—and a reported boycott threat—from participants, their agents and the NFL Players Association.
Gahl said city tourism officials were aware of the NFL's plans for players, but those plans didn't affect the concept of having fans at the stadium for on-field activities.
Since it began in 1987—the combine has been hosted in Indianapolis ever since—the event has been mostly secluded and limited to only those directly involved in league business, such as executives, team members, support personnel, media and sponsors.
The combine generally focuses on workouts, medical exams, team interviews with players, media interviews and meetings with potential sponsorship partners.
However, the league has long had a desire to make the combine a more fan-friendly event, with those restrictions loosening in recent years as it has added some free fan components. Those include an area to watch athletes in the benchpress, as well as a Super Bowl ring showcase, a shopping area at Pan Am Plaza and photo opportunities with Indianapolis Colts cheerleaders and the Vince Lombardi trophy.
The move to open the generally tightly-secured stadium drills to the public could have a significant impact on the combine's future, particularly as the NFL weighs whether it wants to stay in Indianapolis or move the event around the country as it does with events like the Super Bowl and the NFL Draft.
The city is one of three being considered for two-year bid cycles in 2023 to 2024 and 2025 to 2026, alongside Dallas and Los Angeles. In their bids, all three cities were asked how the event could add more fan spaces, as well as more technical questions about access to medical equipment and personnel, and supportive facilities like hotels and event halls.
"We know that we are always auditioning and working hard to retain the combine—whether that was 10 years ago or present day," Gahl said. We never take the NFL scouting combine or any major event or convention we routinely host for granted. Rather, we're always working to be better and to help grow events. As the cmbine has grown in Indianapolis, we've grown our tourism and hospitality infrastructure and grown fan-facing programs aligning with the NFL's strategy to get more fans inside and closer to the action."
The public can register for tickets to the on-field workouts by visiting http://nfl.com/Combine/Tickets.
Please enable JavaScript to view this content.