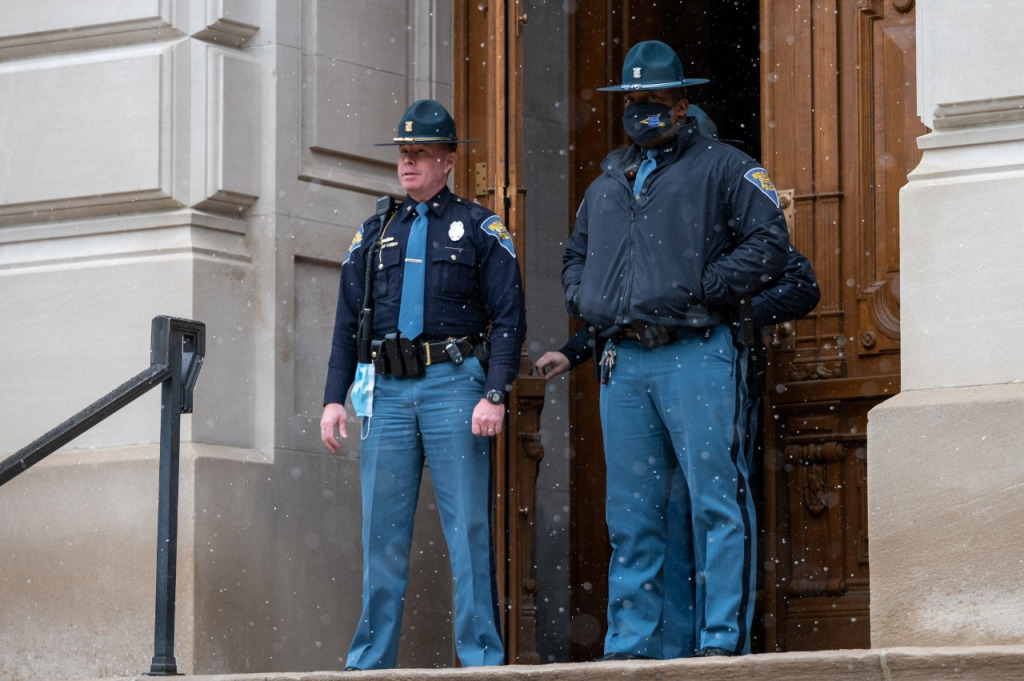 The Indiana Statehouse grounds were quiet Sunday afternoon, despite law enforcement officials' expectations that supporters of President Donald Trump would converge on the Capitol to conduct a protest, as was occurring in some other states across the United States.
The FBI had warned states that armed protests would occur from Sunday through inauguration day in Indianapolis, with multiple sources telling IBJ that a peaceful demonstration had been planned for the south lawn of the Capitol around noon Sunday. State and local law enforcement officials had said they were preparing for that possibility.
But aside from a single protester marching for a separate cause—the war on drugs—the only individuals on site were from local news organizations or people walking their dogs.
Police officers were also visible throughout downtown, including some stationed in front of the Simon Property Group headquarters building and a couple of police cars parked at the Circle. In addition, members of the Indiana State Police Department's capitol division who briefly stepped outside to observe a passing ambulance with sirens blaring.
Indianapolis Metropolitan Police Deputy Chief Joshua Barker said in a text message to IBJ that law enforcement is "continuing to monitor things but it looks like [the protest] just hasn't materialized."
At least one more protest is planned for Wednesday.
Some building owners in downtown Indianapolis prepared for protests by covering cover their windows with plywood as they had done after protests began last summer. The building that previously housed the Anthem headquarters on the Circle boarded up late last week, as did the Buffalo Wild Wings restaurant and Barnes & Thornburg building on on Washington Street and a few storefronts along Market Street and Capitol Avenue. But far fewer buildings put board in place than did this summer, and no fencing or barriers were erected outside the Statehouse.
Protests were taking place Sunday in some states. Small groups of demonstrators, some armed, were gathering outside statehouses in Michigan, Ohio and South Carolina.
In Lansing, Michigan, state police troopers walked around the Capitol grounds as a small group of demonstrators stood near a chain-link fence surrounding the 142-year-old building. Several National Guard vehicles were on a nearby street. One armed man falsely gave his name as Duncan Lemp, a Maryland man who was killed in a no-knock police raid and became a martyr for a loose network of gun-toting, anti-government extremists.
A Trump supporter wore a red "Make American Great Again" hat while standing on the lawn with a "Don't Tread On Me" flag. The back of his shirt read: "PATRIOT NOT RACIST NOT TERRORIST."
In Columbus, Ohio, about two dozen people, several carrying long guns, gathered outside the Capitol as dozens of state troopers and National Guard members guarded multiple points around the Statehouse, including every entrance. Nearly every business around the downtown capital square was boarded up.
Several dozen people were gathering at the South Carolina Statehouse, some carrying American flags. It was not immediately clear if some in the group were also counter-protesters supportive of the incoming Biden administration.
A heavy law enforcement presence surrounded the government complex in downtown Columbia, South Carolina. The Capitol itself has been surrounded with metal barricades for several days, and state lawmakers have announced they will not hold their scheduled in-person session this week because of the possible unrest.
In some locations, a small number of people showed up intending to counter protests, even in places where they had not yet materialized.
One counter-protester came early to greet any demonstrators at the Pennsylvania Capitol, saying he had heard about the possibility of a meet-up of a far-right militant group. But no one else was there.
"I'm fundamentally against the potential protesters coming here to delegitimize the election, and I don't want to be passive in expressing my disapproval of them coming into this city," Stephen Rzonca said.
More than a third of governors had called out the National Guard to help protect their state capitols and aid local law enforcement officers.  Several governors issued states of emergency, and others closed their capitols to the public until after Biden's inauguration day.Wisconsin National Guard troops armed with rifles, shields and body armor arrived near the state Capitol on Sunday morning. A man who drove a vehicle up the steps of the Capitol building was arrested overnight for driving while intoxicated.
Indiana Gov. Eric Holcomb did not activate the National Guard, although he did close the complex that included the Statehouse and the Indiana Government Center through Wednesday.
Please enable JavaScript to view this content.