Over the past seven years, Indianapolis-based Meticulous Design + Architecture has carved out a broad path as one of the few Black-owned architecture firms in the nation.
It has focused not just on building its client list—which stretches from Pike Township to the Middle East—but also on creating more opportunities for people of color who want to enter the architecture field.
Today, it maintains offices in Indianapolis and Abu Dhabi, capital of the United Arab Emirates.
The firm's founders—Damon Hewlin, Brian Robinson and Ramon Morrison—became friends long before they became business partners.
Both Hewlin and Robinson developed an interest in architecture at a very young age.
In Hewlin's case, he'd been intrigued by things like drafting and construction since early childhood, but having no familiarity with architecture, never imagined channeling his energies in that direction. It wasn't until high school that his work with family members in home remodeling melded with his interest in drafting and drawing to steer him toward the field.
"I loved the idea of being able to come up with an idea for a project, and then one day have it built and see people and communities engaged with a physical structure that started in my mind," said the New Jersey native.
Robinson, who hails from Gary, was also bitten by the architecture bug as a child. He was always fascinated with buildings, loved to draw, and was a whiz with Legos. Finally, in high school, one of his friends said he wanted to be an architect when he grew up. Robinson thought it sounded like a great fit for him, too.
"When I found out what an architect was, that's what I wanted to pursue," he said.
The two both obtained their bachelor of architecture degrees from Ball State University, where they also became good friends. During their school years, they couldn't help but notice they were part of just a handful of black faces in a sea of white architecture students. Indeed, Hewlin was the only African American in his architecture graduating class.
That situation was hardly a fluke. According to the American Institute of Architects, the makeup of its own membership is only 2% African American. It was a problem Hewlin and Robinson wanted to do something about.
"We talked about what we'd do with our careers, and we even thought up the name and concept of Meticulous while we were still students," Robinson said. "We decided that, when we graduated … we wouldn't go to the same place. We would keep our careers separate so that, when we came together as partners, we would have different experiences."
They did, indeed, go their separate ways, with Hewlin landing at Schmidt Associates and Robinson at Ratio Architects. During Robinson's time at Ball State, he also was an exchange student with the University of Berlin, which allowed him to spend a great deal of time touring Europe. That time also opened his eyes to the fact that the lack of diversity in architecture wasn't just a U.S. problem.
Reuniting after college
After more than a decade of working for various firms, the two came together in 2015 to found the current iteration of Meticulous, along with the company's third founding member, Ramon Morrison. His training is in marketing rather than architecture.
"My role in the firm is really on the business development, client communications and engagement side," Morrison said. "And I do have a keen appreciation for how architecture and the built environment shapes community and also notions of self, well-being and aspirations."
In fact, all three founders, thanks to their life experiences, were acutely aware of such issues.
"Our mantra is to do work that's meaningful, purposeful and impactful," Hewlin said. "The partners of Meticulous come from underserved, underprivileged communities, and to even obtain a college degree in our respective areas of study was a challenge that was difficult to overcome."
The company's plans include raising the profile of the architecture profession in the minority community, increasing opportunities in the profession and doing top-notch work.
"You'll never see us tout ourselves as a minority business enterprise, though we are certified as such," Morrison said. "That is a footnote to our description. It's really about the work and the quality of the work that we pursue."
Wide-ranging work
The company's portfolio includes everything from mixed-use commercial/residential to its signature overseas project, The Founder's Memorial in Abu Dhabi, which honors the Middle Eastern island city's first president. The project's total area is more than 500,000 square feet, and includes as its centerpiece a massive sculpture called The Constellation, featuring 1,110 stainless-steel cables holding 1,327 geometric shapes meant to represent stars. The sculpture alone weighs 250 tons.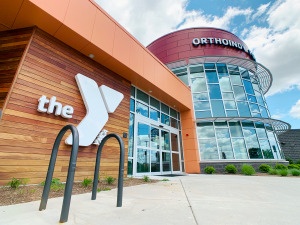 Being the architect of record for such a high-profile effort was a great help when trying to land smaller stateside work.
"When we hung out our shingle in 2015, we were relegated, sometimes, to the role of a sub-consultant," Morrison said. "Because we weren't necessarily in some of these established circles in the local industry, we had to fight above our weight class. We've been fighting above our weight class since inception, and it's materialized in the body of work we have been blessed to have been engaged in to date."
That lineup includes a grab bag of Indianapolis-area projects, such as the proposed 26,000-square-foot Hanna International Lofts near West 38th Street and Moller Road in the redeveloping Lafayette Square area; and State Ave Mixed-Use, a four-story, 70,000-square-foot apartment complex at State Avenue and East Washington Street.
Other projects in which the company has participated include the Martindale Brightwood Library; the Rhodius Park Family Center; and The Pyramids at 3500, a residential reuse of a chronically vacant chunk of property sitting near the west side's nascent International Marketplace.

Though the partners at Meticulous say the Abu Dhabi memorial is among their favorite projects, they also list a collection of much smaller efforts, including work the firm has done for Indianapolis' Local Initiatives Support Corp. In essence, LISC is a matchmaker of sorts, hooking up hard-to-access public and private resources with people that need them.
"They have a façade improvement program targeted at small and micro-sized businesses in various parts of the community," Morrison said. "We were selected three or four years ago to be the design architect that would go out and do, not pro bono work, but we'll call it low bono work. It was very nominal fees, but the impact was high."
Another favorite was the Martindale Brightwood Library, which was done in conjunction with Indianapolis-based Axis Architecture, the project's architect of record. Meticulous spent a great deal of time taking community input about the project, which was seen as a linchpin of neighborhood development, and incorporating those ideas into the final product.
"Anytime you go into a community that's been overlooked, there's usually this element of distrust," Robinson said. "Meticulous had to overcome that and bring the residents into the design process."
Drew White, founding partner at Axis Architects, said Meticulous did a good job engaging with the Martindale Brightwood community.
"They met with neighborhood organizations to determine what site would be appropriate," White said, "and also helped with what the neighborhood influences on the project should be."
The partners are also proud of what amounted to their inaugural Indianapolis project, the OrthoIndy Foundation YMCA in Pike Township, built in concert with the Nathaniel Jones Early Learning Center.
"That was literally the first project we did," Morrison said. "It was literally months after hanging out our shingle."
They got their foot in the door when Morrison attended a community meeting and learned that local residents weren't satisfied with the original design.
"It gave Meticulous an opportunity to say, 'Let us show you what we can do,'" Hewlin said.
Envisioning a global impact
During their college days, Hewlin and Robinson were already toying with the name Meticulous for their company. And with its current mission statement.
"We dreamed of Meticulous being an entity, a company that can do work that not only catered to privileged and more fortunate communities, but also to have a practice that touched all of humanity, and especially those who are underprivileged and underserved," Hewlin said.
"One of the things I think is important to note is that we are a global design firm," Morrison added. "We have offices here in Indianapolis and in Abu Dhabi in the UAE. It brings a different lens to things, because we see diversity in a different way."
Meticulous also tries to foster community outreach and promote diversity in the architecture industry within its own doors. The staff of approximately 35 represents 10 nationalities.
"We encourage each and every one of them to give back and do more," Morrison said.
That was music to the ears of Meticulous architect Kionna Walker. If African American architects are rare, female African American architects are almost unicorns. Walker, who graduated from Ball State (and also earned a master of architecture from Boston Architectural College), recalls one professor telling her that a black woman already had "two strikes against her" in architecture, and another telling her she had "a problem with creativity."
"They didn't teach us about black architects in school, so I had to do my own research to find out about them," she said. "I found out that there were people like me that had succeeded in this profession even during much harder times."
She joined Meticulous four years ago, but had met Morrison and Robinson years earlier at a community event for the International Marketplace Coalition. Architecturally, the work is the same as it would be at any firm. What's different, she said, is the amount of recognition and praise offered to employees and the willingness to help the community.
For instance, Walker is founder of Next Great Architects, a teaching studio that introduces architecture to children. While some employers might worry that having what amounts to a full-time job in addition to her day gig would be a problem, Meticulous encouraged her work, and even assisted.
"The biggest impact for me is feeling like I'm heard and appreciated here," Walker said. "The other places I've worked at have been larger companies, and I didn't really have the opportunity to have an impact on them like I do with Meticulous."
As for what the future holds, the founders want to continue working to get more minorities into their field. They also want to see their company continue to grow.
"Our aspirations aren't limited by the market perception of what we're capable of doing, but by the opportunities with which we're presented," Morrison said. "We're not fighting with a chip on our shoulder. We're just fighting to prove ourselves right."•
Please enable JavaScript to view this content.