Noblesville leaders expect a stretch of undeveloped agricultural land on the city's southeast side to become Hamilton County's next epicenter of innovation.
Innovation Mile—a 300- to 400-acre master-planned district along East 141st Street between Olio and Cyntheanne roads—is where city planners hope to attract companies in the medical, tech, biosciences, pharmaceutical and advanced manufacturing sectors.
"We know that, not only are they the jobs of today, but they're the jobs of the future," Mayor Chris Jensen said. "They're what our partners in higher-ed are focused on."
Noblesville is working with the Indianapolis office of New York-based consultant WSP USA, Carmel-based Hageman Group and Indianapolis-based The Etica Group Inc. to plan and develop Innovation Mile. The city has 77 acres in hand and is working with other landowners along the corridor to purchase additional parcels.
Original plans for Innovation Mile, released in September 2021, called for 200 acres of development along a one-mile stretch ending at Prairie Baptist Road. Now, Noblesville is looking to go bigger.
"Ultimately, it will probably be more than an innovation mile," Jensen said. "It will probably be an innovation two miles."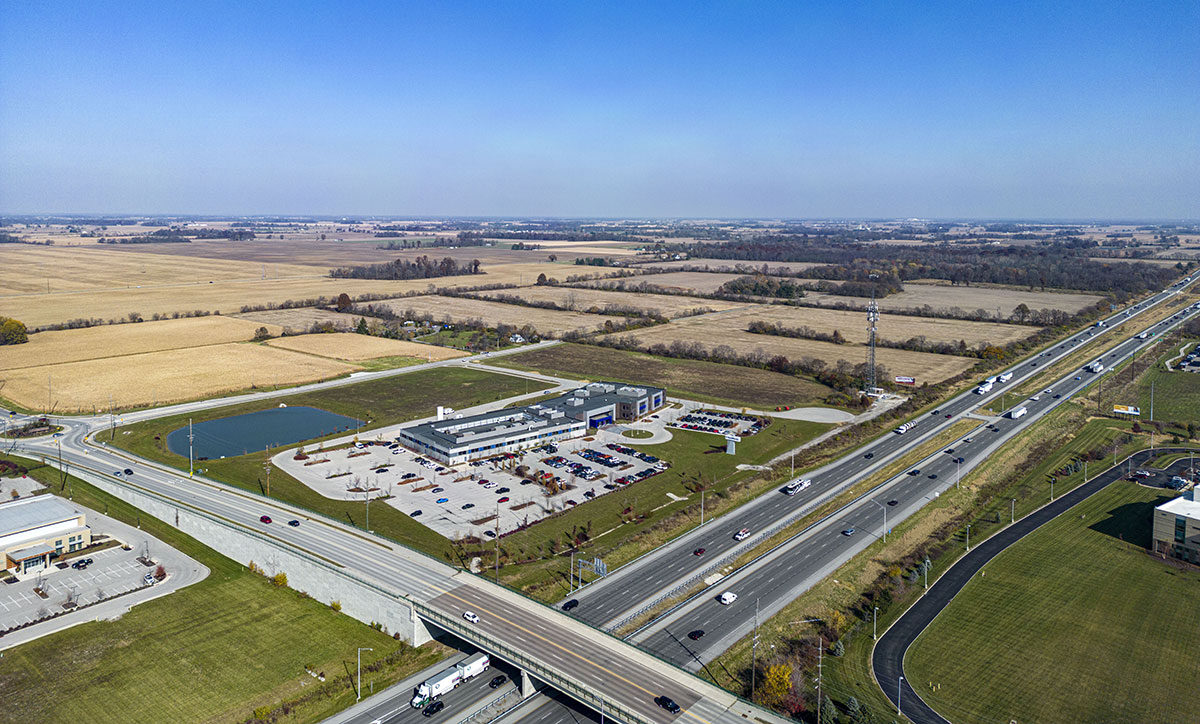 Innovation Mile could leverage more than $500 million in private investment as it is developed over the next five to 10 years. Or sooner.
Washington Business Park "was supposed to be about a seven-year project; I think it's about a two-year project," Jensen said, using the 142-acre development along State Road 37 and Cumberland Road south of downtown as an example.
In 2018, suburban Detroit-based BorgWarner Inc. opened a $28 million, 100,000-square-foot facility at 13975 Borg Warner Drive, within the area that would three years later be designated Innovation Mile.
In Noblesville, BorgWarner researches, develops and tests propulsion-system products for combustion, hybrid and electric vehicles.
This April, Innovation One LLC—a partnership between Certus Medical and Radiological Care Services—was the first group to announce plans to build at Innovation Mile. Its building will be just east of BorgWarner's.
The pair of companies is planning to spend more than $12.6 million to build a 95,000-square-foot facility for medical-equipment manufacturing, distribution, sales and flex space.
Radiological Care Services would take about 40,000 square feet, while Certus Medical would occupy about 10,000 square feet. Innovation One hopes to attract another business to fill the remaining space.
Eric Huebner, president of Certus Medical, told IBJ that details need to be finalized between Innovation One and the city before a final deal is signed and construction can begin. But he said that Innovation Mile's location along Interstate 69 is key to getting products on the move. He said Innovation One picked Innovation Mile over two sites in Fishers.
"There's a lot of growth going that way and then towards Pendleton, so, for us, it was multifactorial," Huebner said.
And in September, the Indiana Joint Replacement Institute committed to build a $28 million, 35,000-square-foot facility at Innovation Mile.
The two-story building will include an ambulatory surgery center with four operating rooms, a hip and knee orthopedic clinic with 24 exam rooms, 16 pre- and post-operative bays, facilities for physical therapy and X-rays, a research gait lab, and an education and research conference center.
Dr. Michael Meneghini established the Indiana Joint Replacement Institute after he left Indiana University Health in July, where he was director of joint replacement. The institute's first location opened in August in Terre Haute with Union Health. Meneghini opened a second practice last month in Fort Wayne with Carmel-based Surgery Center Development Co. LLC.
The Noblesville location will be the company's flagship and is expected to open in early 2025 with about 60 employees. Meneghini said the innovation theme of his business matches what Noblesville is looking to attract at Innovation Mile.
"Health care has changed dramatically post-COVID," Meneghini said. "Retrofitting an existing building versus the ability to design looking forward really gave us an opportunity to put the technology in there that we know will be appropriate for health care in 2024 and beyond."
Jensen said he envisions Innovation Mile as a campus where a mix of large and small companies thrive individually and feed off one another.
The district would include commercial and retail areas. Renderings show a mix of buildings and green space along East 141st Street, which would have a series of roundabouts at intersections with newly constructed streets.
"I think you're going to see somewhat of an incubator, coworking space, even in that campus," Jensen said. "We want it to be an area where small companies can land and then grow into larger companies within that same corridor."
The city will be selective about the companies it courts, Jensen said, and will use a mix of incentives that could include providing land, offering tax-increment financing and abating property taxes.
"We just want to be flexible, knowing that each company we meet with has different demands and different needs," he said. "So, we just want to have as many tools as possible—and that our friends will allow us at the Legislature—in our toolbox."
Jeff Hill, an assistant vice president at WSP USA, the engineering consulting firm, said during a presentation at Innovation Mile on Oct. 27 that flexibility is key.
"What we're trying to develop here is that playbook so that Noblesville can say, 'OK, Company X wants to come to town. We know where you can fit within the Innovation Mile district, and we've got the right support services and the right amenities in Innovation Mile to make your business successful,'" Hill said.
Noblesville officials said they're not sure whether they want to add residential development to the district. However, planners expect housing will at least be on the perimeter.
"There's just the idea of the workforce of the future as they want to live, work and play all in the same area," Jensen said. "And that area is already ripe certainly for entertainment, with Ruoff [Music Center] and Hamilton Town Center" both just west of the project.
In addition, existing hotels and restaurants along Interstate 69 will serve Innovation Mile.
"You can't put a price tag on that" I-69 frontage, Jensen said. "There's just a massive exposure in terms of vehicles per day and the amount of money the state's investing in I-69. It's going to be ripe for development, and we knew that from day one."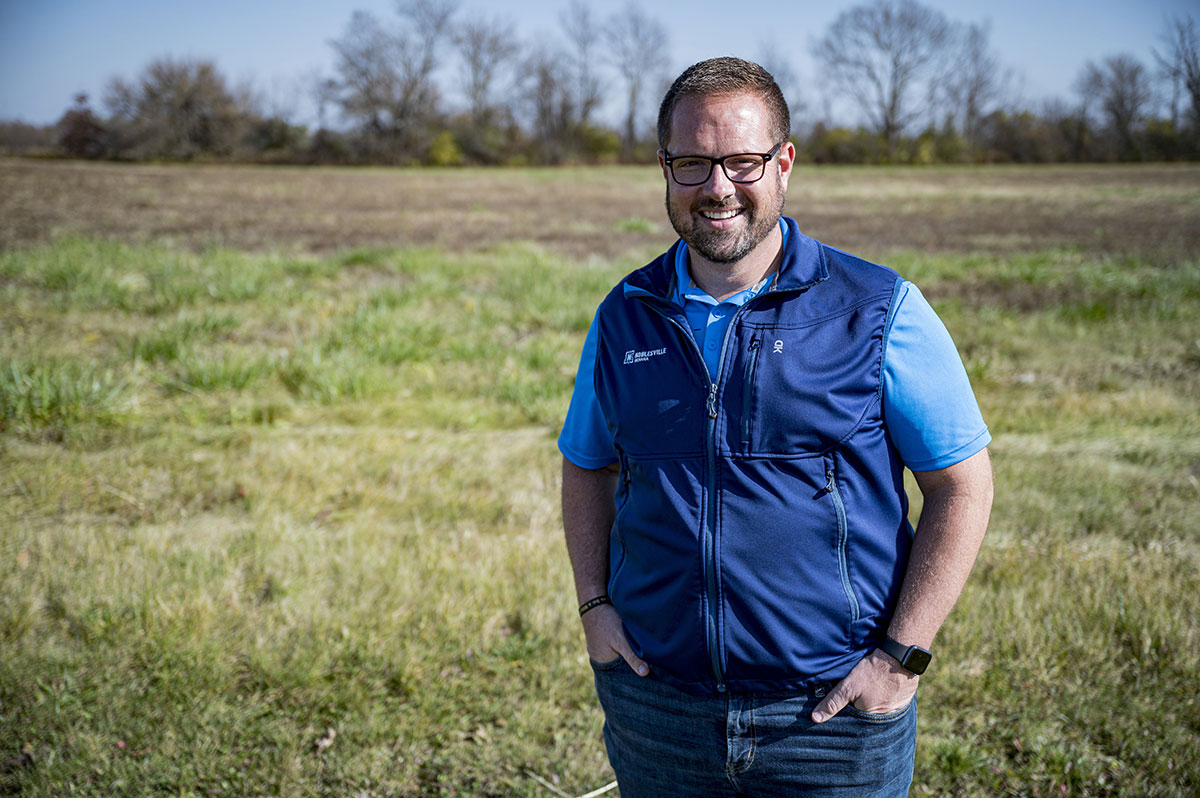 Land advantage
One of the first things you notice driving to Innovation Mile is the amount of open land along the roadside. Both Carmel and Fishers are years ahead of Noblesville in land development, but projects with names like The Village at Federal Hill, Hyde Park, RiverWest and Midland Pointe are all either under construction or in the planning phases as Noblesville prepares for its 2023 bicentennial.
Hamilton County's capital was its biggest town in the 19th and 20th centuries. But then its growth slowed in comparison to explosions in first Carmel, then Fishers. Now, as those communities run out of available land to develop, more homeowners and businesses are looking to Noblesville.
Jensen said Noblesville's abundance of undeveloped property is an economic advantage for now. But he acknowledged that many residents are concerned about exponential growth and have strong feelings about preserving the city's character.
"That's why we want to be very respectful," he said. "That's why we're really putting some attention to detail and planning into this prior to just pulling the trigger."
Still, commercial and industrial growth is increasingly important to maintaining services and growing any community, Jensen said, especially in Indiana. That's because a state constitutional amendment that voters approved in 2010 caps property tax bills at 1% of assessed value for owner-occupied homes. That's "wonderful for residents," Jensen said, but it's now tough for cities to collect enough from homeowners to fund services.
Property taxes on commercial development are generally capped at 3% of assessed value, making that land more valuable to local governments trying to plow streets and fill potholes.
As a result, Indiana suburban cities and towns can no longer function as residential enclaves from which people drive to urban areas for jobs in commercial and industrial developments.
"I think the idea of a bedroom community is probably dead within strong urban cities, because they can't fund themselves simply on 1% residential property taxes," Jensen said. "You're going to have to have more revenue coming in. … So we have to have an appropriate mix of that going forward."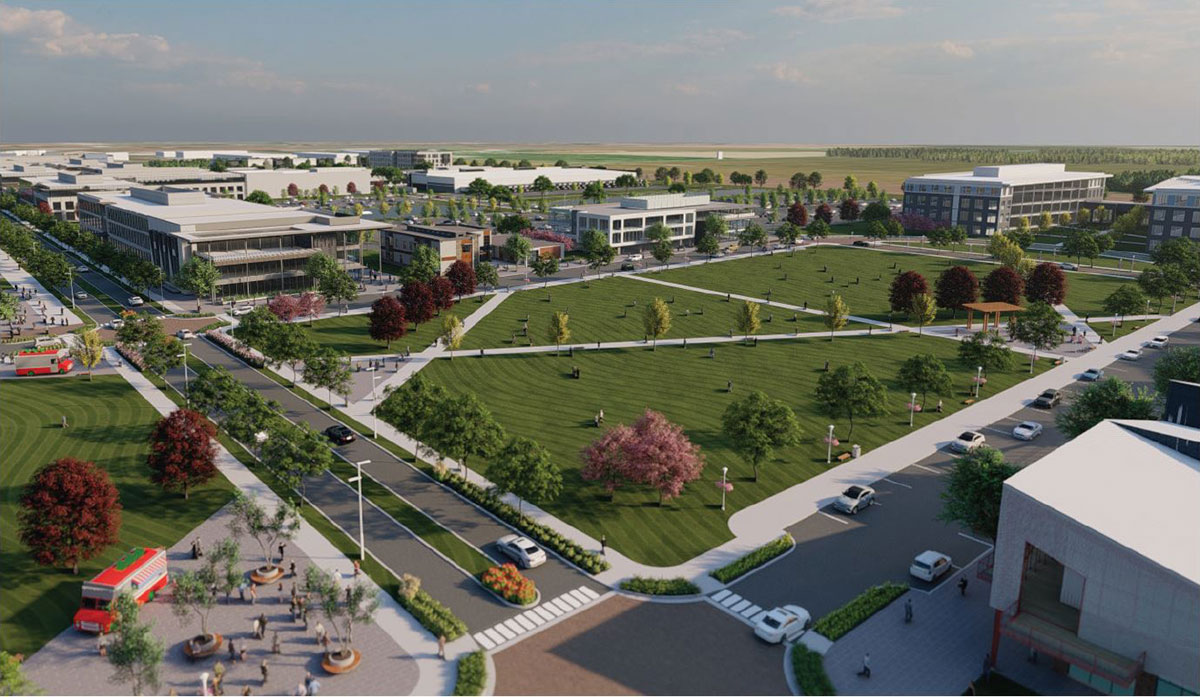 Competition to the west?
Innovation Mile's location along I-69 provides the same type of access and exposure that the Indiana Economic Development Corp. hopes will lead to success for its planned LEAP Lebanon Innovation and Research District near I-65 in Boone County. The IEDC has identified at least 7,000 acres there for the large-scale research and innovation park.
That could create some competition for Innovation Mile, but Jensen is glad Indiana is focused on advancing innovation statewide.
Innovation Mile "is one of a kind, in my opinion," he said. "I think imitation is the best form of flattery, so I appreciate the state taking our idea and running with it with their LEAP district, but I think it's rare to see a city and municipality really cast a vision like this and put this type of investment in an area."
An immediate advantage for Innovation Mile, Jensen added, is that it already contains utility infrastructure. In the LEAP district, the IEDC is looking to build utilities from scratch, including a possible plan to pump millions of gallons of water per day to the site from the Wabash River in Tippecanoe County.
"Our Innovation Mile is shovel-ready," Jensen said. "One of the reasons that we launched this initiative is because we know that companies are looking at quick-to-market opportunities. They want to be shovels in the ground now. So, we made sure to do our due diligence to make sure we didn't have any utility issues."
Innovation Mile is Noblesville's best chance to grow as a city, he said. "I will say it's by far our biggest opportunity. We have focused very heavily downtown. Washington Business Park is off and running, which is great. I think this is our biggest opportunity."•
Please enable JavaScript to view this content.