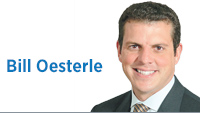 The 2019 municipal election is in the books. Unfortunately, the Indiana secretary of state hasn't released those books yet, so my plans for a column based on a deep dive into the votes will have to wait.
Undeterred, I will point out a few trends that seemed to hold true in this election, understanding that the actual numbers could make me eat some crow. Such is the life of a columnist under deadline.
I like to review the county-by-county turnout numbers after each election to look for trends. Statewide elections in Indiana are usually decided by fewer than 100,000 votes, so turnout in 10 or 12 counties can change things a lot.
Until 2016, the trends were consistent across election cycles. Democrats in Lake County offset Republicans in the doughnut counties of Indianapolis. Increasingly, Democratic Marion County offset increasingly Republican rural counties, and the Ohio River counties were a dogfight.
In 2016, all of this changed. Rural Indiana reversed decades of turnout declines and showed up at the polls in record numbers. These voters were all Republican. It was a tsunami. Compounding the trend was the fact that the river counties swung decidedly Republican. The southern Indiana rural Democrats that could trace their roots all the way back to the Civil War switched sides or disappeared.
The traditional Democratic strongholds of Lake County and urban Marion County didn't really show up. Add this together and you got a historic Republican landslide.
To my surprise, this trend continued in 2018. Even without President Trump on the ticket, rural Republicans turned out in record numbers and urban Democrats stayed home. Republicans won big again.
Lost in both of these landslides were two important undercurrents. One is demographic and the other is political. On the demographic side, Republicans were winning in counties that are losing population. Democrats were winning in counties that are growing. Democrats just weren't turning out their voters.
Politically, and perhaps most significantly, the doughnut counties of Indianapolis started shifting. College-educated suburban voters are increasingly voting for Democrats. In 2016, Hamilton County produced winning percentages 10 points below average for Republicans. This trend also continued in 2018.
While the numbers aren't out for the 2019 elections, the results appear to be following the new trend lines. Urban areas in Indiana are becoming more Democratic, rural areas are becoming more Republican, and the suburban counties are becoming less Republican. We do know this: Republicans took a beating in Marion County. Beyond Mayor Hogsett's landslide, the City-County Council races were unexpectedly difficult for Republicans. Interestingly, there were also some Democratic surprises in the doughnut county races. Nationally, Republicans lost ground in suburban districts.
2020 could be a very interesting year in Indiana. If urban Democrats in Lake and Marion counties turn out; suburban voters, whose populations are growing, continue to shift Democratic; and rural Republicans, whose populations are shrinking, don't maintain their record turnout numbers, 2020 could hold surprises for candidates. This is particularly true in statewide races and in suburban districts.
I am not predicting a blue wave here, but some of Indiana's most important races could become dramatically more competitive. If these trends are even partly true, a flawed candidate like Curtis Hill, assuming he makes it to the ballot, could be in serious trouble.•
__________
Oesterle is the CEO at Tmap LLC. He managed Republican Mitch Daniels' first run for governor. Send comments to ibjedit@ibj.com.

Click here for more Forefront columns.
Please enable JavaScript to view this content.