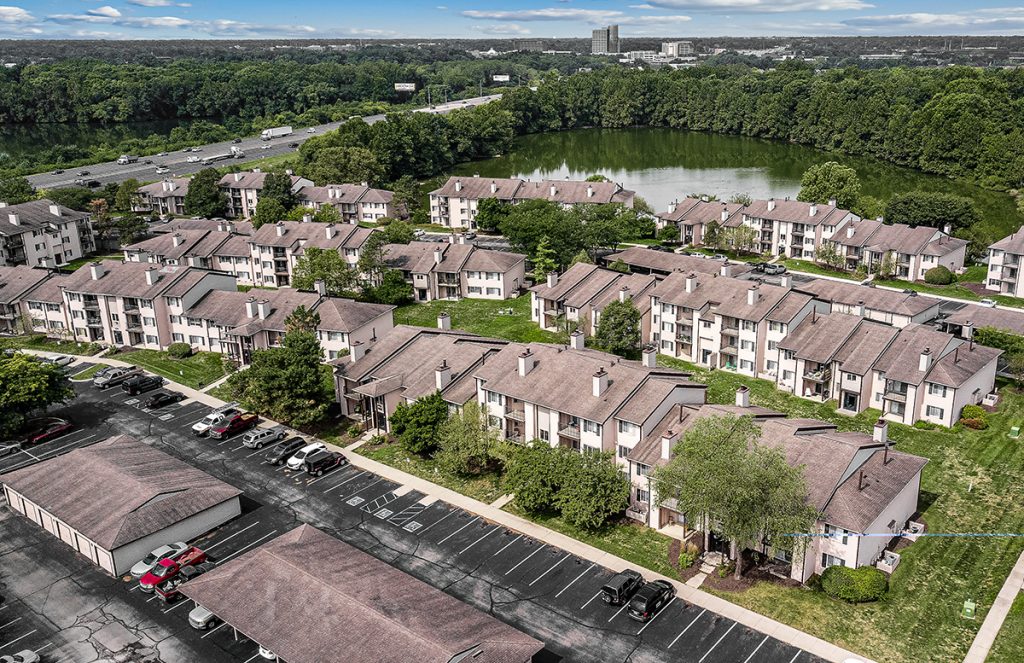 An Ohio firm has purchased a Castleton-area apartment complex for nearly $100 million in the largest single multifamily property transaction in Indiana history.
Riverbend Apartments, a 996-unit community at 8850 Riverbend Parkway, was acquired in mid-June for $97.5 million by Cleveland firm Pepper Pike Acquisition Partners LLC, according to property records.
The 109-acre complex—north of I-465 between Allisonville Road and Keystone Avenue—was previously owned by Wisconsin-based Core Realty Holdings Management Inc. The apartment community was constructed in 1982.
The sale is the largest ever in the state for a single property, breaking the previous record of $90.6 million set with the sale of the 1,261-unit Lake Castleton apartment complex in 2017. In November 2018, a portfolio of five properties that included Westlake Apartments—the area's largest complex, at 1,381 units—sold for $121.5 million.
While Riverbend has undergone extensive renovations in recent years, particularly to its amenities, Pepper Pike plans to invest heavily in additional updates, said Will Mathews, a broker with Colliers International who handled the sale.
"There's still some opportunity to enhance the amenities," said Mathews, managing director at Colliers, who represented the seller. "The new buyer's really focused on renovating the interiors [and] doing a significant renovation to improve the quality of those interior units."
He added Pepper Pike has "a robust capital budget" for the property, but said a timeline for when that work might occur has not yet been finalized. The firm also owns The Residences on 56th Street on the city's east side as part of its eight-state, 25,000-unit portfolio.
Riverbend has units ranging from 540 to nearly 1,200 square feet.
A Colliers team led by Executive Managing Director Donald Jennewein represented Pepper Pike in the transaction.
The sale of the property has been in the works since December 2019, but the closing—which occurred June 11—was pushed back in part because of the coronavirus pandemic.
Mathews said he expects additional multifamily property sales to close in central Indiana before the year's end.
"There will be more transactions," he said. "The debt capital markets today are extremely open and competitive with historic low interest rates. The state of the market in Indianapolis is very strong."
George Tikijian, a multifamily broker with the Indianapolis office of Cushman & Wakefield, said the sale price for the property "isn't surprising," adding that investment purchases haven't fallen off much since the onset of COVID-19.
"It slowed down a little bit, but some reason, it seems like it slowed down less in Indiana than in other parts of the country from what we've heard," he said. "It slowed down definitely in March and April, but it's picked back up."
Please enable JavaScript to view this content.