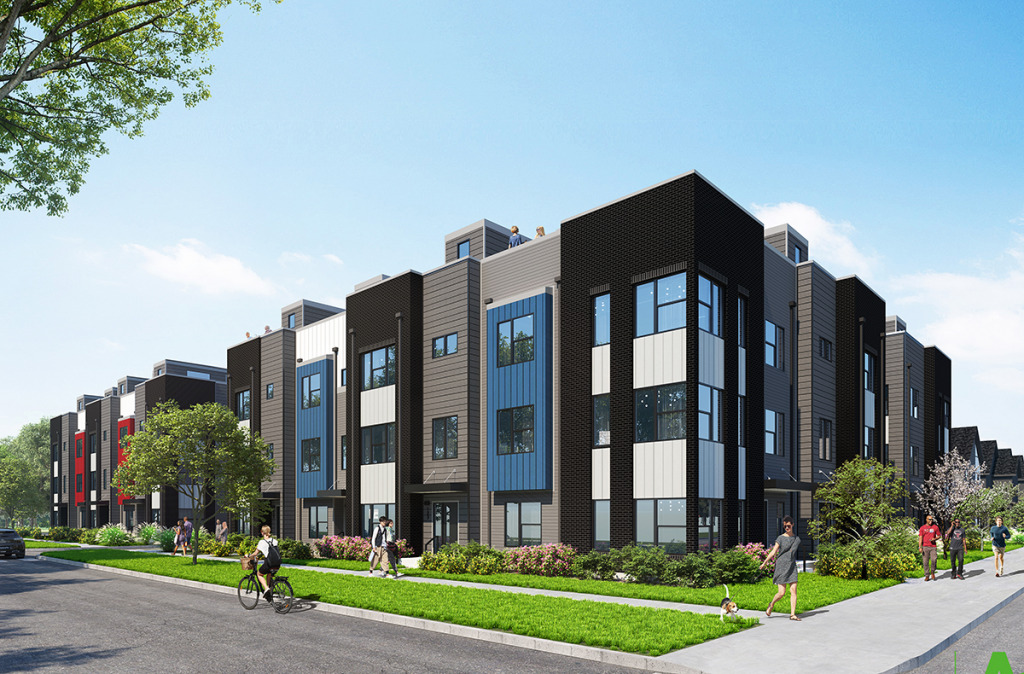 A local developer plans to spend $12.5 million to build 37 single-family homes on the near-east side of Indianapolis, as part of efforts to bring new housing options to a neighborhood that has seen an uptick in development activity in recent years.
Onyx+East intends to build its Colere townhouse and single-family project at 1400 English Ave., which is just across the street from the northern border of the Fountain Square neighborhood, east of interstates 65/70. The project will include 31 townhome and duplex units and six detached units on 1.85 acres.
The property is currently occupied by a former church building that was most recently used by New Birth Ministries. The structure will be razed as part of the project.
 A rezoning request from Onyx+East to predesignate the structure from the SU-1 district to D-P, planned development was approved April 21 by the city's Metropolitan Development Commission. 
Colere is just the latest in a spate of projects from Onyx+East in and near the downtown. Its proximity to Fountain Square is expected to complement other neighborhood developments that have occurred in recent years, most of which have been focused on single-family detached units and apartments.
According to filings with the city, the six single-family detached homes will range from 1,900 square feet to nearly 2,200 square feet, with three or four bedrooms and two-and-a-half to three-and-a-half baths. Each home will have a detached two-car garage and a private back yard. Prices for the properties will range from $400,000 to $450,000.
The two units in the duplex will be about 1,360 square feet each and have two bedrooms and two-and-a-half bathrooms with a private two-car garage. The duplex costs will range from $330,000 to $370,000.
And 29 three-story townhouses will range from just over 1,500 square feet to nearly 2,100 square feet, complete with two to four bedrooms, two-and-a-half to three bathrooms and attached two-car garages. The units–each with a rooftop deck–will range in price from $370,000 to $460,000.
The townhomes and duplex units will be fee-simple units, meaning the owners will own the land beneath their unit, with the exteriors maintained by a homeowners association. The detached units, however, are not expected to be part of the association, with each owner responsible for maintenance of their property.
Construction on the project is expected to begin in the third quarter, with sales expected to start by the end of the year. The project is expected to be finished by the third quarter of 2023.
The project will also include some infrastructure improvements, including new sidewalks on the south side of Deloss Street and east side of Leota Street, a semi-public greenspace between English and Deloss streets, and a private, east-west alleyway.
A representative for Onyx+East could not immediately be reached for comment Tuesday.
Please enable JavaScript to view this content.