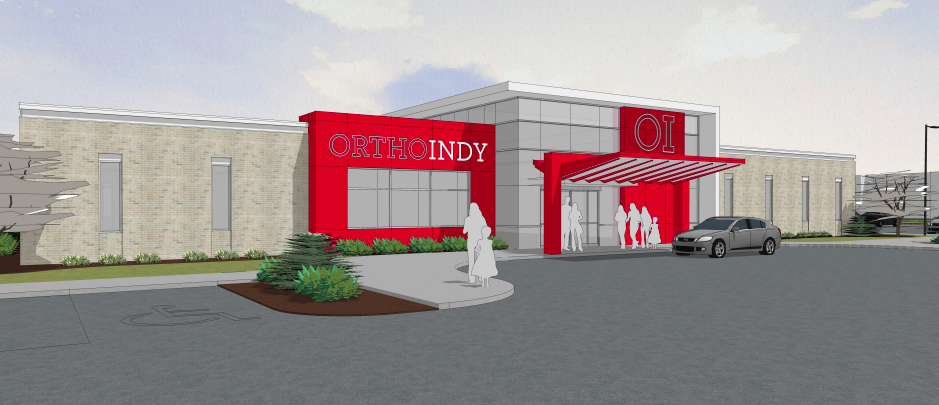 Increased demand for scheduled appointments and age- and sports-related care has convinced OrthoIndy to build a $12.5 million outpatient clinic a mile west of its existing medical facility in Westfield.
Ed Hellman, president of the Indianapolis-based orthopedic care provider, told the IBJ that OrthoIndy's current Westfield location at 17471 Wheeler Road was never meant to be a full-blown outpatient office. The 4,300-square-foot space the company first leased in 2016 operates as a physical therapy and orthopedic urgent care facility, but more and more of OrthoIndy's physicians have begun using it as traditional medical office space.
Now, OrthoIndy is looking to build its own 15,289-square-foot facility near State Road 32 and Austrian Pine Way.
"We've had more demand for scheduled appointments in that space than we had room for, and our physical therapy facility was pretty rapidly space-limited as well," Hellman said. "What we're looking to do is build a larger space that will accommodate the demand we're seeing."
The move to a new building is expected to retain 15 jobs and add eight more for an estimated $1,374,000 in annual salaries. By expanding its footprint, OrthoIndy will be able to provide a full outpatient orthopedic clinic with enough room for four physicians to see patients at the same time.
"It's going to be a physically much larger space," Hellman said.
It will also provide a larger area dedicated to physical therapy and expanded imaging options–including MRI. Overall, Hellman said the new location will allow OrthoIndy to see three times to four times more patients than it currently sees in Westfield.
To support the project's development, OrthoIndy is working with Community Development Consulting's Jim Ake to secure a 10-year tax abatement.
Details of the proposed  abatement have not yet been finalized, but the Westfield City Council is considering the incentive, while also trying to make sure the abatement only covers the expanded operations.
To ensure that happens, Ake said OrthoIndy will continue to pay roughly $28,000 over the abatement's 10 years to cover the taxes it would've otherwise paid if it were to have continued with its current Westfield operations.
After hearing the project's tax abatement request this week, the council will again consider OrthoIndy's proposal on Oct. 11 so that the project's construction might get underway, allowing the facility to open by late summer 2022.
Hellman said the company has not yet closed on the purchase of the 6-acre property, but there are plans to potentially develop the remainder of the site with complementary uses.
"None of that is finalized yet," he said. "We're looking at the possibility of other related medical services."
Please enable JavaScript to view this content.