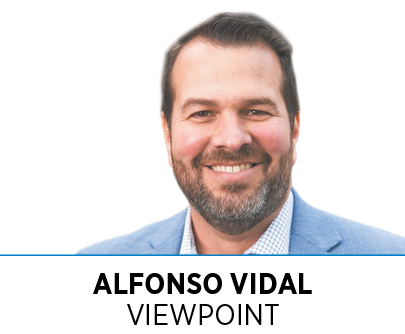 As a young man in my native Venezuela, I was kidnapped by Colombian guerrillas and held for two weeks. Shortly after that, I left the country due to continuing threats.
I was blessed to settle in Evansville, where I felt accepted and welcomed right away. I was able to finish my degree in mechanical engineering, start a family and build a business—but many immigrants have not been afforded the benefits of legal status as I was.
This is why I believe Congress should include pathways to citizenship for Dreamers, temporary protected status holders, farmworkers and essential workers in the pending budget reconciliation bill. This action is urgently needed, morally right, good for business and politically smart.
I am a loyal Republican who voted for Donald Trump two times. There's a misconception that Trump supporters want to deport all immigrants. The research shows this stereotype is false.
A recent bipartisan poll of battleground voters found 3-to-1 support for including pathways to citizenship for undocumented immigrants in the budget reconciliation bill, given those immigrants' economic contributions. Support was widespread across the political spectrum—from Democrats, independents and Republicans, including majorities of Trump voters and self-identified conservatives.
Only a small number of Trump voters—17%—said deportations should be the priority for fixing our broken immigration system. If as many as 83% of Trump supporters, like me, believe there are better solutions than deportations, then Republicans in Congress should get on board with common-sense immigration reform.
I would have loved to see a bipartisan immigration compromise. The American Business Immigration Coalition, of which I am a member, held 54 meetings with Republican and Democratic senators to reach a bipartisan deal, but Republican senators walked away. Now, as Democrats finish their budget process, we need to ensure that common-sense immigration solutions are included. No matter what it takes, immigration reform is urgent.
As a business owner, I can tell you everyone in Indiana and across the country will benefit. If Congress provides pathways to citizenship, it will grow our gross domestic product, spur job growth and raise wages for all Hoosiers. According to an analysis by FWD.us, legalization and citizenship will increase economic activity by $121 billion annually, including $31 billion per year in federal, state and local tax revenue.
As a conservative Republican, I support smart border management coupled with a path to legalization for our Dreamers, farmworkers and essential workers. We know how to balance sensible border solutions with our economy's urgent need for workers.
Immigration reform will play an immediate, key role in addressing our devastating national labor shortage. America has 10.4 million jobs open, including an estimated 175,000 in Indiana. Small-business owners I know and employers in almost every sector are struggling to find qualified workers.
It is immoral for our elected leaders to keep undocumented immigrants in legal limbo. While Congress has dawdled on immigration for 35 years, a generation of children has grown up worrying that their parents will be deported. Even when families are torn apart, those who remain love this country and do everything they can to contribute to their communities. These are good, hardworking people—the kind we should want as our fellow Americans.
The time for Congress to act is now. We can use the Democrats' reconciliation bill to accomplish something that is both pro-family and pro-business. President Biden's framework and the House version of the bill included immigration reform. Now it is up to the Democrats in the Senate to do their part.•
__________
Vidal owns Vidal Plastics in Evansville, a custom compounder producing thermoplastic resins, and is a member of the American Business Immigration Coalition.
Please enable JavaScript to view this content.