The former CEO of Noyes Group LLC, who was terminated from the Indianapolis wealth management firm in June, has now filed a lawsuit against Noyes alleging that, among other charges, the firm is denying him access to a book of business he purchased last year from longtime Noyes executive L.H. Bayley.
Mark Damer of Carmel, 62, filed suit against Noyes last month in Hamilton Superior Court. Damer's complaint says his termination was in violation of the employment agreement he had signed months earlier, and that, after his termination, Noyes denied him access to records related to the Bayley Investment Group.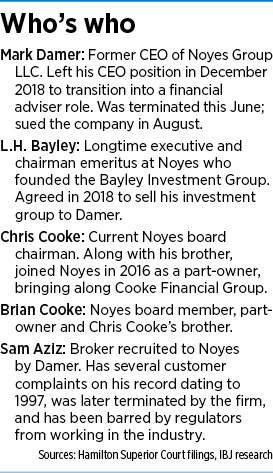 In August 2018, Damer signed an agreement to purchase Bayley Investment Group from Bayley for $1.4 million. Damer agreed to pay $840,000 upfront, and the rest over time from commissions he earned from the business.
But after Noyes terminated him, Damer alleges, the firm asserted that Noyes, not Damer, was the owner of Bayley Investment Group records—records that remained in Damer's former office after his termination.
Other defendants in the complaint are David A. Noyes & Co. and Sanctuary Advisors LLC, both wholly owned subsidiaries of Noyes Group LLC. Though Noyes is officially based in Chicago, most of the firm's executives work at its Indianapolis office, which opened in 1938.
According to IBJ's "Book of Lists," Noyes is the area's 15th-largest investment brokerage firm, with 27 licensed brokers and $2 billion in assets under management as of October 2018.
Noyes' chairman emeritus, L.H. Bayley, was also named as a defendant, but he has since been dismissed from the case because he and Damer reached a settlement, said Damer's attorney, Scott Starr of Logansport.
A spokesman for the company said the firm does not comment on ongoing litigation, and neither Bayley nor Noyes Chairman Chris Cooke responded to phone messages from IBJ.
Attorneys representing Noyes did not respond to emails or phone messages.
Here's what happened, according to Damer's legal complaint:
Starting in spring 2018, Damer and Noyes Group began discussions about Damer's transitioning out of his CEO role into a role as an investment adviser for Bayley Investment Group.
Damer, who had been at Noyes since 2007 and served as CEO since 2014, was to leave the latter position at the end of 2018, after which he would become vice chairman of Noyes' board of managers through the end of 2020.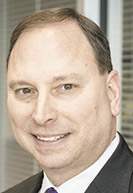 According to the employment agreement signed that August, Damer was to be paid an annual salary of $275,000 while he remained CEO, then his salary would drop to $150,000 once he became vice chairman of the board.
Damer's purchase of the Bayley Investment Group closed that same month.
Mark Maddox, a former Indiana securities commissioner who now practices at the Indianapolis law firm Maddox Hargett & Caruso PC, said it's "very common" for advisers who are planning to retire or exit a firm to sell their book of business to a colleague within the firm.
Bayley, 83, who is listed on Noyes' website as chairman emeritus, has been with the firm since 1958 and had served as board chairman since 1978.
Maddox, who is not involved in Damer's lawsuit but is familiar with the case, said he believes Damer's departure is related to a recent ownership change within the firm.

Chris Cooke (the current Noyes chairman) and his brother, Brian Cooke, moved their financial advisory firm, Cooke Financial Group LLC, to Noyes and became part-owners of the firm in 2016.
Maddox said he believes Bayley recruited the Cookes to Noyes, with the understanding that they would eventually acquire the controlling share of the firm's ownership from Bayley.
In December 2018, Damer's complaint alleges, Chris Cooke "began threatening Mark's employment with Noyes."
Cooke alleged that Damer "had defrauded the company by hiring a certain investment advisor" and by working with other company officers to revise Noyes' books in 2018 to address an error that had been made in 2017.
The complaint does not identify the "certain investment advisor," but Starr said it is Sam Aziz. According to the Financial Industry Regulatory Authority, or FINRA, Aziz's record includes multiple customer complaints that include allegations Aziz made unauthorized trades and persuaded customers to purchase unsuitable investments. Three of the complaints were settled for amounts ranging from $39,000 to $210,000. A fourth customer complaint is pending.
Noyes terminated Aziz in October, and in March, FINRA barred him from working as a broker.
Damer disputed Cooke's allegations, but he signed a modified employment agreement in February that removed him as a board member. He also agreed to a $200,000 reduction in salary and commissions.
In return, Noyes agreed not to terminate Damer's FINRA registration with the company before June 30, 2021, unless the termination was for cause—including theft, fraud or conviction of a crime of moral turpitude. Noyes agreed that any actions related to Aziz or the 2018 accounting revision would not be reasons to terminate Damer for cause.
Then, on June 11, the suit alleges, Noyes terminated Damer, saying he had fraudulently signed a statement in March 2018 attesting to the accuracy of a regulatory compliance report—an allegation Damer disputes.
Noyes went on to terminate Damer's FINRA registration in July, saying it fired Damer because of "allegations concerning the accuracy and completeness of certifications involving the firm's compliance and supervisory processes." The disclosure also notes that Damer "emphatically denies the characterization of his departure" from the firm.
Since his dismissal, Damer alleges, Noyes has refused to grant him access to the personal belongings from his office, including the books and records related to Bayley Investment Group.
Noyes "claims that the books and records of BIG (Bayley Investment Group) remain the property of Noyes, and Damer has no right to them," the lawsuit says.
Damer's suit also alleges that Noyes is acting in violation of a non-compete agreement by contacting Bayley Investment Group clients and "soliciting advisors within Noyes to take over the BIG."
Damer is asking the court to issue a temporary restraining order and injunction that would prevent Noyes or any of its agents from contacting Bayley Investment Group clients until June 2021. He is also asking the court to award him damages in an unspecified amount.
Noyes has not filed a response to Damer's complaint. Hamilton Superior Court Judge Gail Bardach has granted a 30-day extension that gives Noyes until Oct. 4 to respond.•
Please enable JavaScript to view this content.