A new public-private partnership involving the city of Indianapolis, its major sports franchises and local not-for-profits hopes to reduce food insecurity in several city neighborhoods, officials announced Wednesday.
Called "Drive and Dish," the program includes the the Indianapolis Office of Public Health and Safety, Indiana Pacers Head Coach Rick Carlisle, Pacers Sports & Entertainment, Christamore House and the Edna Martin Christian Center. The initiative is set for a January launch. Carlisle is credited with the idea for the program.
"Nearly one out of every four Marion County residents confronts some kind of food insecurity–either due to cost or lack of convenient access to a grocery store," Mayor Joe Hogsett said in written remarks. "By adding to the city's growing portfolio of food access programs, Drive & Dish promotes a healthier, safer Indianapolis. We are grateful to Coach Carlisle and the many participating partners for this support."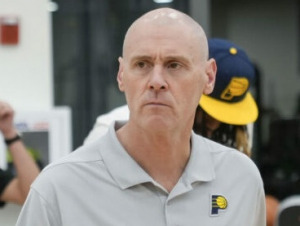 Carlisle joined the Pacers for the first time in 1997 as an assistant coach under former teammate and then-head coach Larry Bird. When he returned in 2021 as head coach, he wanted to find a way to give back to the community, he said Wednesday.
"Food insecurity is something that spans a wide range, and it's something that's all-encompassing," Carlisle said.
The program aims to provide families with all they need to cook healthy meals, Milele Kennedy, OPHS director of community nutrition and food policy, said. That includes food, a cookbook, cooking tools and cooking demonstrations.
"We had to make a lasting impact on the communities that we viewed need it the most, and we had to ensure that we created a program unlike any that have been done in Indianapolis before," Kennedy said.
The new program has a $530,000 fund, which includes donations from Carlisle, Pacers minority owner Steve Simon, Pacers Sports & Entertainment, and the Indianapolis Colts. Carlisle called the fund a "starting point" and implored attendees to help meet a $1 million goal.
The program plans to provide 1,000 boxes of fresh produce, eggs and healthy recipes every two weeks. Not-for-profit Nine13 Logistics will deliver the 17-to-20-pound boxes from Fresh Connect Central at Gleaners Food Bank of Indiana and the Carmel office of Hatch for Hunger, a national organization that connects farmers with hunger relief organizations. Residents will be able to pick up food boxes at Christamore House and the Edna Martin Christian Center depending on their ZIP codes.
Residents in the 46214, 46221 and 46222 ZIP codes registered with the program can pick up food boxes at Christamore House. Residents in the 46202, 46205 and 46218 ZIP codes can visit Edna Martin Christian Center.
"Our goal is to ensure those residents who live in these areas—some of the most low-access and low-income communities in Indianapolis—have the opportunity to receive these most valuable resources," Kennedy said.
Please enable JavaScript to view this content.