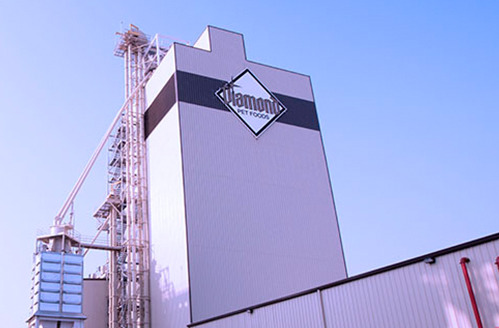 Meta, Missouri-based Diamond Pet Foods has broken ground on a nearly $260 million manufacturing and distribution center in Rushville.
The Indiana Economic Development Corp. said Wednesday that the 700,000-square-foot facility will allow the company to increase its output to clients throughout the Midwest. The company plans to create up to 170 jobs by the end of 2024 as a result of the investment.
Gov. Eric Holcomb joined Rushville Mayor Mike Pavey and Diamond executives for Wednesday's announcement.
Plans for the project were first disclosed in November 2021. However, the investment figure has since risen from the original estimate of $200 million.
The new facility will be Diamond Pet Foods' first in Indiana and also represents one of the largest private investments in Rushville's history, according to the Rush County Economic Development Corp.
The company said increasing demand for pet food and growing pet ownership in the United States has led to a need to grow its Midwest presence.
"We are excited to choose Rushville for its proximity to suppliers as well as the community's skilled workforce," Diamond Pet Foods President Mike Kampeter said in written remarks. "This new state-of-the-art facility will allow us to continue offering quality pet food at prices pet parents can feel good about. We look forward to adding Rushville and Indiana to the Diamond family."
The facility is being built at 2606 N. State Road 3 in Rushville, about 50 miles southeast of Indianapolis.
"Rushville is truly fortunate to have Diamond Pet Foods growing their company here," Pavey said. "The leadership of Diamond Pet Foods understands rural communities. They will have a positive impact to Rush County for generations."
The plant is expected to be operational in 2024.
The IEDC offered Diamond Pet Foods up to $1.8 million in conditional tax credits, which the company will not be eligible to claim until it meets hiring goals and local infrastructure improvements have been made.
The city of Rushville has offered additional incentives.
Diamond produces cat and dog food using ingredients sourced in the U.S. The 52-year-old company employs more than 1,000 workers at its Missouri, Arkansas, Kansas, South Carolina and California locations. Its brands include Diamond Naturals, Taste of the Wild, Diamond Care, Professional+, NutraGold and Nutra-Nuggets.
The company, which was founded by brothers-in-law Gary Schell and Richard Kampeter, is owned and operated by a second generation of Schell and Kampeter family members.
Please enable JavaScript to view this content.