Should Indiana move its primary to earlier in the year to play a bigger role in presidential politics?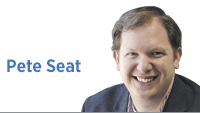 The answer to the question is: definitely, maybe.
Aside from Iowa—which might lose its valued status following this year's caucus fiasco—only one other bona fide Midwestern state, Minnesota, voted by Super Tuesday this year. Michigan, Missouri and North Dakota followed a week later, with Illinois set to cast ballots this week. So why shouldn't Indiana leapfrog ahead of our slot in May and at least join some of our Midwestern counterparts earlier on the calendar?
Legislators have on this question historically been dismissive due to the change's fiscal impact. It's a fair argument, because taxpayers would likely be forced to shoulder the financial burden of a presidential primary, followed by a separate primary for statewide and local offices a few weeks or months later. Unless, of course, we moved those up as well. Illinois and many other states conduct all their balloting at once in February, March or April.
Not to be too dismissive of those who are dismissive, but cost concerns can be legitimately outweighed by several factors. First is the prestige of holding an earlier primary. No longer satisfied with being flyover country, Indiana could proudly stand nearer the front of the pack and bring some Hoosier sensibility to the process.
Then there's the certain boon for business that comes with thousands upon thousands of candidates, staff, media and political tourists descending on the state and gorging on pork tenderloins and St. Elmo's cocktail sauce, while staying in top-notch hotels in downtown Indianapolis and locales such as Fort Wayne, South Bend and Evansville. And they could place a few friendly sports wagers via their preferred mobile gambling application. Heck, the news media alone would be on the receiving end of an advertising windfall (hmm, maybe I should put that in the cons column?).
There are, of course, political considerations as well. An earlier primary could drive up turnout, even if the candidates don't come. The sense of being an important piece in the presidential primary puzzle would encourage more Hoosiers to vote in primaries. And, being that we call an impressive slate of recent presidential candidates and prospective candidates our own, an earlier primary might help those homegrown aspirants like Mike Pence and Pete Buttigieg (or even Pete Seat!) rack up some early delegates in the future.
So to me, the real debate is not the bottom line, but whether we want to matter every cycle or every so often. Sure, with proportional delegate allocation rules and massively competitive fields, we were spoiled with two monster contests in 2008 and 2016. But there is no guarantee it will happen again. By moving our primary up, we guarantee that Indiana will always matter. By staying put, we end up with immeasurable clout or no clout at all.
It's a question worth studying rather than dismissing, as an incredible opportunity to take the pole position could be staring us right in the face. Let's not be too blind to see it.•
__________
Seat is a longtime Republican political consultant who has held posts in the White House and U.S. Senate before becoming a vice president at Bose Public Affairs Group. He wrote the book "The War on Millennials."Send comments to ibjedit@ibj.com.

Click here for more Forefront columns.
Please enable JavaScript to view this content.