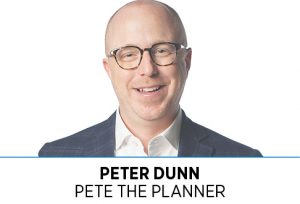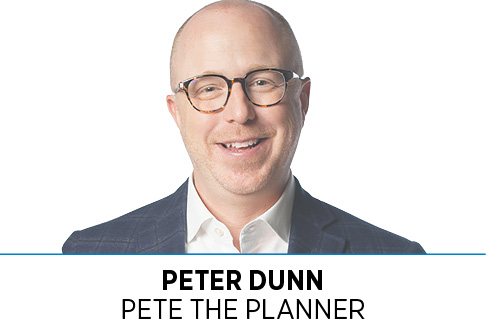 Dear Pete
I turn 50 next month, and the way I see it, I have about 15 years or so left of work. I'd like to say my financial life seems easier than it used to, but it doesn't. My son and daughter are both in college, my mom's health is failing, and I'm in charge of making sure she can pay for extended care. On top of that, we're getting ready to sell our family home to downsize our lifestyle. My early 40s felt overwhelming, but my finances actually seem more chaotic now. I can't be the only one who feels this way, can I?
­—Trent, Indianapolis
You are most definitely not alone, Trent. All across central Indiana, people in front of their newspapers, phones and computer screens feel, see, and can deeply identify with exactly what you're going through. I'm not sure if this will make you feel better or worse, but I've long thought ages 47 to 53 were the most financially challenging years of a person's life.
Most people don't see it coming. Why should they? Thirty(ish) years in the workforce, prime wages and some money growing in the nest egg all feel like evidence of permanent financial stability. Alas, at 43 years old, I'm actually terrified for ages 47-53 and have been financially preparing for that chapter for quite some time. Trent, it sounds like you're smack-dab in the middle of it. The key is to make sure you know what's coming next.
There are currently three major financial pressure points in your life: your finances, your mother's finances, and your kids' finances. Not to freak you out here, but any of those three pressure points has the power to absolutely annihilate your finances.
Despite the practicality of long-term-care insurance, the presence of Medicaid and whatever other financial reality your mother might be experiencing, your mother's financial reality can very easily affect your financial present and your financial future. Beyond the financial impact, the mental strain of care can be debilitating. There's no doubt you're feeling this right now.
The impact your kids have on your finances is either coming to a close or just beginning, depending on what choices you've made and what choices you're going to make in the next couple of years. Of the three pressure points, you've got the most to lose when it comes to your kids. Your financial decisions around their finances will not only affect you, they will also greatly affect your kids—and not necessarily in a good way.
If you've taken on student loan debt on their behalf, the pressure will grow. If you cross the invisible line and give them too much support upon their graduation, both of you will suffer. Their delayed independence will threaten them and you in an easy-to-deny, yet uncomfortable way.
Many families struggle to address this uncomfortable concept head-on, therefore they're left aimlessly meandering around truth for far too many years. If at this point in the column you feel even remotely defensive, then pay attention even closer.
It's funny how you and I have just discussed your financial life and we haven't even talked about your finances yet. Your ability to create financial stability for yourself, in perpetuity, will be the direct result of how much you can stay focused and ignore the pitfalls and distractions that are so easy to fall into.
All the understandable pressure you're feeling is coming from outside forces, not necessarily your own financial standing. The truth is, your main focus should technically be on whether you're putting the right amount into your retirement investments each month, based on your discussion with your financial adviser. And if somehow, someway you're able to do that, the rest might just take care of itself.
You are 100% justified in feeling the way you feel, and you've done nothing wrong to earn those feelings. The fact is, most people have, do or will feel exactly how you feel right now. I'm completely cognizant of this exact situation impacting my own life, and I know all I can do is make sure I'm securing my own long-term financial stability first, while navigating family decisions along the way.
It's really hard to make the best informed choices possible if your own security is left to fate.•
Please enable JavaScript to view this content.