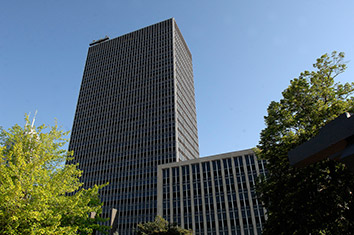 A City-County Council committee on Monday advanced a proposed tax abatement for a pharmaceutical company that plans to spend $72 million to build a new facility near the Indianapolis International Airport.
Advanced Accelerator Applications SA, a subsidiary of Swiss drug giant Novartis AG, plans to build a 79,000-square-foot manufacturing plant, which will produce radiopharmaceuticals for cancer treatment, in the Purdue Research Park.
The company first announced plans for the project in July.
The plant is already under construction at 8520 Challenger Drive and is expected to begin operations in 2023. At that time, it is expected to employ at least 26 workers earning at least $18 an hour plus benefits. Employment numbers could grow from there.
The company has requested 10-year real-property and personal-property tax abatements that would save it $6.5 million during that period. The land generates currently about $1,000 annually in property taxes for the city. Once the 10-year abatements expire, the plant is expected to generate more than $1 million in tax revenue annually.
On Monday night, the council's Metropolitan and Economic Development Committee voted to approve the company's request. It incentives plan goes to the full council for final approval.
The facility will feature several production lines that would significantly expand production of the company's targeted radioligand therapies in the United States.
Targeted radioligand therapy combines a precision-targeting compound with a therapeutic radioactive particle that binds to markers expressed by tumors, inhibiting tumor growth and replication. Because it targets specific tumor cells, surrounding healthy tissue is less affected by the treatment.
AAA currently has just one other manufacturing site in the United States, in Milburn, New Jersey. A plant in Indianapolis will give the company an opportunity to diversify and add capacity to meet customer demand, representatives told the committee.
Because its products have a shelf life as short as 72 hours, the company will have to distribute them as quickly as possible after they are made. Being in Indianapolis near both the airport and Interstate 70 will be crucial in meeting that deadline, reps said.
Novartis acquired France-based AAA in 2018 for $3.9 billion in order to gain possession of the biotech's top drug, Lutathera, a radioactive therapy that targets tumors. The U.S. Food and Drug Administration approved Lutathera in February to treat certain cancerous neuroendocrine tumors affecting the digestive tract.
Please enable JavaScript to view this content.