Marci Masters of Canfield, Ohio, came to town to see her daughter play volleyball this weekend at the Nike Mideast Qualifier tournament at the Indiana Convention Center.
Tom Van Etten of suburban Chicago came to cheer on the Iowa Hawkeyes during the Big Ten men's basketball tournament—and visit his daughter, Mave, who's attending Butler University.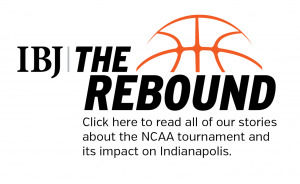 And Emily Hawks of Detroit was in town with former college classmates to visit a friend who lives in Indianapolis and decided to check out the action downtown.
They were all on Georgia Street on Saturday—along with fans from the Big Ten women's tournament and hundreds of St. Patrick's Day revelers, partying a few days early—bringing life back to at least part of downtown, one year after the Big Ten canceled its 2020 tournament midway through the event.
The fans and partiers filled the bars and restaurants along Georgia Street (Kilroy's, The District Tap, Hooter's and Harry & Izzy's all had lines and wait lists midday), rode scooters along George Street, visited food trucks lined up on Capitol Avenue, and listened to bands and DJs that were part of the Swish art and culture festival.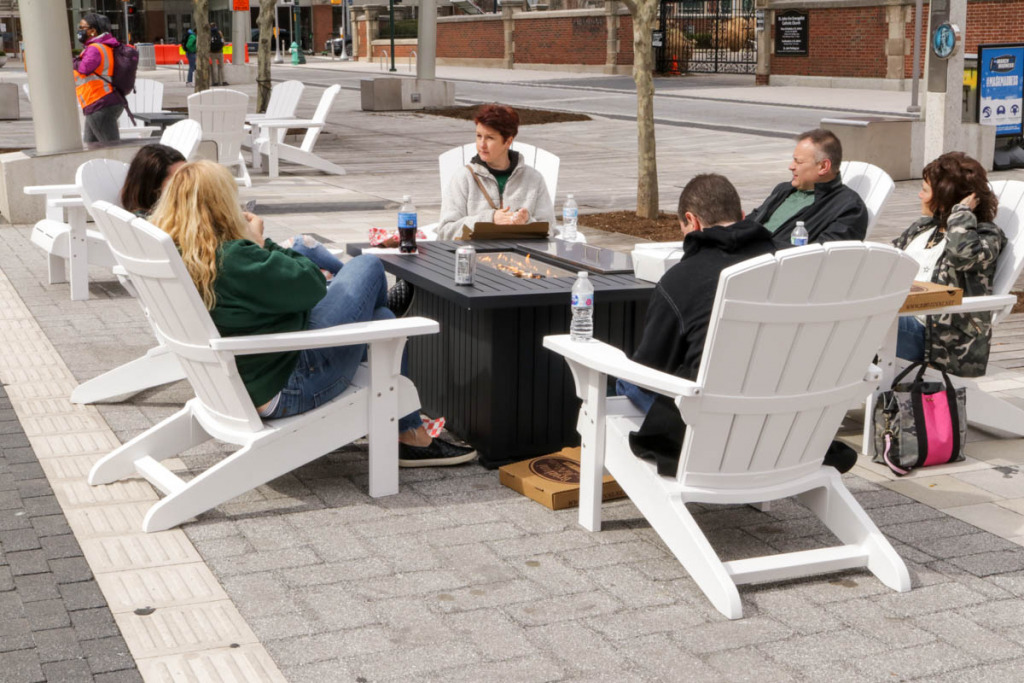 "There's a really diverse crowd here and we got to see a lot of people celebrating and having fun last night," said Masters, who was sitting Saturday afternoon with family and friends in resin Adirondack chairs around gas-powered firepits on the west end of Georgia Street.
"Because we haven't been able to [get together] because of COVID, it was really nice," she said. "It was a celebratory atmosphere."
And this weekend's crowds are just a prelude of things to come.
On Sunday, the NCAA will announce the 68 teams that will be part of March Madness, which will take place entirely in central Indiana. Teams are expected to start arriving in the city immediately—although those players, coaches and trainers will be required to remain in their hotels, except to practice, train and play games.
The tournament will begin Thursday with what's called the "first four" games at Mackey Arena at Purdue University and Simon Skjodt Assembly Hall at Indiana University.
On Friday, the NCAA's first round begins, with games at Purdue and IU, plus Hinkle Fieldhouse at Butler University, the Indiana Farmers Coliseum at the Indiana State Fairgrounds, Bankers Life Fieldhouse and Lucas Oil Stadium.
Attendance is restricted to no more than 25% of the venues' capacity (and will be less at Purdue and IU) but thousands of fans are still expected to descend on the city for the games. How many thousands remains anyone's guess.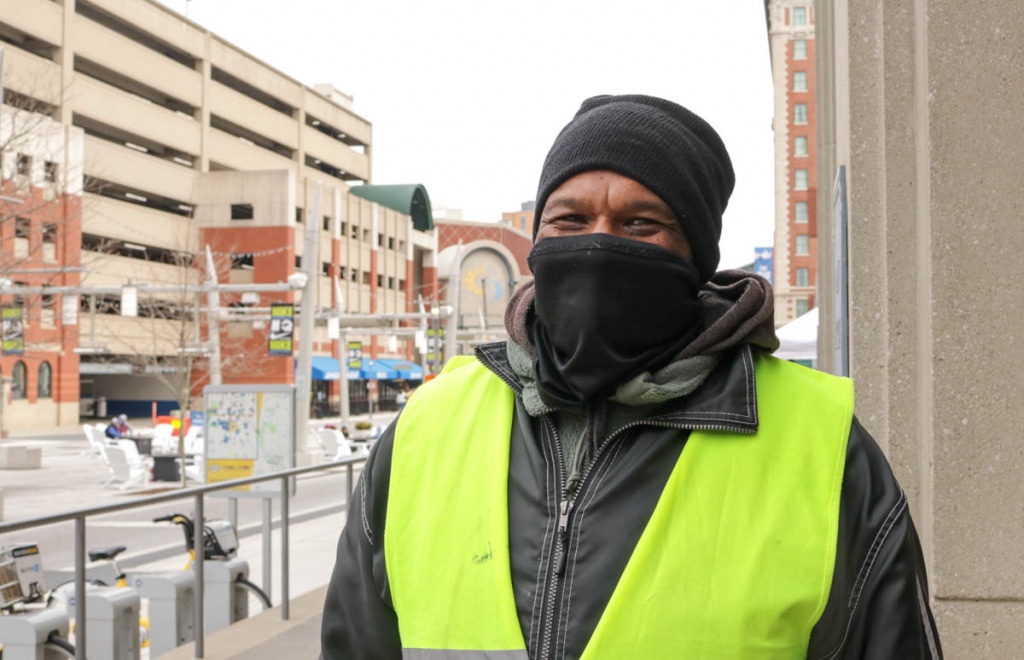 Robert Halbert, a street ambassador supervisor for Downtown Indy Inc., says the city is ready. His job is to help keep downtown clean and provide information to visitors to help them get around.
He's seen the number of people downtown increasing over the past few weeks.
"I'm glad to see people back out doing things," Halbert said. And he's excited about the coming weeks. "This city is known for basketball. And I'm glad to see the people around here able to make money again."
Van Etten, the Hawkeyes fan, said he was grateful for the opportunity to be in Indianapolis. He had not expected the Big Ten to allow fans at its tournament.
"I'm very happy and relieved," he said.
He said Indianapolis seems well prepared for the events of the next few weeks.
"I've always loved in Indianapolis," he said. "They've always done a great job with everything and I'm not surprised they can handle this."
His daughter, Mave, is a sophomore at Butler, where she's studying sports media. She plans to try to attend the NCAA games that will be played at Hinkle.
"I'm especially excited for March Madness next weekend because a couple of games will be at Butler and I think that's a great opportunity for me," she said.
Nearby, Hawks and her friends were posing near a banner for Michigan State, their alma mater. All of the Big 10 schools were represented by banners along Georgia Street and in other parts of downtown. Hawks was impressed.
"They decorated it so cute for the Big Ten tournament and the NCAA tournament," she said.
Her friend, Haley Schepis, who lives on the north side of Indianapolis, said she's excited that central Indiana will be hosting the entire NCAA tournament and plans to come back downtown as in the coming weeks.
"It will be really fun to come down to see everything that's going on," she said. "I hope there will be a lot of outdoor activities so everyone can be safe and still enjoy the tournament."
Please enable JavaScript to view this content.