The Bottleworks Hotel is set to open to guests on Tuesday after more than two years of construction on the historic former Coca-Cola bottling plant property along Massachusetts Avenue.
The 139-room hotel will be among the first components of the $300 million Bottleworks District to open. Additional tenants—including retailers, restaurants and entertainment-focused businesses—will begin opening early next year.
Hotel management said it's likely Bottleworks will take a few months to gain footing in the market, particularly because fewer people are expected to travel during the upcoming holiday season.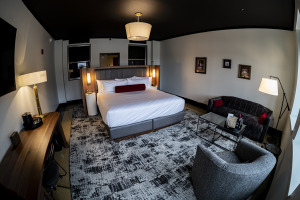 "We're in this for the long term, not the short-term return," said Amy Isbell-Williams, general manager for the hotel. "So, obviously, it's probably going to take a little time for us to grow. But I think that gives us an opportunity to really work out the kinks and really understand what the modern traveler is looking for."
The hotel is managed by Beloit, Wisconsin-based Geronimo Hospitality Group, a sister company of Bottleworks developer Hendricks Commercial Properties.
Williams said room rates range from $249 for a classic suite to $1,500 for the hotel's massive penthouse. The hotel employs more than 50 people.
The hotel will be home to multiple food and beverage options, including Cunningham Restaurant Group concept Modita, cocktail bar Sundry and Vice, and coffee bar Blue Collar Coffee Co.—all of which are expected to open in the first quarter of 2021.
Please enable JavaScript to view this content.