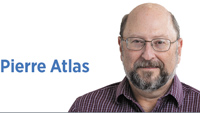 President Donald Trump has likened the coronavirus pandemic to a war, and he has proudly called himself a "wartime president." Trump has proven himself to be an abject failure in that role.
Imagine a wartime leader sending our troops into battle without providing them with enough body armor or ammunition (or in this case, personal protective equipment, ventilators and testing), then declaring victory and advocating withdrawal from the battlefield (or ending stay-at-home policies and opening the economy) when the enemy was still on the offensive. And imagine that leader blaming everyone else for his own mistakes, recklessness and incompetence.
This is how Trump has performed.
Trump's chaotic, stream-of-consciousness press conferences are laden with factually incorrect (and sometimes, dangerously incorrect) information, self-praise, blaming of others, and bemoaning of his own victimhood. With each tweet and each public appearance, Trump's insecure narcissism is on full display.
Harry Truman, who led this nation in war—hot as well as cold—said of the presidency, "The buck stops here." On March 13, when asked about the federal government's slow and shoddy rollout of coronavirus testing, Trump offered his own, now iconic, retort to Truman: "No, I don't take responsibility at all."
With each passing day, more information is revealed that shows the president ignored early warnings of a pandemic from scientific bodies and his own administration (including classified intelligence briefings).
To the extent that Trump didn't take this information seriously and failed to act in January and February, that is incompetence. If he deliberately ignored or downplayed mounting evidence of a deadly pandemic out of concern for the stock market or his reelection prospects, that is inexcusable malfeasance.
American presidents are expected to be "consolers in chief" during moments of monumental grief or crisis. Think of Roosevelt's fireside chats, Reagan's moving speech after the Challenger space shuttle disaster, Clinton after the Oklahoma City bombing, or Bush after 9/11. Trump is arguably the only president in American history who lacks the capacity to feel empathy—or even the ability to fake it.
His lack of empathy has been empirically verified: The Washington Post analyzed 28 hours of coronavirus briefings in March and April; Trump's remarks took up 60%, or 13 hours, which included "just 4-1/2 minutes expressing condolences for coronavirus victims."
In a single 24-hour period spanning April 15-16, more Americans died of COVID-19 (4,591) than the total number of U.S. troops killed in the Iraq War. Trump did not acknowledge the dead or display any sympathy for their families. Instead, the next morning, he sent off a series of incendiary tweets encouraging residents of Michigan, Minnesota and Virginia (which all have Democratic governors) to rise up and violate those states' stay-at-home orders. Trump is likely the only president in history who has openly incited Americans to break the law.
More Americans have now died from coronavirus than the total number of U.S. troops killed in the Vietnam War. Over 1 million Americans are known to be infected. Nearly 30 million Americans have become unemployed because the economy had to be placed into a necessary, "medically induced coma" to flatten the rising curve of deaths.
We still don't have enough tests or PPE, states are being left to fend for themselves, and we might be unprepared for a second, possibly more deadly, wave in the coming months. All this, on Trump's watch.
Leaders matter. On coronavirus, Trump has utterly failed as a leader.•
__________
Atlas is a professor of political science and director of The Richard G. Lugar Franciscan Center for Global Studies at Marian University. Send comments to ibjedit@ibj.com.
Click here for more Forefront columns.
Please enable JavaScript to view this content.