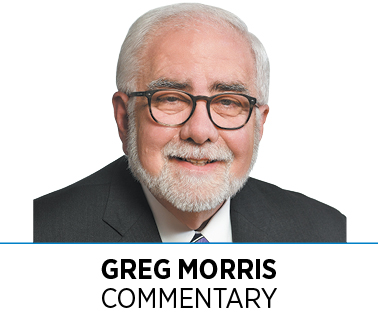 I write about food insecurity a couple of times a year and highlight IBJ's partnership with Gleaners Food Bank of Indiana. Why do I continue to do this? Because the fight against food insecurity never rests. It's a 24/7, 365-day effort. Hunger does not take a holiday.
Food insecurity describes a household's inability to provide enough food for every person to live an active, healthy life.
IBJ and Gleaners have convened three annual events on "Hunger and Health: Time for Creative Intervention." Additionally, our news staff recognized the importance of informing our readers about poverty, hunger and other social issues that affect the economic health of our city. The result was IBJ's "One City, Worlds Apart" series focusing on the roots of poverty in the city.
I ask each of you to join us— Gleaners and IBJ—in this critically important effort to feed our hungry neighbors and eradicate hunger in our community.
Edited for space, here are remarks from Gleaners President and CEO John Elliott delivered at this year's event:
"As community leaders working together, we can and must mobilize the necessary resources to resolve daunting, interconnected challenges for our neighbors—not just at the urgent convergence of hunger and health—the way families deal with those challenges—all at once.
With 40% food waste and 15% food insecurity … we do not face a food shortage; we face a supply chain opportunity.
The challenge of hunger impacts crime, education, physical and mental health, worker productivity and diminished economic success. If we truly desire successively healthier generations, then we can no longer address any social determinant of health in isolation.
Food insecurity is more predictive than income of the 10 most prevalent chronic diseases, including hypertension, coronary heart disease, hepatitis, stroke, cancer, chronic obstructive pulmonary disease and kidney disease. Hunger brings a higher risk of childhood anemia and hospitalization.
In fiscal 2018, Gleaners processed 33.6 million pounds of food, or 28 million meals—up 7.8% over 2017, but still only meeting 42.7% of the meal gap in our 21 counties. Across Indiana, our neighbors still miss more than 150 million meals a year. Despite the U.S. economy's positive macro-economic trends, the uncertainty of federal funding for the four USDA food programs that provide 83% of the meals for hungry Hoosiers still hangs over us like an ominous cloud.
Gleaners supports 218 local food pantries, 248 mobile pantry distributions, 55 school-based pantries and 243 BackSack schools. When we distribute food to local pantry partners, Gleaners donors cover 95% of the cost so those neighborhood pantries don't have to. To incentivize fresh produce, it is free to Gleaners' local partners.
I hope you will remain in this fight beside the hard-working, dedicated Gleaners team. Together, we can feed all who are hungry and assist those who may need a hand up to move out of our food line and into a life where hunger is no longer a barrier to success and happiness."
As with all critical endeavors, it takes money to make all this happen—a lot of money.
Gleaners is critically dependent on nearly 15,000 donors and more than 30,000 volunteer visits per year. Volunteers do 40% of the work.
Gleaners needs $8 million annually in donations. And its budget must grow rapidly the next few years, with additional capital needs of at least $6 million to maintain its facility and manage additional food distribution.
Won't you please help? One in seven Hoosiers is hungry. For more information, go to gleaners.org.•
__________
Morris is publisher of IBJ. To comment, send email to gmorris@ibj.com.
Please enable JavaScript to view this content.