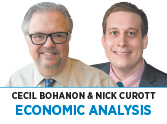 It is interesting how earth-shattering events can cause us to examine our deepest values of political economy. We suspect an overwhelming majority of U.S. citizens concur with Bohanon and Curott in sympathizing with the Ukrainians in the current conflict. We see the Russians as predatory bullies, and the Ukrainians as heroic underdogs. This is about the right of a people to determine their own fate and not be conquered by foreign aggressors. Well, yes.
To paraphrase our late mentor and colleague, the great economist Walter Williams, the primary economic justification for government is to protect its citizens from thugs, both foreign and domestic. As much as we hold these sentiments, however, they do not answer the basic question of, what are the legitimate geographical boundaries of any particular state?
Bohanon recalls being in London and walking by a public protest rally in support of self-determination for a particular group outside of England. He and his students were in a rush to ensure being on time for an engagement, and did not discern the exact identity of the group. Nevertheless, one of the students expressed solidarity, sympathy and approval for the protest on the grounds that any group wanting political autonomy should have it. But the right to self-determination is a tricky concept: Who gets to be part of the group that decides?
It is a sobering thought to realize that, in 2014, there were likely geographically contiguous regions of Ukraine, notably in the Donetsk and Luhansk oblasts, that would have chosen, by majority vote, to secede from Ukraine and join the Russian Federation. It is also sobering to recognize the same could be said in almost any nation state.
But this raises the question of how mergers or dissolutions of states are to be done. Who gets to vote? Those wanting to leave? Or do those being left have a say, too? What about those in the seceding region who don't want to leave? Is voting necessary for legitimacy? What subset of the people gets to call itself the people?
Of course, a peaceful non-violent merger or dissolution of states is clearly preferable to violent conquest/secession. The dissolution of Czechoslovakia into two states was accomplished peacefully, although it's interesting to note that there was no popular vote. Is it Mr. Putin's willingness to use brutal means that offends us as much as his disregard for Ukrainian opinion? We all hope he does not get away with it.•
__________
Bohanon and Curott are professors of economics at Ball State University. Send comments to ibjedit@ibj.com.
Please enable JavaScript to view this content.