Multiple retail stores have sprung up in Indianapolis over the past week with hopes of luring merchandise-hungry fans in town for the NCAA Men's Basketball Tournament.
The pop-up shops include a few offering locally made products and others specializing in tournament-focused merchandise. In addition,  kiosks and booths at each competition venue offer products from Event 1 Sports, the NCAA's official merchandising partner.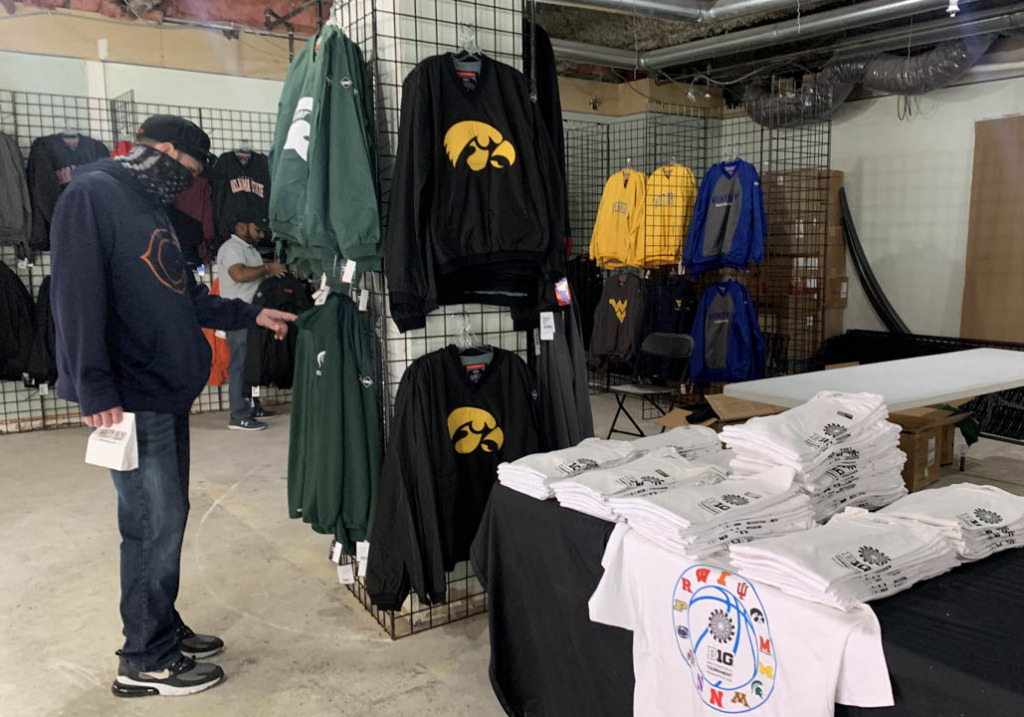 Minnesota-based JEB Enterprises Inc. is among the companies operating a pop-up during the tournament, with a location at the northwest corner of Maryland and Meridian streets. The store also operated during the Big Ten men's and women's basketball tournaments last week.
JEB is what owner Jon Brovold terms a "hot market entity," meaning it does not itself have a primary merchandising license from the NCAA for the tournament, but instead works with companies that do have licenses to sell that gear.
The company sets up pop-up shops for many major sporting events in the United States, including the College World Series, the Super Bowl, multiple college football bowl games and the College Football Playoff National Championship.
"I'm hoping to capitalize on being here for a couple of weeks, selling through all the rounds of the tournament here," Brovold said. "We're an … approved vendor—not the official vendor, but nonetheless, we're selling probably similar merchandise to" Event 1's products.
While Event 1 will typically work with companies like Champion, Nike and Under Armour—which generally dominate the sports apparel market—JEB works with secondary licensees, like Cutter & Buck, Zephyr caps, Blue 84, Wincraft Retro, and Hanes subsidiary Gear For Sports. 
He said getting gear for this year's tournament has been more challenging than in years past, because merchandisers are offering a more limited selection of designs. Brovold is able to suggest design ideas, but those must be approved by the Collegiate Licensing Company before they are turned into products that can be sold.
"Part of my strategy has always been to try to handle product that's different than others," he said. "Because of COVID, the offerings there are a lot [fewer] offerings than they normally are. We probably won't be able to do as many things as we would normally do to show that we're different."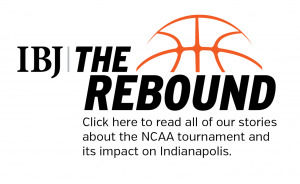 He said the company will carry shirts and other products commemorating the first-of-its-kind NCAA tournament being held entirely in Indiana, including a shirt featuring all 68 teams, among dozens of products it will carry. It will also offer school-specific merchandise starting with the Sweet 16.
The NCAA is allowing a limited number of fans at each game of the tournament, which has provided a market for JEB that wasn't a sure thing just a few months ago. Last year, the tournament was cancelled due to the pandemic. This year, the NCAA said venues will allow up to 25% capacity for all 67 games of the tournament.
Brovold said he hopes to see teams that have strong travel parties perform well, particularly those from the Midwest like Illinois, Michigan, and Ohio State (all high seeds in the tournament). He said if Gonzaga or Baylor reach the championship, it could be bad for business.
"You really need teams that are really good basketball schools that are close, have great fan bases that can come into the city knowing there's going to be a limited amount of tickets available, but are going to come over anyway to watch the games and be part of the excitement of the tournament," he said.
Dave Moroknek, president of Legends Global Merchandise (formerly Maingate), said pop-up shops aren't unusual, and as major sporting events have grown their reach, it's created a niche market for companies that want to sell official products.
"It's very entrepreneurial—they're going out and buying all the product, taking a lot of risks," he said. "Pop-up shops also typically [don't] have an agreement directly with the host—in this case, the NCAA—so they're really a direct competitor" to groups like Event 1, which works directly with the NCAA.
Two vendors at Indianapolis International Airport also are offering licensed NCAA products. Paradies Lagardère and Hudson, which both have stores in the airport's concourses, will offer similar products to one another for visitors in town for the tournament over the next few weeks. Paradies also has a pop-up store in Civic Plaza at the airport, which offers the same products.
Local vendors are also getting in on the tournament action, as St'artUp 317 has partnered with local companies to open two pop-up shops near Monument Circle. One is going into the former Pearings space at 6 W. Washington St., and the other will go into the former Green Leaf Juice Bar store at 18 N. Meridian St.
Indianapolis streetwear brand Cargo will set up shop in the Pearings space, incorporating additional brands on certain weekends.
And Mass Ave store Homespun plans to open an additional location during the tournament that will feature product from more than 45 local vendors.
Amanda Mauer Taflinger, owner of Homespun, said the store could help visitors to the city take a small part of Indianapolis home with them to commemorate the tournament.
Both stores will be open Thursday through Sunday from 11 a.m. to 7 p.m., through early April.
A pop-up store could also be coming to Circle Centre Mall, according to a sign by a second-floor storefront there Wednesday morning, although the sign didn't indicate when the location would open—or what it would offer. Simon did not return a message seeking comment.
"There's a lot of different people involved, in a lot of different ways," Mauer Taflinger said. "We're going to see how it goes."
IBJ Editor Lesley Weidenbener contributed to this story.
Please enable JavaScript to view this content.