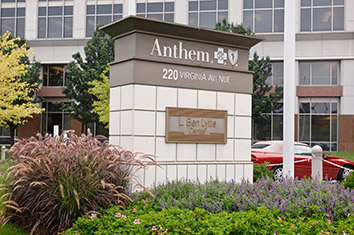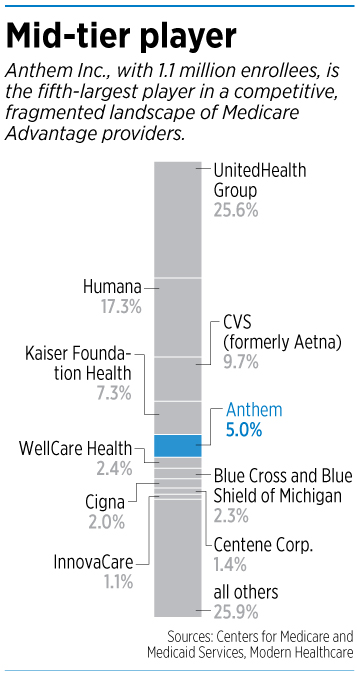 Medicare Advantage, a fast-growing business line for Anthem Inc., is coming under increased scrutiny from regulators, who say the insurance industry has been annually overbilling the government by billions of dollars.
Now the federal government is stepping up moves to recoup money, a move that could leave insurers on the hook for huge back payments.
The issue could loom large for Indianapolis-based Anthem, which has seen its Medicare Advantage membership climb 25% in the past year and is predicting further increases. Several analysts say Medicare Advantage plans are a key part of Anthem's future growth.
Medicare Advantage plans are health insurance policies for senior citizens, administered by private insurance companies under contract with Medicare. Under the program, the government pays private insurers a monthly amount to provide health care benefits for seniors.
The Medicare Advantage plans are hugely popular for their wide raft of benefits, with monthly premiums that are often lower than those of traditional Medicare.
Medicare Advantage plans offer seniors hospital and medical coverage and usually prescription drug coverage. They sometimes offer dental care or benefits not normally included in traditional Medicare, such as nutritional services, gym memberships and transportation for medical visits.
Medicare Advantage now covers about one-third of all Medicare beneficiaries, or 20 million seniors, about double the number from a decade ago. And with 10,000 Americans turning 65 every day, insurers are racing to cover them with the Medicare Advantage plans.
The plans typically offer lower out-of-pocket costs than traditional government-run Medicare in exchange for members using in-network doctors and hospitals.
But in recent years, Medicare Advantage plans have come under fire. A national audit by the Centers for Medicare and Medicaid Services found that the government in 2013 improperly paid $14.1 billion to Medicare Advantage contractors that could not produce medical records to support diagnoses.
Some insurers overcharged the government by exaggerating how sick patients were, allowing them to collect a higher rate for those patients each month, the audit found. Overall, about 10% of Medicare Advantage payments were improperly made, CMS said.
And some outside organizations criticize Medicare Advantage for what they describe as severe shortcomings. A Brown University study last month found that Medicare Advantage enrollees have higher readmission rates to hospitals than people in traditional Medicare, and are more likely to enter a lower-quality nursing home.
Another report last year by the inspector general of the U.S. Department of Health and Human Services found that some private plans have an incentive to deny claims in an attempt to increase profits.
"Because Medicare Advantage covers so many beneficiaries, even low rates of inappropriately denied services or payment can create significant problems for many beneficiaries and their providers," said the report by the inspector general, Daniel R. Levinson.
A 2016 report from the U.S. Governmental Accountability Office said Medicare Advantage plans, which take in more than $160 billion annually, have overbilled the government by billions of dollars, but rarely have been forced to repay or face other consequences.
A Kaiser Family Foundation review of 40 studies published from 2000 to 2014 found that, for people in poor health, traditional Medicare offers better access and quality than Medicare Advantage plans.
Fran Quigley, a clinical professor at the Indiana University McKinney School of Law and director of its Health and Human Rights Clinic, said Medicare Advantage plans have long been problematic, because they rely on the profit incentive to provide health care.
"When the corporations that operate Medicare Advantage take in billions of taxpayer health care dollars, it is a bad deal for both patients and taxpayers," Quigley said, because the insurers are motivated "to provide as little care as possible as cheaply as possible."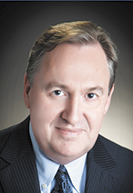 Simpler, cheaper?
But some Indiana benefits managers defend Medicare Advantage plans, saying they are growing for a reason. The monthly premiums and out-of-pocket costs are often lower than for traditional Medicare, said Stan Jackson, vice president of Apex Benefits in Indianapolis.
Also, traditional fee-for-service Medicare plans can be confusing and can lead to overuse of medical services, he said.
Paul Ashley, managing director of FirstPerson Advisors in Indianapolis, said Medicare Advantage is often easier to understand than the various plans under traditional Medicare, which are known as Part A (hospital insurance), Part B (medical insurance) and Part D (drug coverage), along with other components.
"Medicare and the supplemental plans are a bit like 'alphabet soup' and, to many seniors, they prefer not only the bundled simplicity of Medicare Advantage but also the relative financial savings they experience," Ashley said.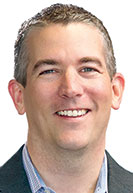 Anthem declined to comment to IBJ about the issue, referring questions to an industry trade group, Washington, D.C.-based America's Health Insurance Plans.
The trade group defended Medicare Advantage plans, saying they are more efficient and 11% less expensive than traditional Medicare for the benefits received.
Kristine Grow, a senior vice president for the trade group, acknowledged that the program has suffered from payment problems. But she said many of those improper payments were not overpayments, but underpayments.
"More than 40% of the gross improper payment rate in Medicare Advantage is estimated underpayment," she wrote in an email.
She added: "The CMS notion of improper payments in Medicare Advantage is based on misleading definitions and limited data using the wrong metrics."
Anthem hasn't been named in any enforcement action. But the Indianapolis-based insurer disclosed earlier this year that the government's push "could increase financial recoveries" from health plans.
Anthem added that, if it failed to report and correct errors discovered through its own auditing procedures or during a government audit, it could be subject to fines and penalties that "could have a material adverse effect" on its financial condition.
In recent years, the federal government repeatedly postponed or backed off efforts to crack down on billing abuses and mistakes, according to several lengthy examinations by Kaiser Health News, an independent journalism organization, and the Center for Public Integrity, an investigative journalism group.
But CMS is now pushing hard to crack down, proposing a series of "enhanced audits" that could claw back millions of dollars in Medicare Advantage overpayments.
"The public has a substantial interest in the recoupment of millions of dollars of public money improperly paid to health insurers," the CMS wrote in a Federal Register notice last year.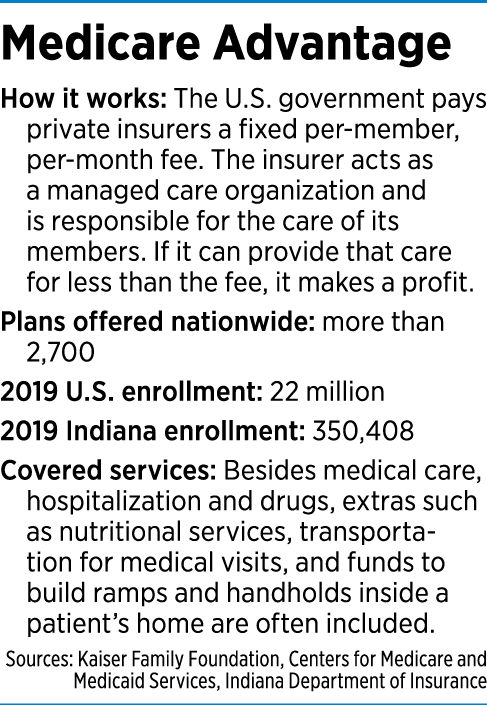 Continued growth
Meanwhile, Anthem continues to make Medicare Advantage an ever bigger part of its business. As of June 30, it had 1.2 million Medicare Advantage members, up about 25% from a year ago.
That made Anthem the fifth-largest player in a hugely fragmented market, with 5% market share, according to CMS. In first place is UnitedHealth Group, which has nearly 6 million Medicare Advantage members, or 25% of the national market.
In second place is Humana, with 17.3%, followed by CVS (which recently bought insurer Aetna), with 9.7%, and Kaiser Foundation Health, with 7.3%.
Anthem CEO Gail Boudreaux sounded a bullish note during the earnings conference call on July 24, saying the company's Medicare Advantage line was performing well and was picking up market share.
"And our strong capability in this area is positioning us for solid multiyear growth," she said.
John Gallina, the company's chief financial officer, told investors Medicare Advantage is a "significant driver" of the company's revenue growth.
Anthem has plenty of room to expand the business further, either through acquisitions or organically. Medicare Advantage enrollment accounts for only 3% of its 40.8 million members, many of whom are still working and covered with policies through their employers.
Charles Rhyee, an analyst for Cowen Inc., said he expects Anthem to add 219,000 Medicare Advantage members this year, representing 22% growth over last year.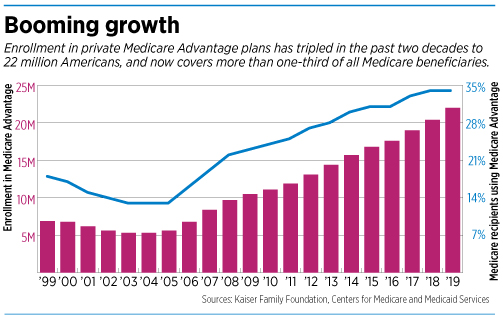 Several other analysts are similarly upbeat. In a research note last month, Matt Borsch, an analyst with BMO Capital Markets, said he sees an "accelerated growth trajectory" for Anthem in Medicare Advantage. Jefferies analyst David Windley said he foresees "robust increases."
What they like about the Medicare Advantage plans are the profit margins of about 5%—twice the average of Medicare plans overall, according to the Medicare Payment Advisory Commission, which reports to Congress.
The enhanced audits CMS is proposing would examine only a small sample: about 200 patients in each plan, then extrapolate the error rates across the plan's full membership. Kaiser Health News reported in June that the agency has already conducted 90 of those enhanced audits for payments made in 2011, 2012 and 2013, and expects to collect $650 million in extrapolated penalties as a result.
CMS has not disclosed which insurers it is auditing, or when it will make the results public. This year, CMS is starting audits for 2014 and 2015—30 per year—targeting 5% of the 600 plans annually, Kaiser Health News reported.
Although Anthem isn't discussing the issue, some insurers are. In May, Cigna warned in a financial filing: "If adopted in its current form, [the audits] could have a detrimental impact" on all Medicare Advantage plans and "affect the ability of plans to deliver high quality care."
In the meantime, however, the proposed rule is still going through the comment period and could change—giving both sides time to lobby and turn up the pressure.•
Please enable JavaScript to view this content.