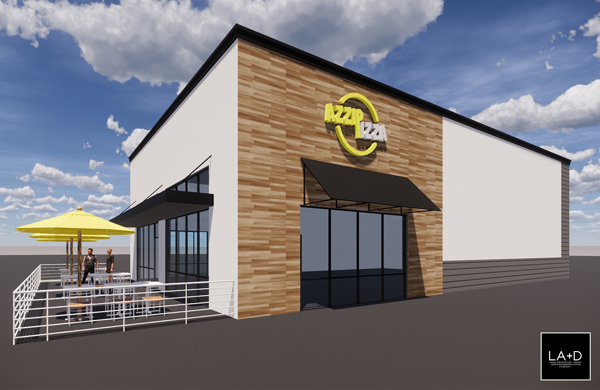 Evansville-based Azzip Pizza, which has eight restaurants in Indiana and Kentucky, plans to enter the Indianapolis market early next year with a south-side location.
The store will be Azzip's first freestanding location and its largest store to date—a 3,000-square-foot restaurant to be built at 1120 E. Stop 11 Road, just west of U.S. 31.
"We think Indianapolis is just the natural next step for us," said Azzip founder and co-CEO Brad Neimeier. "I think there's a lot of potential, a lot of areas to grow."
Azzip—which is pizza spelled backwards—is focused now on getting its first store open in Indianapolis, but Neimeier said the company eventually intends to open additional locations in the area over time—possibly five to seven locations.
Azzip is a fast-fire pizza restaurant where customers stand at a counter to order their pizzas, which are baked on a conveyor-type oven in only a few minutes. All of its restaurants are company-owned and operated.
The restaurant been named "Best Place for Pizza" three times since 2015 in the annual Evansville Courier and Press Readers' Choice Award.
The menu includes 8- and 11-inch pizzas and unusual specialty pies. The E'Vil Pig, for instance, includes barbecue sauce, mozzarella, pork, onion, Grippo's potato chips and a sauce made from a reduction of Ski citrus soda. The pizza is named after Evansville because both Grippo's and Ski are popular there.
Customers can also order their own toppings, as well as options such as gluten-free crusts, cauliflower crusts, dairy-free cheese and plant-based vegan sausage.
Neimeier came up with the idea for Azzip when he was a student at Purdue University studying hospitality and tourism as well as entrepreneurship. As a senior he entered the idea in a business plan competition and won $20,000 to launch his business. After graduating in 2012, he moved home to Evansville and opened his first Azzip there in 2014.
The company now has six stores in Indiana: two in Evansville and one each in Newburgh, Terre Haute, Bloomington, Lafayette. It also has one each in the Kentucky towns of Owensboro and Bowling Green. The Owensboro store opened Sunday.
Azzip has a corporate staff of 10, including Neimeier's mother, father and two brothers.
In entering Indianapolis, Neimeier said Azzip is mindful that it will be competing in a much larger market, without the hometown advantage it enjoys at its southwestern Indiana stores.
"That is kind of a big concern of ours, that we go into the Indianapolis market and we get lost—no one knows who we are," Neimeier said.
To address that challenge, Neimeier said, Azzip's strategy is to start out in a part of town where it thinks it can better establish a presence before expanding to other parts of the market.
The Neimeiers have friends in Greenwood who helped them understand the Greenwood and south Indianapolis market, and the area seemed like a good fit for Azzip's first Indianapolis store, Neimeier said.
Please enable JavaScript to view this content.