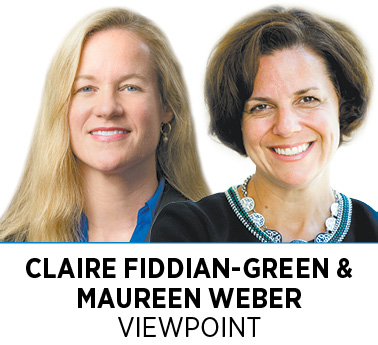 As a lead preschool teacher, Asia Carter's first daily task is to guide her children through breakfast. She uses the time to help the students understand daily routines, from hand washing to clearing their plates, and the day progresses from there: literacy skills, math, naps, and an afternoon of reading and purposeful play.
Through these activities, Carter makes invaluable contributions to her students' development and long-term success. Testimony from kindergarten teachers bears this out: They can spot a student who has attended a high-quality early learning program on the first day of school. Research also shows high-quality early childhood education builds the skills children need to begin elementary school ready to learn, and these benefits endure, providing especially powerful benefits to our most vulnerable students.
Teachers like Carter are the most important part of the formula for early childhood education's positive impact. But our failure to prioritize training and pay for teachers like her suggests there's much work to do to ensure their contributions to society are fully recognized. Early childhood workers face low financial reward and significant hurdles to professional growth. The professional training required to build and sustain the skills to teach our youngest learners is expensive and time-consuming, especially relative to the pay. This makes it challenging to find and retain well-trained teachers.
Even for those who do receive substantial training, compensation levels are comparable to—or less than—pay in retail or fast food jobs. The average salary for a teacher of 4-year-olds is less than half the salary of a teacher of 5-year-olds. For teachers of younger children, the imbalance is even greater. As a result, industry-wide turnover rates hover around 30% per year, making it challenging to maintain high-quality programs.
At the same time, high-quality early childhood education is hard to find and costly, averaging about $8,000 per child annually. Despite this expense, the low staff-to-child ratio requirements inherent in caring for young children depress compensation levels, even among the most effectively managed early learning providers.
To better compensate teachers and provide the training they need, we must address fundamentals, like bolstering public sentiment for early education and avoiding regulations that might drive up costs. But we also need to reimagine the basic framework of the industry itself.
To that end, Early Learning Indiana has teamed with Ascend Indiana, an initiative of the Central Indiana Corporate Partnership focused on closing Indiana's talent gaps, to create an innovative competency-based, job-embedded preparation program for early childhood workers. This initiative, supported by the Richard M. Fairbanks Foundation, is designed to fast-track the preparation of the strongest candidates so they arrive in classrooms ready to nurture children's growth.
This innovative effort gets to the heart of one of the biggest barriers to recruiting an effective early learning workforce: ensuring teacher candidates gain the preparation they need to excel at an affordable cost. It is among the solutions Indiana's policymakers and influencers should consider as our state looks to build a better system of education for our youngest learners and the critical workforce required to support it.
Teachers like Carter deserve opportunities to receive the training they need for long-term success—and be compensated for the tremendous value they provide our state. That will benefit a critical segment of our state's teacher workforce, and all young Hoosiers who learn from them.•
__________
Fiddian-Green is president and CEO of the Richard M. Fairbanks Foundation. Weber is president and CEO of Early Learning Indiana.
Please enable JavaScript to view this content.