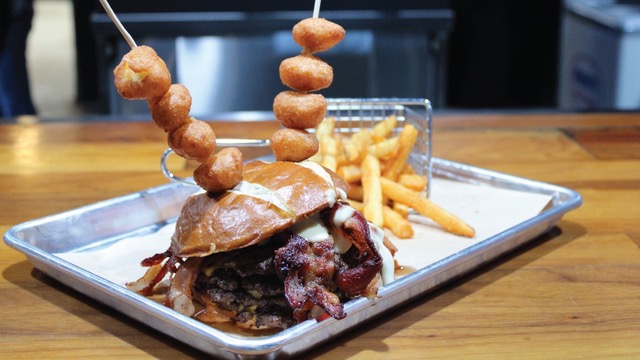 A vacant restaurant space on the north side of Indianapolis is getting two new tenants, including a growing local burger chain.
The former Scotty's Brewhouse at 3905 E. 96th St., a few blocks east of Keystone Parkway, will be split between Prodigy Burger Bar and a new breakfast-lunch concept from the same owner, called Big Bear Biscuits.
The restaurants are set to open in early 2022, following a $1 million renovation of the property by restaurant group O'Reilly Holdings LLC, which owns both concepts, as well as the O'Reilly's Irish Bar locations in Indianapolis, Speedway and Fort Wayne.
Prodigy is expected to occupy about 60% of the 10,000-square foot building, with Big Bear using the rest. The restaurants will share the oversized kitchen.
"The location is amazing, but it was just so big that we decided to bring these two concepts together," O'Reilly Holdings owner and CEO Keith Reilly said. He said the kitchen area includes two separate lines, and with the restaurants having little overlap—Big Bear will serve breakfast and lunch, while Prodigy will be open for lunch and dinner—sharing the space is the best path forward.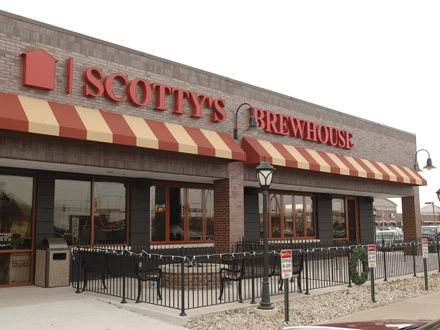 He said O'Reilly first considered the space after Scotty's closed in 2019, but it was always too large for one of the company's restaurants.
"When we looked at the space a long time ago, the [kitchen] space itself was just so big for just Prodigy that it just wouldn't have made sense," he said. "It would have been a waste of space back then, because it was just too big. But for this, it actually makes sense."
The outlot is part of the Lakefront at Keystone, an office complex composed of more than 1 million square feet across several buildings owned through a partnership between Philadelphia-based Rubenstein Partners LP and Indianapolis-based Strategic Capital Partners LLC.
The property owners said Prodigy and Big Bear each signed "long-term leases" for their space. Additional financial details weren't disclosed.
Richard Horn, CEO of Strategic Capital, said in written remarks the additions "give our tenants all-day dining options," further enhancing the Class A office park—one of the largest in Indianapolis.
Prodigy first opened in 2017 at Clay Terrace and added five more locations across central Indiana, in Geist, Greenwood, Indianapolis, Kokomo and west of Carmel. The 96th Street location will be the chain's largest. The restaurant features a menu of build-your-own burgers,  seafood, sandwiches and salads.
Big Bear Biscuits is a partnership between restaurateur Reilly and longtime Indianapolis chef Dean Sample, who previously was the executive chef at Northside Social and the Meridian restaurant. The venture will feature breakfast and lunch foods—including biscuits—along with a locally curated coffee selection. It will also have a walk-up window for those looking for a quick option.
As part of the partnership, Sample will also serve as Prodigy's culinary director. He already has overseen a menu update.
Each restaurant will offer indoor and outdoor dining, catering and delivery, and carryout options that can accommodate workers in the office park, which in recent years underwent more than $6 million in amenity upgrades.
Reilly said he is hopeful the restaurants can overcome two big challenges faced by most retail spaces and development projects: staffing issues and high construction costs.
"It's hard to know if construction costs are going to be the same this time next year or in two years," he said. "We felt it was a phenomenal location, that the idea behind the two concepts would work. And so we decided that we would go ahead and do it."
The deal was brokered by CBRE's Scott Wise—the founder and former owner of the now-defunct Scotty's Brewhouse chain—and Steve Delaney, who represented the owners, and ALO Property Group's Gary Perel, who represented O'Reilly.
Please enable JavaScript to view this content.