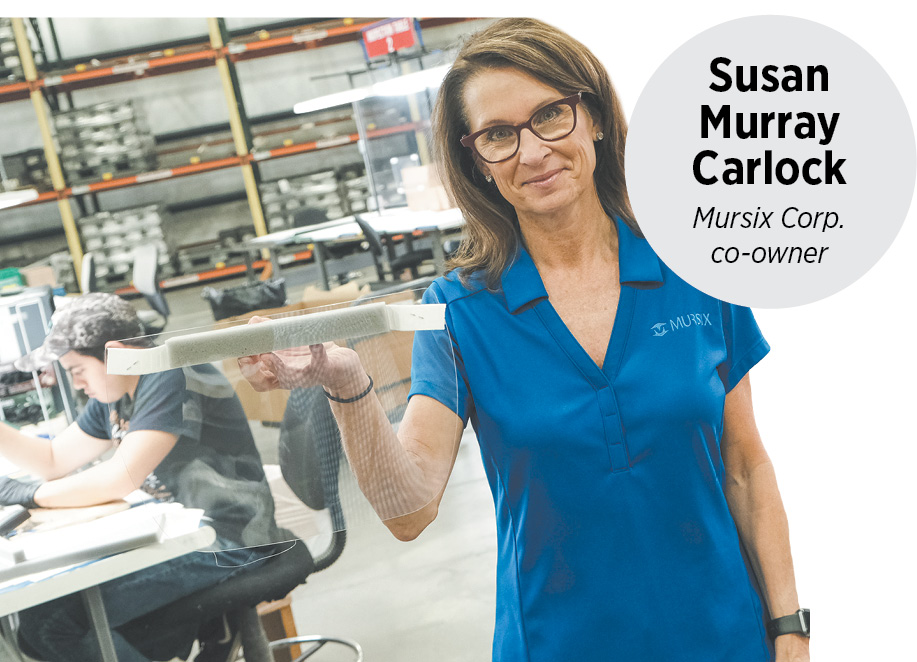 Yorktown-based Mursix Corp. designs, prototypes and manufactures parts, components and products, largely for the automotive industry.
But for the past two years, the company has been looking to diversify, bringing medical and alternative-energy-related products into the mix.
Still, its leaders could not have anticipated the big pivot it made this spring, when co-owner Susan Murray Carlock, 52, and a few others started brainstorming in her living room about the impact of the coronavirus. A day later, they had a prototype personal protective product. And just weeks later, Mursix is producing 500,000 of them a week that are selling to hospitals, the state of Indiana, nursing homes and more, a move that has kept nearly all of the company's 165 employees on the job.
What is the product?
We are producing face shields. We're actually using our stamping presses to press out the face shields and we're assembling them here. We shut down some of our manufacturing lines … and we were able to use the personnel to set up all new lines for the building and assembling of the face shields.
Tell me about that process.
It wasn't easy, and it actually took a good week and a half of experimentation. Within two days of the idea and the prototype being developed, we were fully assembling, but it probably wasn't the most efficient and lean way to be doing it. Last week was our first fully well-oiled machine, if you will, assembly line flow. We were able to get almost 500,000 shields out last week, which has been our goal.
Whom are you selling to?
We are selling to multiple states around the country. We are selling to hospital systems, nursing homes. We're now looking at helping to restock the national stockpile. So that's exciting.
Our goal is for this to add to what we already do in medical and this is just a new capability with us. … There's going to be a need for more in the long term.
What percentage of the shields are being sold in Indiana?
We've supplied 100,000 shields to the state of Indiana, and we have also supplied about five different hospital systems, as well as multiple nursing homes [in Indiana]. We've donated a lot to community partners, fire departments, some nursing homes, dentists' offices. We're donating where we can.
How long you will you need to provide 500,000 shields a week?
A lot of people have jumped on board [producing shields], including for-profit and not-for-profit [manufacturers] We've actually had a small order back out because Ford and GM were able to donate [shields]. But their scale is not quite like ours.
We are able to really scale up to half a million a week, which is a pretty big deal for a 250,000-square-foot manufacturing facility, but it shows a little bit about our leadership team and our people, as well.
Obviously, it's not going to be 500,000 a week long term, but there is a long-term need to get these stockpiles refreshed, rebuilt, and that could last up to three years. I also think we're going to see, not just medical providers, but business owners looking at how long term they're going to keep their people safe, even when there is a vaccine.
Was this product like anything else you were doing already?
No. It's a completely new capability for us.•
Please enable JavaScript to view this content.