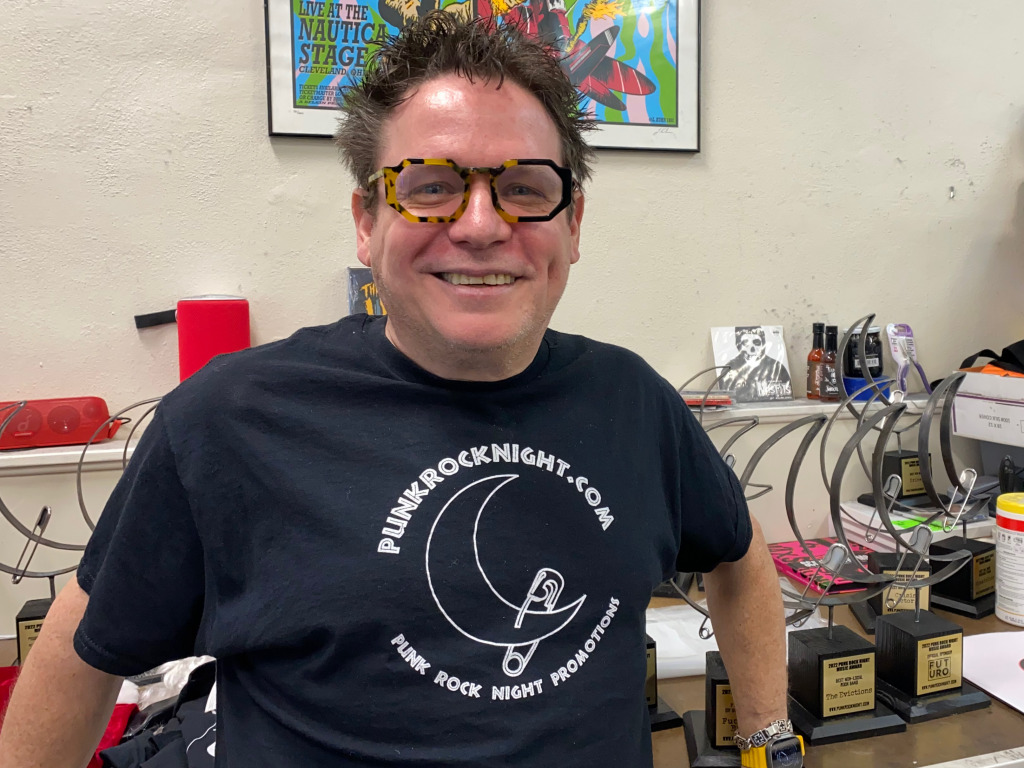 Changes in the life of Punk Rock Night founder Greg Brenner could translate into a museum devoted to the music showcased every Saturday night at the Melody Inn.
If a museum for do-it-yourself, anti-conformity punk rock seems odd, Indianapolis wouldn't be the first city to have one. In March, the Punk Rock Museum is scheduled to open in Las Vegas.
Brenner plans to focus on musicians who made Punk Rock Night a fixture on the Indianapolis entertainment calendar for more than two decades.
"Punk Rock Night has turned into such an institution that I want it to be there for future generations," he said. "They can experience some of the joy I've experienced over the years."
Brenner, who hosted his first Punk Rock Night show in October 2000, has three things to make a museum a reality: free time, a building and countless pieces of memorabilia.
The computer system specialist's calendar is opening up because he will retire from his role as executive support provider at IUPUI in February.
The museum would have a home at 3822 N. Illinois St., two doors south of the Melody Inn, because Brenner closed his T-shirt screen-printing business, PRN Graphics, there in 2022.
And Brenner is selling a house where he's accumulated a sizable stash of punk rock souvenirs.
"Records upon records, CDs upon CDs, tons of shirts, posters and weird things that people sold as memorabilia," he said.
Initially presented on Sundays at the Melody Inn, Punk Rock Night briefly was found at Radio Radio in Fountain Square. It took hold on Saturdays at the Melody Inn after Dave Brown and Rob Ondrish purchased the bar in 2001.
Brenner stepped down from day-to-day Punk Rock Night duties in 2011, when musician Rich Barker became host and talent buyer. In recent years, Brenner founded the Punk Rock Night Foundation as a not-for-profit to promote punk as an art form.
He also hosts Thursday night webcasts to preview upcoming shows with Barker and Craig Meenach, drummer in the Run Up, one of Brenner's favorite bands.
"I figured it was going to fade out like most things did," Brenner said of Punk Rock Night.
But the shows roll on, featuring Indiana artists as well as touring acts. On Saturday, Indiana bands Pilots, Ramathorn and Peacehead will perform at 9 p.m. Admission at the Melody Inn is $7.
"I definitely think Punk Rock Night has had a cultural impact," Brenner said.
Any transformation of the PRN Graphics building won't happen overnight. Brenner, 57, plans to take a few months to embrace retirement, and then equipment related to the T-shirt business will exit.
He foresees the Punk Rock Night Foundation holding its meetings in the building, which also can be home to webcast transmissions. Once Brenner's collection of punk rock artifacts moves in, he would like to devise a format in which the public can visit.
Since his early days of promoting shows, Brenner has been impressed by the commitment and loyalty shown by musicians and fans. He recalls a band rolling up to the curb outside the Melody Inn and mentioning the 12 hours they traveled to play that night's show.
"I said, 'You realize you're only going to get paid about $30 for this show?' And they said, 'We're getting paid?' I was just fascinated by this," Brenner said.
Brenner said the foundation helps cover costs when attendance is light at Punk Rock Night. Conversely, Punk Rock Night shows that do strong business result in donations to the foundation.
When a band has van woes while on tour or a musician loses gear because of theft, the foundation has provided financial support, Brenner said.
Growing up as a Jimi Hendrix fan, Brenner attended his first two rock concerts in the fall of 1981.
His parents took him to an Electric Light Orchestra show at Indiana University's Assembly Hall, where Daryl Hall & John Oates appeared as the supporting act.
A cousin visiting from out of town took Brenner to see punk rock icons the Ramones at IU Auditorium.
"I was forever changed," he said of the Ramones performance. "What I saw on that stage was relatable. And the energy in the crowd. I mean, they weren't doing that at ELO."
Please enable JavaScript to view this content.