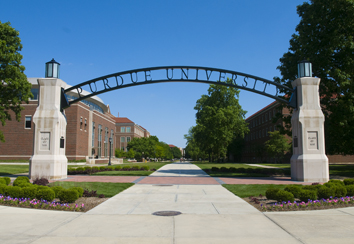 Just two months after Indiana lawmakers passed a law that would allow electric utilities to build small, prefabricated nuclear reactors, Purdue University and Duke Energy Corp. jointly announced Wednesday they plan to explore the feasibility of using the technology to help power the campus.
The move might be unprecedented for a college campus anywhere in the United States, the two institutions said.
It would also represent a major shift for Indiana, which has never used nuclear power, and has long relied on coal—and more recently natural gas and renewables—to power the state's factories, shops and houses.
Purdue, based in West Lafayette, is home to a nuclear engineering program and university officials said they were qualified to evaluate what it called a "giant leap" toward a carbon-free energy future.
"No other option holds as much potential to provide reliable, adequate electric power with zero carbon emissions," Purdue President Mitch Daniels said in written remarks. "…We see enough promise in these new technologies to undertake an exploration of their practicality, and few places are better positioned to do it."
The nuclear industry has long touted its power as "clean energy," meaning it produces energy by splitting uranium atoms, but does not emit carbon dioxide, sulfur dioxide or nitrogen oxides, as traditional coal-fired power plants do.
However, nuclear plants use large amounts of water for steam production and for cooling. They also generate spent uranium fuel, which is stored in pools or steel-lined concrete vaults for decades.
The small reactors, which are a fraction of the size of traditional nuclear power plants, are still in the design and testing phase. Only one company, Oregon-based NuScale Power, has received design approval from the Nuclear Regulatory Commission.
The company is still in the early stages of building its first one for a municipal power company at the Idaho National Laboratory, a site owned by the U.S. Department of Energy.
It's unclear how quickly Purdue and Duke Energy could install small modular reactors, called SMRs, even if they decided to move in that direction.
NuScale officials told IBJ in February that it would take roughly seven years to license, build and commission a plant after a customer places an order.
The reactors are designed to be manufactured in factories and assembled on site. Purdue, based in West Lafayette, said Wednesday it is at the forefront of this technology by pioneering, developing and verifying the steel-plate composite construction used in small modular reactors at its Bowen Laboratory through the Center for Structural Engineering and Nuclear Power Plants.
"Steel-plate composite technology is fundamental to successfully deploying SMRs within budget and on schedule," Amit Varma, Purdue professor of civil engineering and director of the Bowen Laboratory, said in written remarks. "We have the world's preeminent team and facilities to conduct the testing, analysis, design, and construction demonstration to actualize the potential of this technology."
Purdue is currently powered through the Wade Utility Plant, which is a combined heat and power system that uses steam to provide heat, electricity and chilled water that is used to cool facilities.
A new Duke Energy plant on campus also provides thermal energy in the form of steam to Purdue, while also supplying Duke Energy's Indiana customers with electricity. Approximately 50% of campus electricity is purchased from Duke Energy.
"This effort provides a timely opportunity for Purdue to work with our partners to explore whether nuclear energy can be a practical and affordable option to meet our long-term needs," said Michael B. Cline, Purdue's senior vice president for administrative operations.
Duke Energy said small modular reactors could provide reliable energy and complement other carbon-free energy sources, such as solar and wind. The utility, based in Charlotte, North Carolina, operates the largest regulated nuclear fleet in the nation, with 11 nuclear units at six plant sites in North Carolina and South Carolina.
"As the largest regulated nuclear plant operator in the nation, we have more than 50 years of experience with safe, reliable operations," said Stan Pinegar, president of Duke Energy's Indiana operations. "We can share that experience with one of America's premier engineering schools to see what this technology could do for its campus as well as the state."
The Indiana General Assembly in February passed a bill to allow electric utilities to install small, modular reactors that could generate up to 350 megawatts of electricity, enough to power a city of about 250,000 homes.
The bill passed both houses largely along party lines, with strong support from Republicans, who said the technology has been around for decades and has been used on nuclear submarines and aircraft carriers.
But Democrats said that since no small modular reactors have yet been built for commercial use, no one knows the true cost, or if the technology actually works. They added that the legislation was too generous to utilities, because it would classify the reactors as clean energy. Under Indiana law, that would allow the utilities to bill customers for the cost of construction, perhaps for years, before any of the plants went online.
Indiana has never built a nuclear power plant, and its only attempt at constructing one, the Marble Hill Nuclear Power Station, went wildly over budget in the 1980s. The utility, known as Public Service Indiana, pulled the plug on the half-built plant and later dismantled it and sold it for parts. The utility nearly went bankrupt in the process.
Purdue and Duke Energy said the exploration into using small modular reactors, including a series of meetings and joint studies, will begin in the coming weeks.
Please enable JavaScript to view this content.