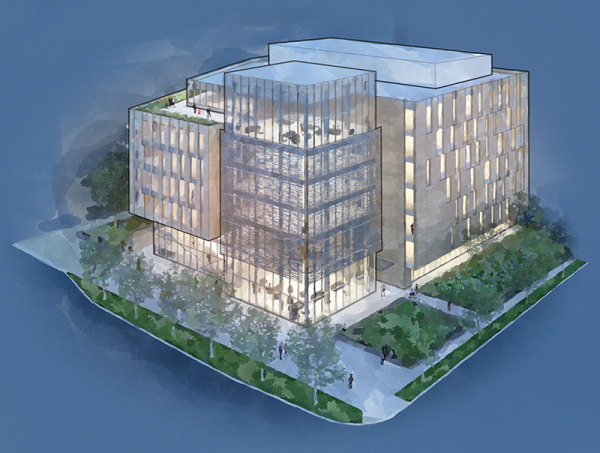 Purdue University officials say they're building on momentum for combining STEM and business education by renaming the current school of management, expanding its faculty and student enrollment and housing them in a new building.
Purdue announced Friday that it will make a "substantial" investment in the effort, although a specific dollar figure was not immediately given. The university also is planning a major fundraising effort, which includes a $10 million gift from alumnus Marshall Larsen and his wife, Susan.
Currently known as the School of Management, the new school will be known as the Purdue School of Business initially, and will include Purdue's undergraduate and graduate business programs.
The Purdue Board of Trustees is expected to make some formal commitments to the expansion in the next couple of weeks.
The new school, according to Purdue, aims to "prepare tomorrow's leaders and entrepreneurs, grounded in the hallmarks of a Purdue education, including STEM disciplines and business analytics."
"Students in Purdue's new School of Business will receive a well-rounded education, including the history, philosophy and economic theory of free market systems, and a firm grounding in the liberal arts and the communication skills that come with it," Purdue President Mitch Daniels said in a media release. "They will enter the world proud of the careers they have chosen and thoroughly prepared for leadership and managerial excellence in the most technologically complex fields."
Amid dropping college-going rates across the nation, Purdue's School of Management has grown by nearly 33% since 2019, and university officials said Purdue wants to capitalize on that momentum.
The new school is intended to build on the school's original mission of combining science and engineering training with a business degree.
"The combination of those things is really potent in terms of the ability of individuals to go on to lead or found great technology companies," said David Hummels, the dean of the graduate-level Krannert School of Management, in an interview with Inside INdiana Business on Monday.
"And so, from a curricular perspective, we are dramatically expanding degrees that really sit at the intersection of the STEM disciplines and business because we think that's what the market needs, and that is historically the kind of preparation that has led our graduates to go on to be CEOs or company founders," Hummels said.
The graduate school is expected to maintain the Krannert name.
Part of the expansion will be a new building for the School of Business. While the project still requires approvals from the university and the state, Hummels says the target date for the new building is fall 2026.
"It will house an increased number of faculty, staff and students. But more important than that, it will reflect a modern approach to learning and teaching," Hummel said. "So, [it will have] active learning classrooms, spaces for project-based learning, experiential learning, corporate consulting, a lot of labs where we sort of work with new technologies and think about their business applications. So, it will look much closer to what you might see in an engineering and technology context, than one might see in a traditional business school."
Purdue plans to begin the first phase of enhancements in the fall of 2023, including student enrollment growth and additional faculty.
"We will make some of the initial efforts in terms of getting the kinds of faculty we need to lead this new enterprise this year, and then I think we'll see an expanded number of students in each of the next years for probably about the next four or five years before we're fully booked," Hummels said.
Please enable JavaScript to view this content.